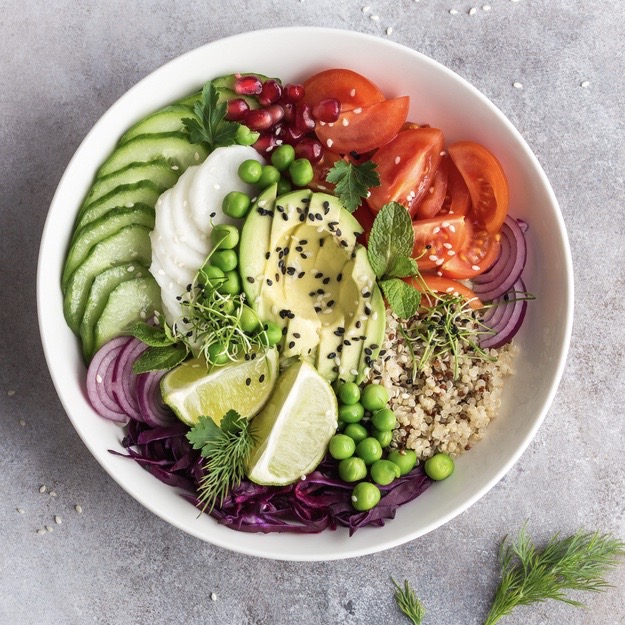 "Eat the rainbow." That's what I tell most women when they ask me for a quick tip for weight loss and health. Why eat the rainbow? Because it's a simple way of including a variety of fruits and vegetables in your diet that will ensure you get you the vitamins and minerals you need. 
It's not difficult to do. In fact, you can eat the rainbow in this delicious, easy to make Rainbow Vegan lunch.
INGREDIENTS
1 cup cooked quinoa
½ small avocado, sliced
¼ cup frozen peas, thawed
1 small tomato, sliced
½ small cucumber, sliced
½ cup red cabbage
¼ cup pomegranate seeds
¼ radish, sliced
lime wedge
DRESSING
1 tbsp olive oil
1 tsp lemon juice
¼ tsp salt
½ tbsp golden balsamic vinegar
1/4 tsp pure maple syrup
PREPARATION:
1.    Fill bowl with quinoa; top with avocado, tomato, cucumber, red cabbage, pomegranate seeds, peas and radish.
2.   Squeeze a little lime on top.
3.   Mix together olive oil, lemon juice, salt, golden balsamic vinegar, and pure maple syrup in separate bowl.
4.   Pour dressing on salad
5.   Garnish with pepper and mint/cilantro.
Enjoy!
If you like salads, these are must try recipes:
Tummy Tightening Thai Shrimp Salad
Tropical Coconut Chicken Salad
Spinach Salad with Chicken, Avocado & Berries
WHAT'S YOUR FAVORITE GO TO SALAD? SHARE WITH US IN THE COMMENTS BELOW.