When the weather gets hot I love to host and attend as many barbecues as possible. Unfortunately, the typical spread of hamburgers, hot dogs, ribs and potato salad can wreak havoc with your diet so here are my 10 tips to stay slim during summer BBQ season. If you are hosting the barbecue it's up to you to serve healthier fare but when attending you don't have that option.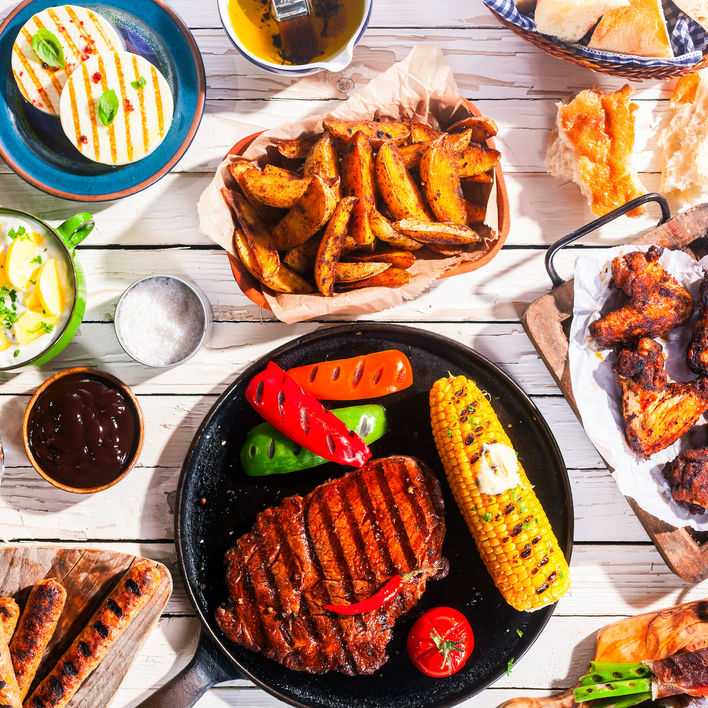 follow along with me...
Plan before you attend. Whether I'm hosting the party or going to a friend I think about what I will eat before the party begins. I love hot dogs so I always plan on two dogs with one roll and all the fixings. I consider that my entree and then add to it.
Survey the goods. The first thing I do is take a look at the entire spread so I can see what my options are. Often times we just grab at the first tasty thing we see without knowing what else is being served so take the time to see what's actually available. This is so important if you want to stay slim during this season.
Mix things up. It's very typical for the spread to include appetizers like cheese and crackers, chips and salsa and crudites with dip. If those items are offered I will have the vegetables with salsa and some cheese. Other than the veggies I try to keep my consumption of appetizers low to save room for the good stuff.
Bring healthy food. If I'm going to a barbecue I always bring some food and I make sure that it's a healthy choice. Suggestions include a salad, crudites and low calorie dip or fruit salad. There are lots of great healthy snacks available.
Don't drink your calories. One of the biggest mistakes you can make is to overdo how much you drink. Alcohol generally flows at barbecues so decide beforehand what you will drink and how much. I usually allow myself two light beers unless the host is serving a special cocktail that's just too yummy to pass up. Critical if you want to attend BBQs and still stay slim.
Make sure to hydrate. I will usually grab a bottle of water and drink that first before I have anything alcoholic to drink. It fills me up and I tend not to pile on as much food. Try one of my delicious flavored waters to help fill you up!
Put lean protein and veggies on your plate first. The first thing I do is fill my plate with all the healthy options which leaves little room for the fattening food. I always have my hot dogs and if chicken or fish is served I will have some of that too. I stay away from potato and macaroni salads but I do have a big serving of coleslaw if available. If there's corn on the cob I'll have an ear with butter.
If you really want it have it. I eat well most of the time (and I hope that's true for you too!) so if I'm at a barbecue and one of my favorite foods (like beef ribs — yum) is being served I will indulge. I don't pig out on the item but I do allow myself a little. So if potato salad is a big favorite of yours, have some. Just don't eat the entire bowl!
Sit. This is your time to relax and have a good time so make sure to grab a seat and sit down while you're eating. Typically if you're standing hovering by the food you are more likely to keep picking at the food that's speaking to you and sometimes it's hard not to listen.
Have dessert. If you want it have it . . . but not a lot. If there's fruit salad start with a good helping of that and keep consumption of  sweets minimal — two or three cookies, a small brownie or a small slice of cake.
Barbecues should be fun so enjoy. Don't deprive yourself of everything. Be smart about what you choose to eat and drink and be mindful of your portions. With a little bit of thought you can have a tasty meal and still stay slim during the summer BBQ season.
This post has lots of great food options:
HOW TO SNACK LIKE A PRO
WHAT'S YOUR FAVORITE FOOD AT A BARBECUE?
DISCLAIMER: This post contains affiliate links which means if you purchase product from one of these links I may earn a small commission, which in no way affects your price. All recommendations and opinions are mine.