I grew up the old fashioned way eating three square meals a day. I'm certain that all you over fifty women followed a similar meal plan in your house: breakfast was eggs and toast, cold cereal or if your were really lucky a Pop Tart. Lunch was usually a sandwich and dinner was meat and potatoes. As we boomer babes have aged, most of us do things a little differently now. I almost always have a traditional dinner, but during the day I like to graze on snacks, or little mini meals.
The trick to snacking for middle aged women is to make sure that the foods you choose contain a good mix of protein, complex carbohydrates and good fats. The aim is to eat enough healthy food to feel full yet keep the calorie count down. I like to stock my kitchen with healthful options that I can quickly assemble with enough variety to keep me happy. Here are some of my favorite snacks, or mini meals.
follow along with me...
SLICED CUCUMBERS WITH GUACAMOLE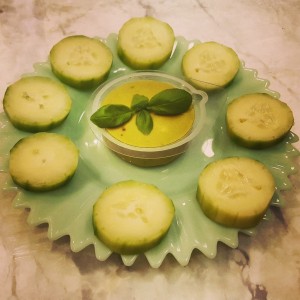 Peel and thickly slice a cucumber. Use as dippers for about 1/4 cup of guacamole. I like Wholly Guacamole mini cups because they are delicious and portion controlled. They have 100 calories and come in a variety of flavors.
GLUTEN FREE THIN CAKES WITH NUT BUTTER AND BANANAS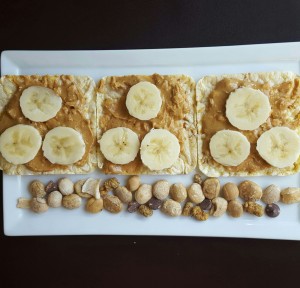 Whole grain, gluten free thin cakes are great! They only have 35 calories each and can be used as a base with a variety of toppings. This version is my favorite. Spread 1 tablespoon (total) of nut or seed butter on 3 thin cakes. Top each with banana slices. I like to add some nuts or trail mix on the side. I like Suzie's thin cakes.
ANTIPASTO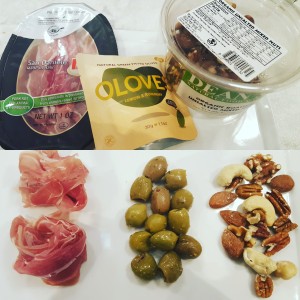 This tastes so decadent but is such a good treat. I don't advocate eating a lot of processed meat but once in awhile a little is fine.  This snack is simply 1 ounce of prosciutto (I prefer imported), 1 ounce of olives and a heaping tablespoon of mixed, raw nuts. Just remove products from packaging and arrange on a plate. I love to scoop up the olives and nuts with pieces of the prosciutto. Have you ever tried OLOVES? These are prepackaged pitted olives in a variety of flavors that have 50 calories in each bag. They are great because the pouch sits up for easy snacking on the go.
TURKEY TORTILLA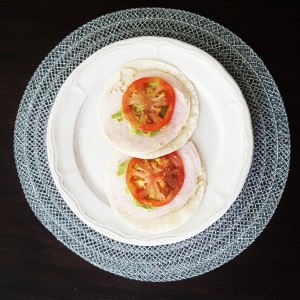 I like this snack anytime of the day because it is so gentle on my stomach. It's gluten free and has tons of good nutrients and protein and is assembled quickly. I slightly warm 2 small corn tortillas and put 1 or 2 slices of turkey breast on top. Then I spread 1/4 of a small avocado on each tortilla and top with a slice of tomato.
OPEN FACE TUNA SANDWICH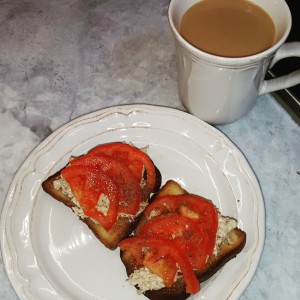 I like this snack after a tough workout. It gives me lots of lean protein and carbs for good recovery. Toast 2 small pieces of gluten free bread and top each slice with about 1/4 cup tuna salad. Top with fresh tomato slices and lots of freshly cracked black pepper. I use Bucks Tuna Salad from Whole Foods.
OTHER GREAT SNACKS
Watch one of my food videos for other great snack ideas: