This Tropical Coconut Chicken Salad is my favorite at the moment. I eat a lot of salads and I have to admit sometimes the thought of another one makes me want to gag. The trick to keeping salads appealing to the taste buds yet very figure friendly is to use different greens together and adding healthy and delicious extras.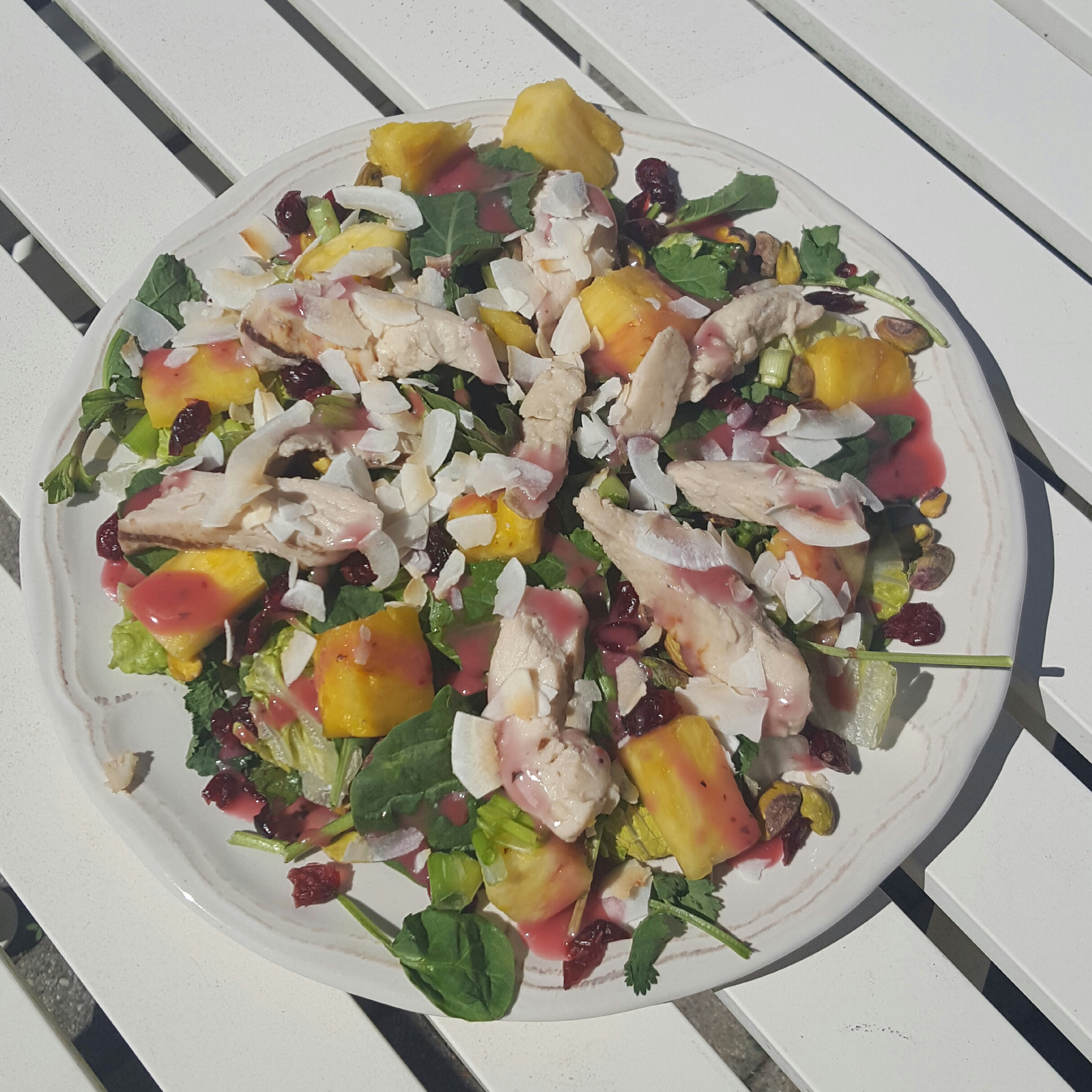 My Tropical Coconut Chicken Salad starts with a blend of romaine, spinach, kale and arugula so the base is nutrient packed. And then I add in a ton of tasty foods like coconut and cranberries. This salad is loaded with lots of fiber and protein and has no added simple carbs so it's great for your digestion and waistline. So simple and so good!
INGREDIENTS
2 cups grilled chicken
2 cups romaine lettuce
2 cups baby spinach
1 cup kale (baby kale is very tender if available)
1 cup arugula
1/4 chopped scallions
1/8 cup shelled pistachios
1/2 cup chopped fresh pineapple
1/8 cup dried cranberries (use the low sugar variety)
1/8 cup unsweetened coconut
raspberry vinaigrette (recipe below)
PREPARATION
Arrange romaine, spinach, kale and arugula on a plate.
Place chicken and pineapple over lettuce
Add cranberries, nuts and scallions
Sprinkle coconut on top
Drizzle salad with dressing
RASPBERRY VINAIGRETTE
1 tablespoon reduced-sugar raspberry jam
1/4 cup rice wine vinegar
1/4 cup olive oil
Salt and pepper to taste (I don't add salt)
Whisk together jam, vinegar and oil until well combined. Add salt and pepper if desired.
This sangria is the perfect match for this salad:
SPARKLY LOW CALORIE NON-ALCOHOLIC SANGRIA
If you like salads I think you'll love this one:
TUMMY TIGHTENING THAI SHRIMP SALAD