I try to keep my alcohol consumption low so many times when I go out I drink my Sparkly Low Calorie Non-Alcoholic Sangria. The usual go to for most people when they don't want something alcoholic is either a glass of plain seltzer or a diet soda. This drink feels festive and special so you don't feel deprived when your girlfriends are drinking Cosmos.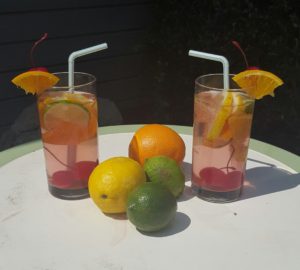 It's very refreshing and delicious and has almost no calories. I always serve it when I'm entertaining as there are usually non-drinkers present and the taste is bold enough that you can always add some wine (white or red) or other alcohol if you choose.
SELTZER SANGRIA
Big glass of seltzer (12 or 16 ounces)
Orange, lemon and lime slices
3 maraschino cherries
Splash (1 – 2 tablespoons) of cranberry juice
Ask the bartender to "muddle" (that means smash up) the fruit — if he looks at you like you're crazy, just ask for the seltzer with the fruit and you can smash it yourself with the straw. I order the cranberry juice on the side so I can control how much goes into my glass. I've tried describing what I want as "pale blush" but that rarely works so I do it myself.
If you are making this at home try using a flavored seltzer. My favorite is orange but lemon-lime, cranberry or another flavor works just as well.