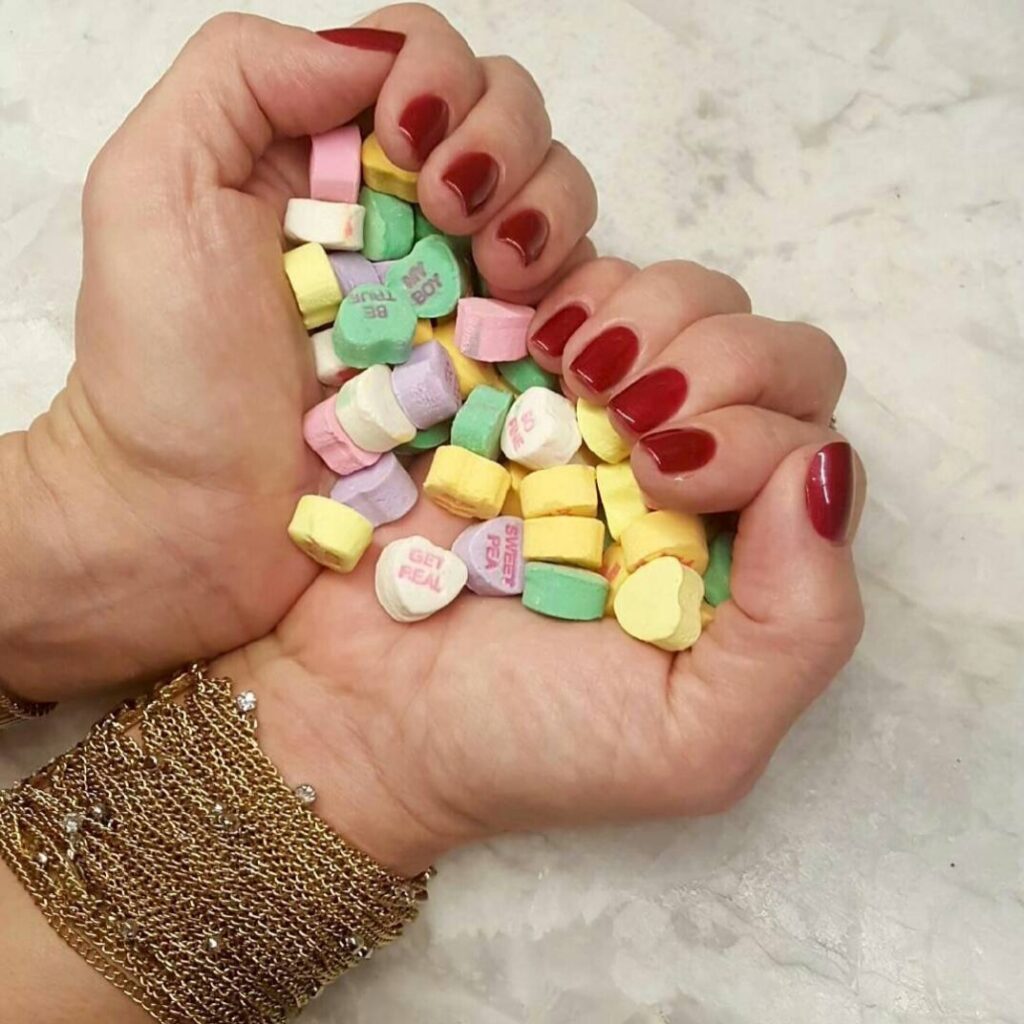 I always enjoyed going out for Valentine's Day. It made me feel special to have my husband plan an evening (even though I did most of the planning) and loved getting dressed up for the occasion. Now that I'm middle aged I find that all the hype associated with this holiday is just that — hype. You spend a lot of money eating food you are really not crazy about from a very limited menu and you spend a fortune! I remember a few years back we went to a favorite restaurant and were served the exact same meal as always but with $20 added to the price. I asked the owner about the additional charge and he told me it was for the privilege of getting a seat at his famous establishment on Valentine's Day. I think that was the last time we celebrated the holiday at a restaurant.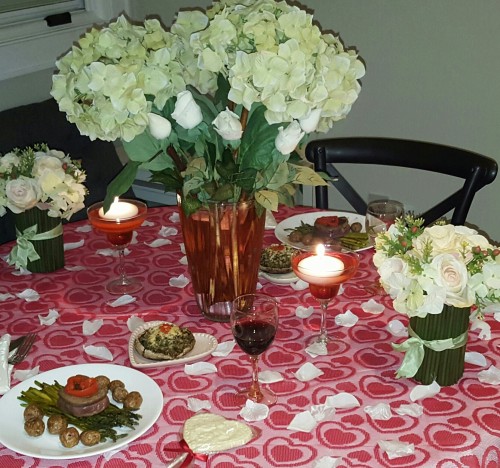 Recently, I decided that I prefer  to spend Valentine's Day at home. And now with COVID it's just safer to stay in.  I'll be honest and admit that sometimes I don't feel like cooking and we just order in. But when I feel like making something extra special, I always go to this dinner as it's delicious, easy, and only a little over budget in the calorie department. Everything but the meat cooks at the same temperature in the oven to keep it simple.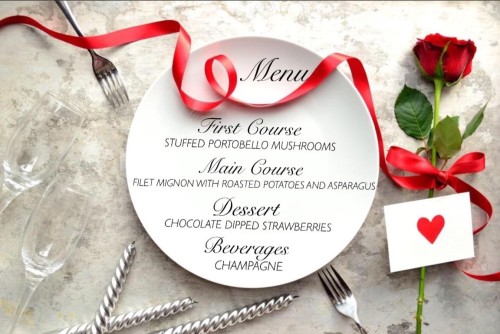 follow along with me...
STUFFED PORTOBELLO MUSHROOMS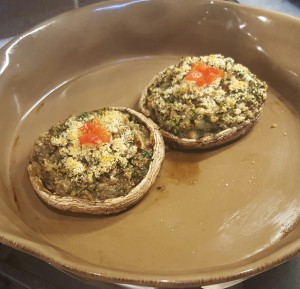 2 portobello mushrooms, lightly wiped with a paper towel, stems removed
2 cups chopped mushrooms (include the stems of the portobello mushrooms)
1/2 cup chopped onions
1/4 cup grated parmesan cheese + 1 tablespoon
1/4 cup chopped parsley
1/4 cup finely chopped walnuts
freshly ground black pepper to taste (no need for salt because the cheese is salty)
1 teaspoon finely chopped red pepper for garnish (optional)
1 teaspoon olive oil
cooking spray
Preheat oven to 400; lightly coat a baking dish with the cooking spray
Rub the mushroom caps with the olive oil and set aside. Coat the bottom of a saute pan with cooking spray. Add the onions and cook until translucent. Add the mushrooms to the onions in the pan and cook until all the water from the mushrooms has been released. Transfer mixture to a bowl and allow to cool for a few minutes. Add the 1/4 cup grated cheese, parsley, walnuts, and pepper to the onion/mushroom mixture and stir to combine. Put half the mixture in each cap, sprinkle with the reserved cheese and bake in the oven until heated through and browned on top, approximately 30 minutes. Garnish with red pepper, if desired.
ROASTED ASPARAGUS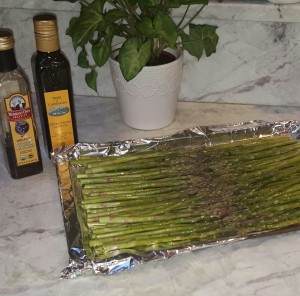 1 bunch asparagus, washed with the tough ends removed
1 tablespoon olive oil
1 teaspoon balsamic vinegar
salt and freshly ground black pepper to taste
Preheat oven to 400
In a bowl mix the asparagus, olive oil and balsamic vinegar to evenly coat the spears. Place on a cookie sheet in 1 layer and cook until slightly browned, about 20 minutes. Sprinkle with salt and pepper as soon as they are removed from the oven.
RED POTATOES WITH HERBS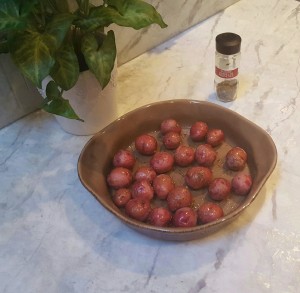 1/2 – 3/4 pound red potatoes (I like the tiny ones but larger potatoes can be cut in halves or thirds)
1/2 teaspoon herbes de provence (this is a mixture of dried rosemary, thyme, oregano & other herbs and is readily available in supermarkets)
salt and freshly ground pepper to taste
cooking spray
Preheat oven to 400
Put the potatoes in a bowl and lightly coat with the cooking spray. Sprinkle herbes de provence over potatoes and mix to coat evenly. Put potatoes in a baking pan (the cut potatoes should be cut side down on the pan) and cook until soft and browned, about 30 minutes. Sprinkle with salt and pepper as soon as they are removed from the oven.
FILET MIGNON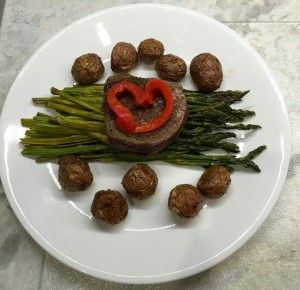 2 filet mignons 3 – 8 ounce each (I eat 3 or 4 ounces but men usually want 6 – 8)
freshly ground black pepper
1/4 cup red wine
cooking spray
salt to taste.
Coat both sides of the filets with lots of freshly ground pepper. (If you don't like pepper don't use.) Coat the bottom of a saute or grill pan (with a lid) heavily with cooking spray. Sear each side of the filets for about 2 minutes, until both sides have a nice "crust." Pour the red wine into the pan and swirl to deglaze. Cover the pan and cook on medium heat to desired doneness. Sprinkle with salt if desired.
CHAMPAGNE & CHOCOLATE COVERED STRAWBERRIES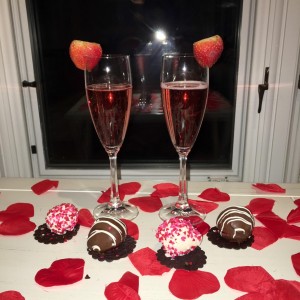 Store bought and yummy!
Make sure to read these other Valentine's Day posts:
FLIRTY FASHION FOR FIERCE FEMALES OVER 50