There's nothing sexier than the color red. Red represents passion, desire, romance, strength and love . . . the perfect recipe for a perfect Valentine's Day! I remember the first time I decided to try the color red on my nails and lips. I loved the shade of red on my nails but the color I chose for my lips was horrendous and I looked like a clown. As you remember there were not a lot of options when it came to red lipstick — we baby boomers only had an orange-red (remember Tangee?) or vampire red-purple available to us. Luckily, times have changed.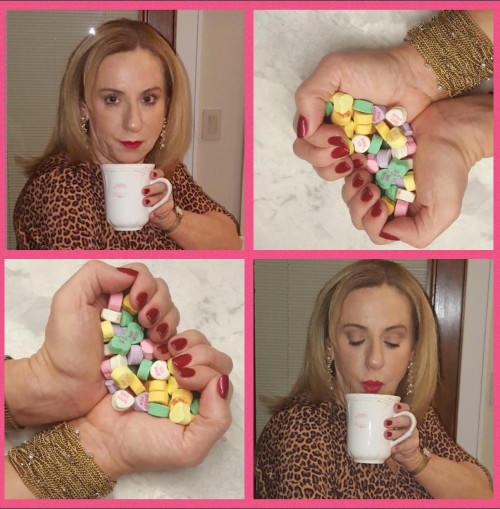 Recently, I decided to give red lips another try. This time I experimented with different shades of red with my friend who is a make-up artist. To my surprise I was blown away by the extensive range of colors and textures available. I discovered that I like matte (means flat, no shine) lipsticks more than those with a glossy finish. Reds go from orange to blue so it is extremely important that you find the right shade to go with your skin tone. You absolutely must try the colors on as it is impossible to just look at a red lipstick and know how it will look on your face. It might be wise to consult with a make-up artist if you decide to be brave and find the right shade of red for you.
Finding the right shade of red nail polish takes a little experimentation as well. There are so many colors and finishes to choose from. I prefer shine on my nails, but nothing over glittery. I personally think a lot of glitter on my hands ages me. The best way to find a red nail color that compliments your skin tone is to visit a nail salon and get the advice of a good nail technician. You can always try on numerous colors until you find the best shade for you.
After a lot of trial and error I discovered that the best shade of red for me is a red-blue and the worst is an orange-red. The color I am wearing on my lips in the photos is MAC brand "Russian Red." The color on my nails is OPI brand "I'm Not Really A Waitress." When I put these colors on I feel so glamorous, just like Marilyn Monroe.
C'mon ladies, be a little brave like me — don't fink out and wear pink . . . save that for Easter!
Make sure to read these other Valentine's Day posts:
FLIRTY FASHION FOR FIERCE FEMALES OVER 50
Disclosure: I was not financially compensated in any way for writing this blog post.