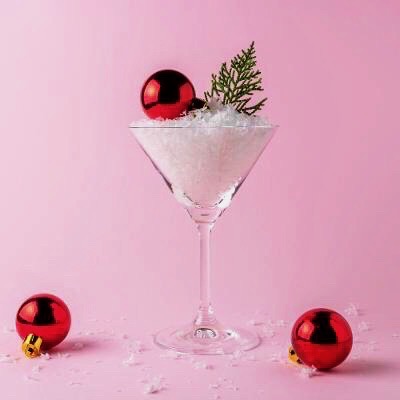 As you all know, I follow a fairly regimented nutrition and exercise plan. That being said there are certain times of the year when I allow myself special treats. Notice I said treats and not cheats. When I have something I want to eat or drink I never think I'm cheating. I'm simply having something I want and it's usually been built into my plan by doing a little pre-planning which I write about all the time.
During the holiday season I allow myself to indulge. I spoil myself with delicious food and cocktails. This year I'm concentrating a little more on building muscle so I try to stay low carb most of the time. Unfortunately, many holiday cocktails contain a huge amount of sugar.
The four cocktails in this post are perfect for me because they are all keto friendly. These cocktails are easy to make, beautiful to look at and extraordinarily delicious to drink. Enjoy!
Keto Eggnog
INGREDIENTS
3 large eggs
¼ cup Stevia Confection sugar
¾ cup heavy whipping cream
½ cup flax, almond, or cashew milk
½ cup rum
¼ tsp ground nutmeg
¼ tsp ground cinnamon
PREPARATION
1. Separate egg yolks from egg whites. Put 3 whites & 2 yolks in two separate bowls (discard or save the extra egg yolk)
2. Beat the egg yolks with a whisk until they turn a light yellow color. Then add 3 tablespoons of the sugar substitute and mix again until fluffy.
3. Add heavy whipping cream, milk, nutmeg, rum, and cinnamon to the yolk mixture and whisk. Set aside.
4. Using a hand mixer, whisk egg whites until they form peaks. Add the remaining sugar substitute and mix until you get bigger peaks.
5. Add egg white mixture to the egg yolk mixture and whisk together until fully combined. Chill for about 4 hours.
6. When chilled, the mixture will separate slightly so make sure to whisk before serving.
**Serving Size: 1
Keto Hot Bourbon Punch
INGREDIENTS
2 ounces heavy cream
1 ounce half & half
1 ounce unsweetened cashew milk
2 tablespoons Stevia (or other sugar substitute)
Pinch of ginger, cinnamon & nutmeg
2 ounces bourbon
½ ounce white rum
PREPARATION
1. Place everything except bourbon and rum in a saucepan & heat on the stove until just under a boil.
2. Remove from heat and add to blender with bourbon and rum & blend until mixed.
3. Pour into a mug and enjoy.
**Serving Size: 1
Keto Blackberry Beauty
INGREDIENTS
2 ounces vodka
4 blackberries
½ounce lemon juice
2 teaspoons Stevia (or sugar substitute)
1 pinch of ground pepper
4 fresh mint leaves
Plain or berry seltzer
PREPARATION
1. In a cocktail shaker, add vodka, blackberries, lemon juice, mint leaves, black pepper, & sugar substitute.
2. Muddle until the mint and fruit are crushed.
3. Strain mixture over ice in glass.
4. Top with seltzer.
**Serving Size: 1
Keto Apple Cinnamon and Cranberry Sangria
INGREDIENTS
4 cups boiling water
10 apple cinnamon tea bags
1 tablespoon cinnamon
½ cup Stevia (or sugar substitute)
1 bottle dry white wine
1 green apple (cut into cubes)
1 cup cranberries
PREPARATION
1. Put cinnamon tea bags in boiling water. Let steep for 6-8 minutes.
2. Discard tea bags.
3. Add cinnamon and sugar substitute to water. Stir.
4. Cool tea until it comes to room temperature.
5. Combine cool tea with wine, green cubed apples, and cranberries.
6. Chill for 3 hours before serving.
**Serving Size: 6
PLEASE SHARE YOUR FAVORITE HOLIDAY COCKTAIL WITH US IN THE COMMENTS BELOW  🙂
If you love cocktails make sure to check out these posts:
4 Guiltless Valentine's Day Cocktails