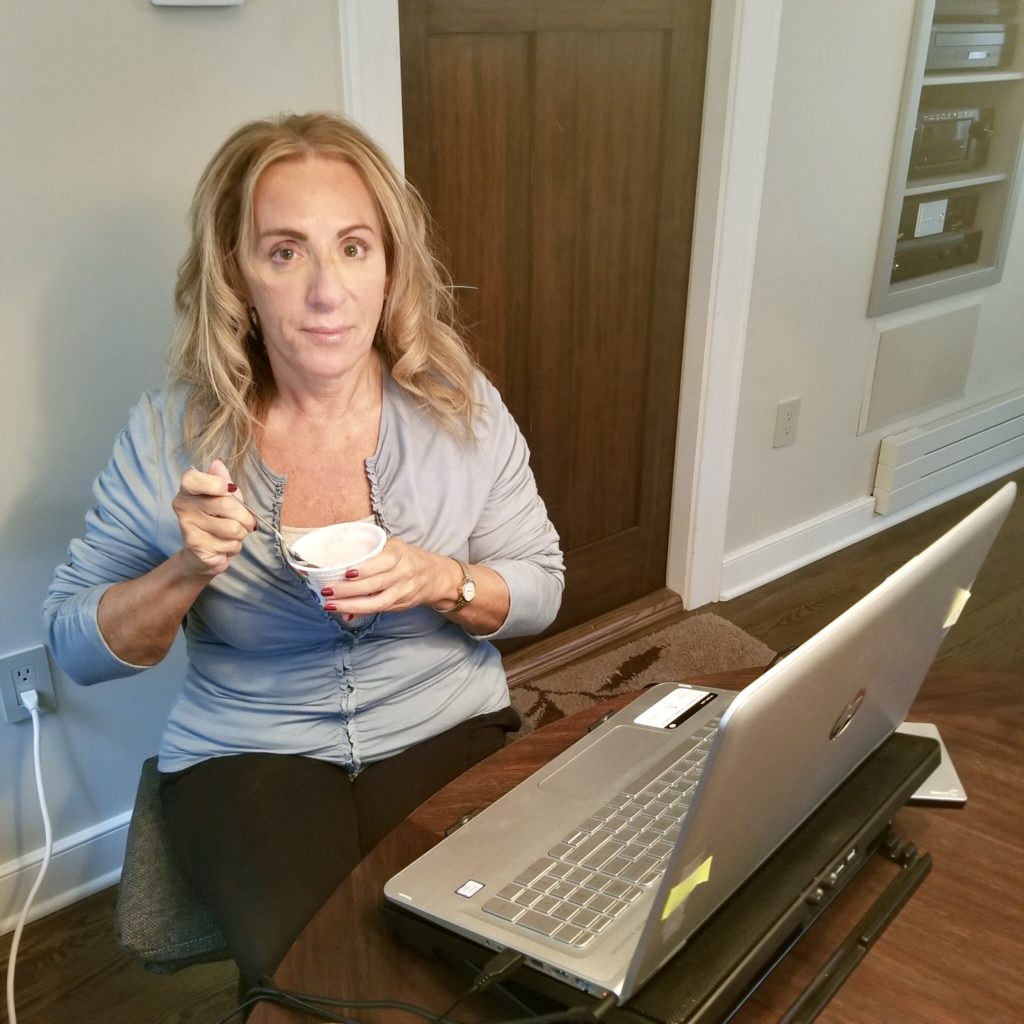 The foundation of any successful weight-loss or fitness plan is consistency. If you're not consistent with your efforts, it's difficult to make real changes. And if you're not seeing changes in yourself, you'll eventually become unmotivated and uncommitted to a healthy lifestyle.
I've seen a lot of women lose their momentum at the one place that they spend more time at than their homes: work. It's so easy to get wrapped up in day-to-day duties and responsibilities. Oftentimes, we let convenience drive our decisions and this is what can derail all of our efforts and tip us towards a slippery slope. That's why I'm dedicating this blog post towards creating and maintaining a fitness-friendly work environment.
follow along with me...
Follow these tips to get yourself on track:
One: Snack Time is the Best Time
Don't make the mistake of packing small, "ideal" portions of food. Some women have a bad habit of packing what they wish they would eat, rather than what their bodies actually need to eat. What's the solution? Pack several healthy snacks for your day at work. You WILL get hungry in between meals and that's okay. What's not okay is trying to make it without food for hours at a time, and then heading to the vending machine for a bag of chips. Avoid bad decisions with carrot sticks, fruit, yogurt, cheese, nuts or your healthy snack of choice.
Two: But, Don't Forget Lunch
This brings me to my next point – be sure to pack yourself a filling, healthy lunch, too. It's a lot of work to prep and pack meals/snacks each night, but it's time well spent. If you make an effort to plan ahead, you'll be more inclined to stay on track and abstain from any temptation.
Three: Yes, Your Co-Worker's Birthday Cake is Still a Cheat Meal
It's inevitable – there will be delicious treats where you work. Whether there's a constant, over-flowing candy bowl or a monthly potluck, you're going to be exposed to some of your most favorite indulgences. If you've been consistent with your diet and want to splurge on a piece of birthday cake or casserole, you can – but keep it to one serving and count it as a cheat meal. By keeping yourself accountable, you're still able to enjoy that delicious cupcake or shared plate of french fries.
Four: Pack Your Mary Poppins Bag
You thought that your packing efforts were reserved for food, didn't you? There's one more item you should be packing the night before work – your gym bag. Get your workout clothes and your sneakers together before heading out. Carry your gym bag with you into your office and keep it under your desk. When you're done for the day, change into your workout clothes before leaving – this saves time, so you have no excuse but to go straight to the gym! Get that workout in!
Five: Sneak It In
There's another reason why I advise keeping your gym bag under your work desk – if time and weather permits, discreetly slip on your sneakers and go for a ten-fifteen minute walk after lunch. This will help you digest, keep you moving and help you burn off some extra calories. Do you have coworkers that are interested in joining you? Even better! Keep each other motivated and committed to getting your daily walk in.
Six: The Water Cooler is Your Friend
Don't forget to drink! Set an alarm on your calendar or phone to get yourself up and over to the water dispenser on a regular basis. You must drink enough water throughout the day to keep your body in tip-top shape – not to mention, frequent trips to fill up your water bottle keep you moving.
So ladies, there you have it! It's all about being consistent and dedicated to your own progress and success. If you plan ahead and remain mindful of your decisions, you'll knock it out of the park at home and at work!
Do you have any tips or tricks on staying fit at work? Share your insight in the comments below.
If you're looking to workout from the comfort of your home, this blog post is for you: TRANSFORM ANY SPACE IN YOUR HOME INTO YOUR PERSONAL GYM.