My healthy, easy egg recipes will have you licking your lips and begging for more! Protein is one of the main building blocks to a healthy diet and eggs are one of the best options available. Eggs have only 70 calories, no carbs and 7 grams of high quality protein plus other nutrients.  They are readily available, cheap, low calorie, gluten free, and extremely versatile. I love eggs simply cooked but adding extra ingredients can easily turn them into a really special meal or snack.
VEGETABLE HASH WITH POACHED EGG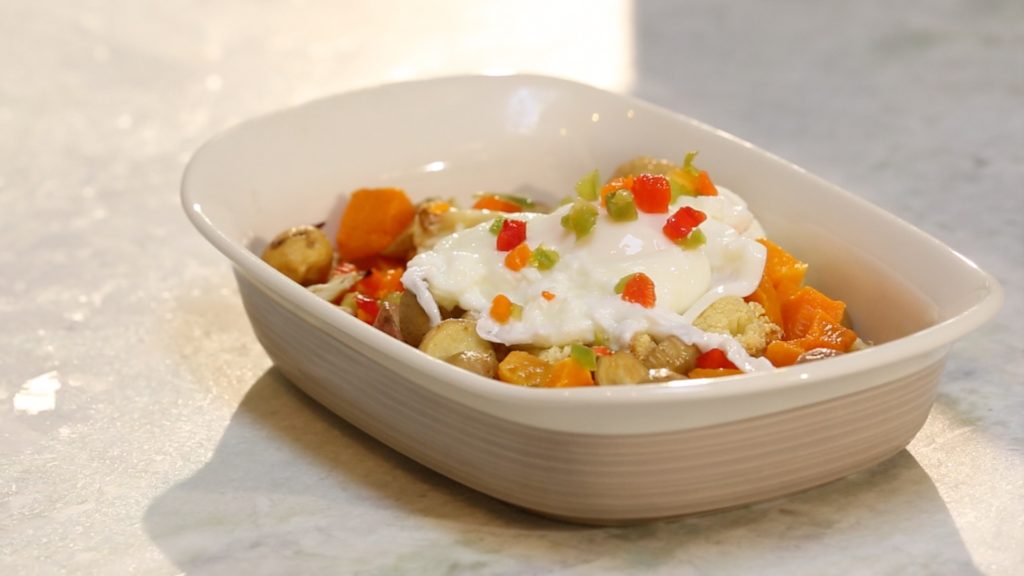 INGREDIENTS FOR HASH
1 cup large diced sweet potato
1 cup large diced butternut squash
1 cup large diced carrot
1-2 cups cauliflower florets
1-2 teaspoons olive oil
fresh or dried herbs
fresh cracked pepper and salt
1-2 tablespoons finely diced peppers
NOTE: You can use any veggies you like. I have used parsnips, broccoli and asparagus. I have also used small golden Yukon potatoes but I try to keep the carbs low. Rosemary, thyme, or Provence herbs (this is a dried herb mixture available in the spice section) are my faves but use what you like.
PREPARATION
Preheat over to 425.
Spray foil lined baking sheet with cooking spray
Put veggies on baking sheet, sprinkle with oil and herbs and toss
Cook for about 25 minutes until veggies are caramelized and cooked
Sprinkle with fresh cracked pepper and just a dash of salt
POACHED EGG
I make what I call a "super" poached egg because I use four egg whites with one yolk for the extra protein but you can use any whites/yolks combo you prefer.
NOTE: If you don't like poached eggs you can definitely fry them instead.
ASSEMBLY
Put cooked veggies in a small casserole style serving dish and top with the egg. Sprinkle with peppers and enjoy!
DEVILED EGGS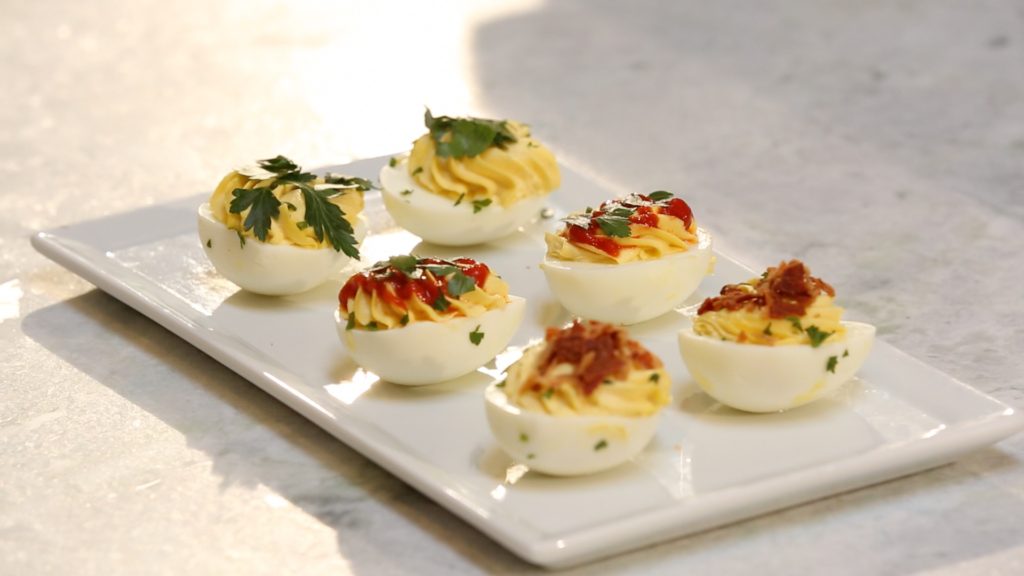 INGREDIENTS
6 eggs
1 tablespoon reduced fat mayonnaise
1 tablespoon mustard (yellow makes the classic deviled egg but try other flavors!)
Freshly cracked pepper and a pinch of salt
PREPARATION
Boil 6 eggs until hard cooked. Peel under cool, running water. Gently pat dry with a paper towel. Split eggs in half the long way. Put yolks in a mixing bowl and carefully set white halves aside. Add mayo, mustard, pepper and salt to yolks and mash and stir until they have a smooth consistency. Divide the mixture evenly and place in the egg whites.
NOTE: If you want to reduce the amount of yolks in the deviled eggs, boil an extra 2 eggs with the original 6. After splitting the eggs in half, use only 4 of the 6 yolks and add just the whites from the 2 additional eggs. That means the filling will be comprised of 4 yolks + 2 whites. Mash the 2 egg whites first before adding to the bowl with the yolks and other ingredients. Trust me, you will never taste the difference but will be lowering the cholesterol and increasing the protein of each deviled egg.
GET CREATIVE!
The classic way to top a deviled egg is with paprika but there are lots of other options! Chopped parsley looks and tastes great or try a little crumbled turkey bacon. I've tried sriracha mustard in the mixture and topped with a little sriracha sauce . . . nice and spicy and an unexpected taste sensation!
BAKED EGG IN PORTOBELLO MUSHROOM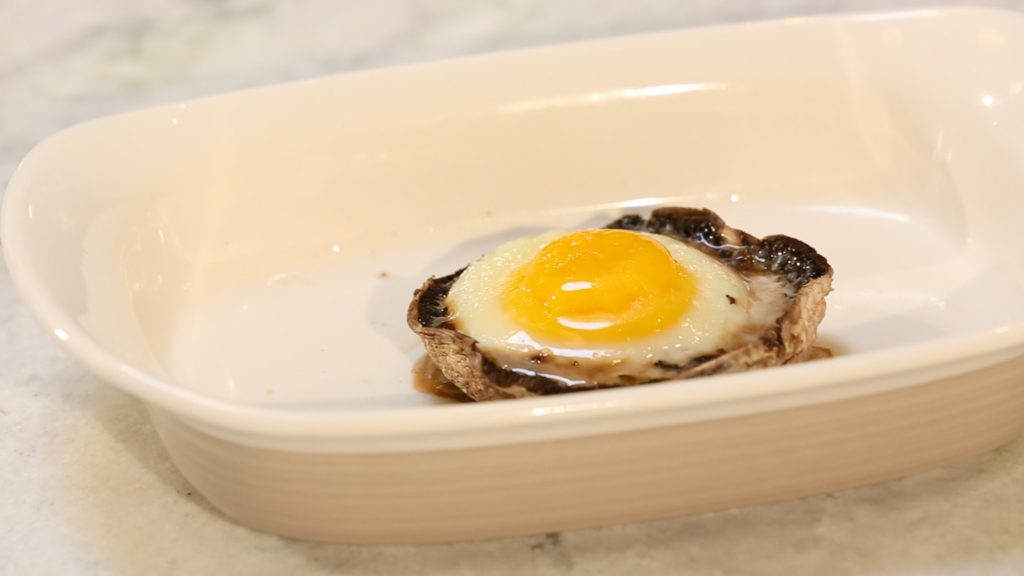 This egg preparation is simple, elegant, healthy and delicious! Simply remove the stem and gills (the dark brown inside) of a large portobello mushroom and wipe the whole mushroom with a very slightly damp paper towel to clean. Place the portobello mushroom in a small baking dish that has been lightly coated with some cooking spray, Crack one egg in a cup and then carefully slide it into the mushroom cap.  Bake in a preheated 350 oven for about 20 minutes, a few minutes longer if you like your yolk firmer.
EGG FRIED RICE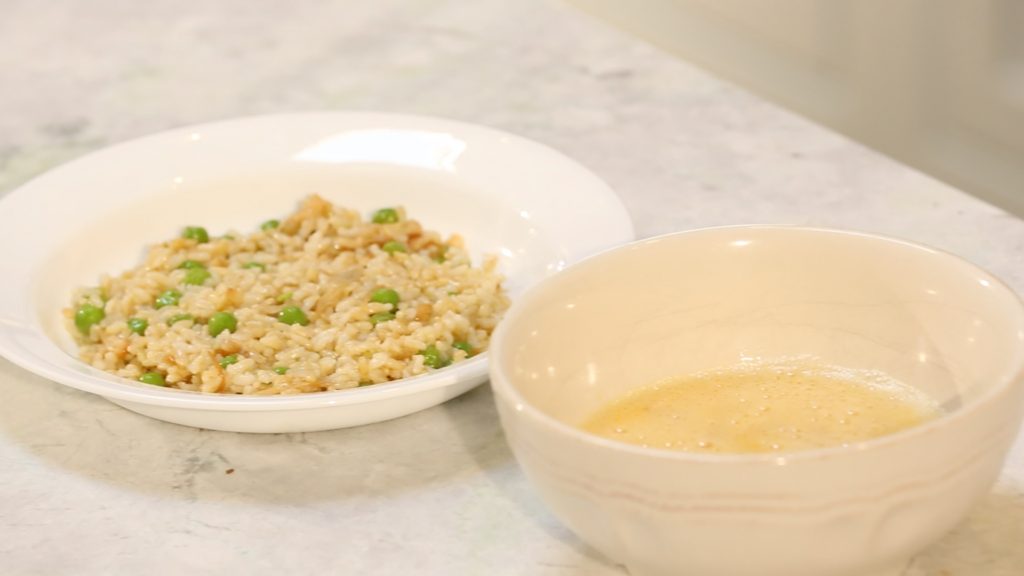 I LOVE this dish! I could eat it everyday, all day and sometimes I do! For all my ladies who love Chinese food as much as I do, this one is for you!
INGREDIENTS
1 cup cooked brown rice
1/4 cup diced onions
1/2 cup defrosted frozen peas
4 egg whites
1 egg yolk
low sodium soy sauce
PREPARATION
Lightly spray a fry pan and saute the onions until translucent
Add the rice and peas to the onions in the pan and heat thru
Remove mixture and set aside
Beat the 4 egg whites with the yolk
Lightly spray the same fry pan and cook the eggs like an omelet until just set
Cut the egg omelet with the spatula and put on top of rice mixture
Sprinkle just a touch of low sodium soy sauce over the eggs
Oh my! I just can't get enough of this!
If you love Chinese food as much as I do, you must try
HOW TO SATISFY YOUR CRAVING FOR CHINESE FOOD THE RIGHT WAY
DO YOU HAVE A FAVORITE EGG RECIPE YOU'D LIKE TO SHARE IN THE COMMENTS SECTION BELOW?