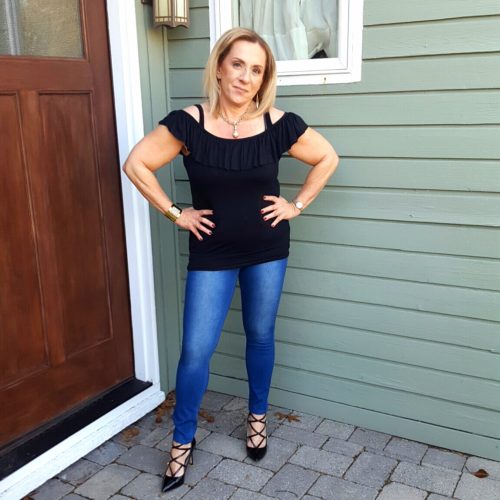 I have always loved the cold shoulder look and I think it's currently the hottest fashion trend for women over fifty. "Cold shoulder" simply means "exposed shoulder," a variation of the off the shoulder look. A cold shoulder garment allows you to expose just a little skin which I think is super elegant and sexy. It gives the illusion of bareness yet covers the arm. Most baby boomer women hate their arms and this look is the perfect solution!
The drape of a cold shoulder varies greatly between garments. My older tops have small, squarish openings. Recently designers have gone wild, creating some very extreme styles. Although I do love the exposure I make sure I can still wear my bra before purchasing. When I find a piece I like I will buy multiples which is what I've done with many of my cold shoulder tops.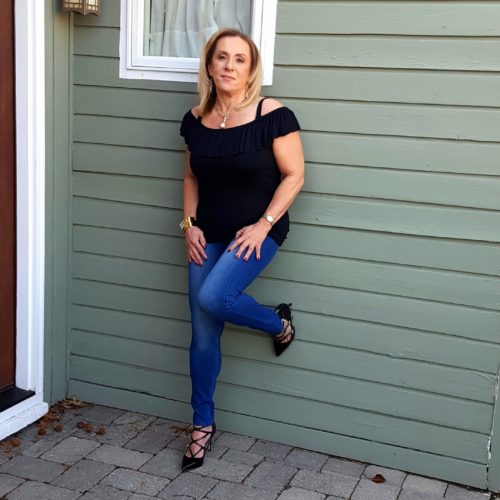 I really took a leap of faith when I ordered this Colleen Lopez Ruffle Blouse from HSN.COM. I liked the top when I saw it on TV but was hesitant to order because I thought the ruffle would be very unflattering. So glad I did! When I tried it on I immediately loved it! It's fun and sexy and lightweight, perfect for the warm weather heading my way. I paired the shirt with these Kate & Mallory Jeans that I purchased from EVINE.COM. I completed this look with my favorite Marc Fisher Pumps that I bought from QVC.COM. And yes, I am an at home shopper! I love the variety and convenience.
I ordered this OSO Casuals Striped Cold Shoulder Top from EVINE the second I saw it. Not only do I love the drape of the shoulder, this shirt also has all the current trends — stripes, bell sleeves, and crochet trim — all rolled into one. I paired it with an old pair of jeans, my favorite pink slingbacks from Guess (purchased years ago!) and then added some jewelry to glam it up!
With the deep drape off the shoulder this next top is so sexy! In these pictures I am featuring the Indigo Thread Cold Shoulder Top from EVINE in purple but I also own it in charcoal grey. In these pictures I paired the purple top with my grey jeans to give the outfit a tonal look. This look is relaxed but still date ready. I often wear the charcoal grey version with a black skirt.
This last top is my oldest and most favorite and I own it in two colors, the grey floral shown here and a solid black. It's by George Simonton purchased from QVC but unfortunately it's no longer available. I love the classic cold shoulder lines of this shirt and I wear the black one every other day! I've paired it with the same old jeans shown above and my Nine West grey suede booties that I bought years ago on sale. The beautiful grey Coach bag was a gift from my daughter. The bracelet is handmade by my friend Raji. Her company, Bath Blessings, makes beautiful bracelets with beads that can be infused with scented oil. If you have a few minutes make sure to check out all her beautiful products. Namaste  🙂
You might have noticed that I mention how old some of my fashion pieces are. I buy what I like and what I think enhances my body and face. The cold shoulder has been around a long time and I'm certain there will be another resurgence in a few years and will be touted as the hottest new look then! I never feel the need to go out and buy a whole new wardrobe but rather choose a few new pieces each season to keep me current. I never wear a style that I don't like or feel works on me. Trust in yourself to choose your look.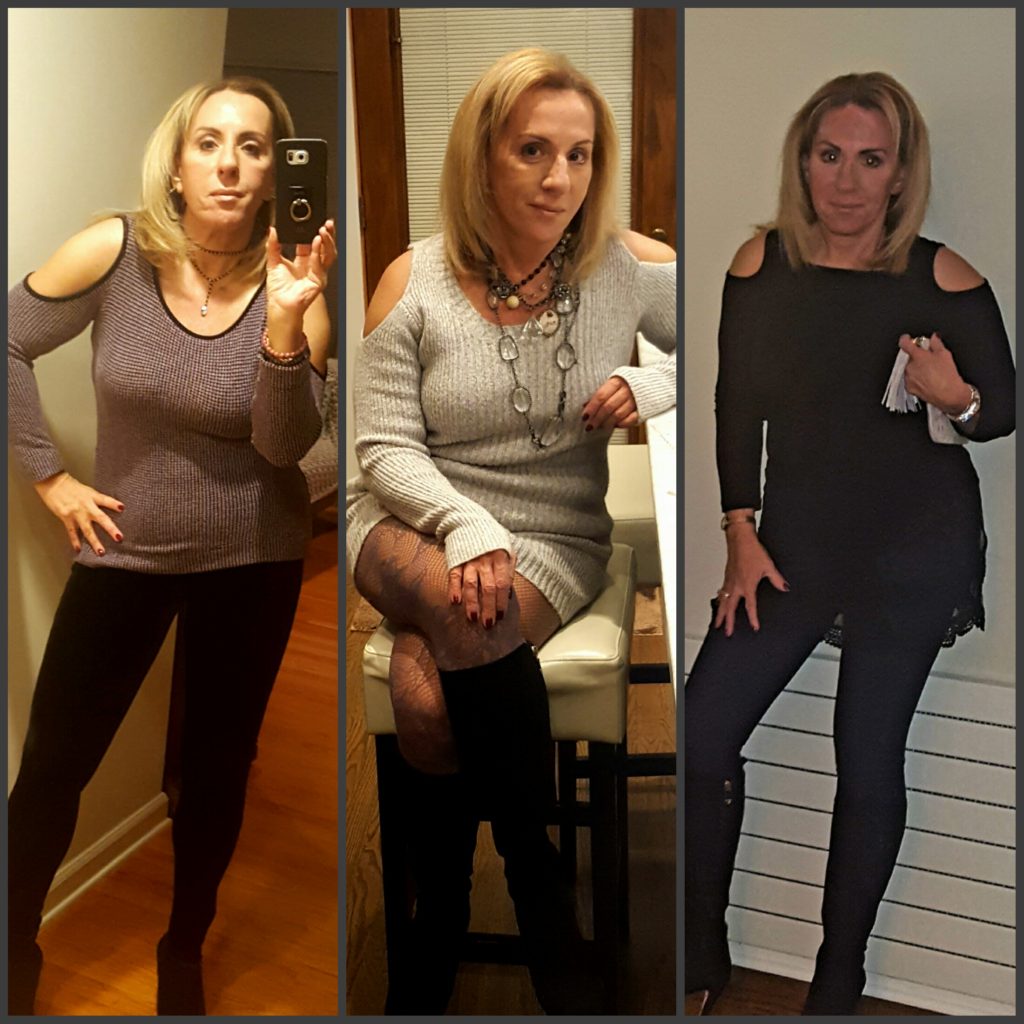 Do you currently have a favorite fashion trend? I'd love to hear about it! Share your favorite looks in the comments below!
If you love fashion take a look at these posts:
5 LOOKS THAT ROCK JEANS OVER 50
MY FAVORITE WORKOUT CLOTHING FOR WOMEN OVER FIFTY
And to get those boomer shoulders in great shape make sure to work them out:
STRONG, SEXY SHOULDERS
Disclosure: I was not financially compensated in any way for writing this blog post.