I love shoes but I also love comfort, especially now that I am middle-aged. I always want to be fashionable but sometimes the pain I feel after wearing a pair of shoes is so unbearable I just won't wear them again. The Banner Wedge Sandal from White Mountain is hands down the best summer shoe I ever bought. I purchased two pairs over two years ago from QVC.com — one pair is black and the other is a brushed gold. These shoes appear in lots of my posts because I wear them all the time.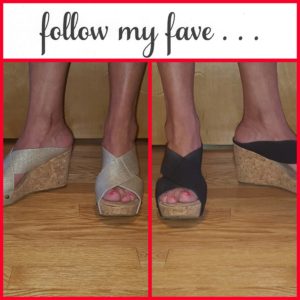 I love a high shoe and this 4 inch wedge is perfect. The shoe is so incredibly well balanced you will never feel the height. Additionally, the design is super simple which makes them very versatile. I wear them casually with jeans and dressed up with a fancy outfit. I am obsessed with them. In researching for this post I discovered that QVC no longer carries them but you can order The Banner Wedge Sandal by White Mountain directly from their online outlet. I couldn't help myself — at this insanely low price I ordered another pair in coral. I already have my outfits planned around them!
If you love accessories like I do I think you might enjoy this post:
Cool Clutches for Hot Summer Days
Disclosure: I was not financially compensated in any way for writing this blog post.