HOW TO GET OUT OF YOUR OWN WAY & SUCCEED!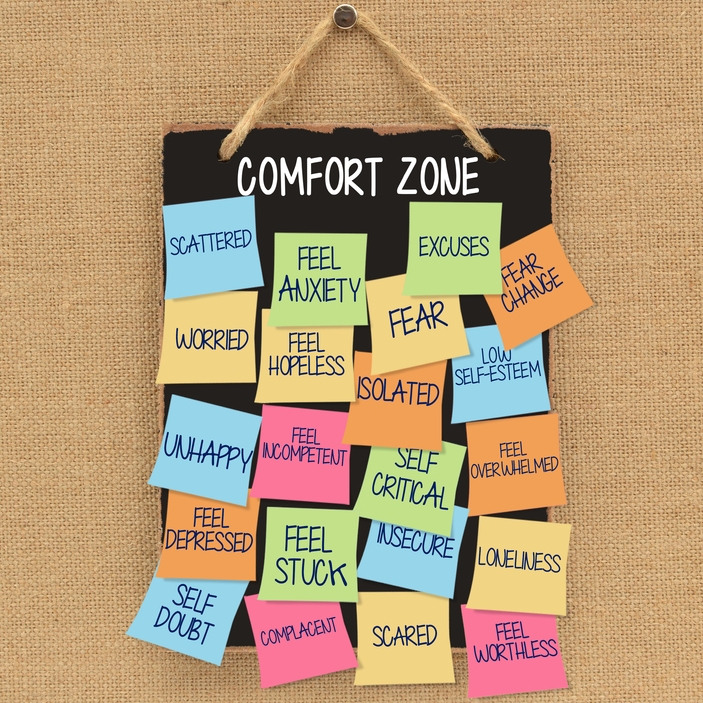 Are you guilty of self sabotage? Are you one of those women who want to improve their health, set goals and then fail miserably at keeping on track? Do you wonder what's wrong with you that you can't seem to meet any goal you set? The reasons for self sabotage could fill a book but let's concentrate instead on actions that can improve success.
It's an untruth to believe that middle-aged women who are healthy and look good sail seamlessly through their workouts and nutritional plans. I can't tell you how many times I want to skip my workouts and eat french fries (second only to bagels as my favorite food). And sometimes I do just that. But most of the time I don't. Having a defined way of dealing with self sabotage is the key to succeeding and it's easier than you think!
follow along with me...
So many of us suffer from low self esteem because of past life experience. I know I can be guilty of negative thinking! Many years ago I read an article in a woman's magazine that resonated with me. The article said that every morning we make a choice to either be first in line of our best friends or our worst enemies. Being your best friend means concentrating on the positives in your life. Women typically can easily make a list of their failings so it's critical to change thinking by creating a list of ways to encourage success.
THINK THIS / NOT THAT
INSTEAD OF: There's no point in getting started in a fitness program because I can't do anything right.
REPLACE WITH: I'm going to sign up for class at the new yoga studio that just opened up.
INSTEAD OF: I don't know anything about exercising so why even begin?
REPLACE WITH: I'm going to hire a personal trainer to teach me the basics of working out.
INSTEAD OF: I'm so fat nothing I do will make any difference.
REPLACE WITH: I'm going to sign up for the gym today and talk to their nutritionist.
INSTEAD OF: I'll never fit in these jeans again.
REPLACE WITH: If I lose five pounds I will be on the right track to fit in my favorite jeans.
INSTEAD OF: I just ate a very fattening breakfast. I should just give up on my diet.
REPLACE WITH: I'm going to eat healthy for the rest of the day because one cheat meal will not discourage me!
INSTEAD OF: I injured myself so now I'm too afraid to exercise again.
REPLACE WITH: I'm going to work with a physical therapist to repair my injury.
INSTEAD OF: I can't.
REPLACE WITH: I can.
BE THE MASTER OF YOUR SUCCESS!
Regardless of why we self sabotage, the bottom line is that changing our outlook from negative to positive can have a huge impact on our ability to effect the changes we want. "Self talk" is within our control and has tremendous influence on our behaviors. Listen when you talk to yourself, write it down and then come up with a positive spin. Have a "can do" mantra or word that catapults you from "no" to "yes." The word I use is "lift." When I'm down or tired or blue and want to drop the gym bag or reach for the cookies I reframe my thinking immediately. With a little practice you can too!
WHEN YOU'RE INNER VOICE IS SCREAMING "NO" WHAT STRATEGIES DO YOU USE TO TURN THAT NO INTO A "YES"?
These posts have lots of great tips on motivation:
GETTING FIT AFTER 50: HOW DO I GET MOTIVATED?