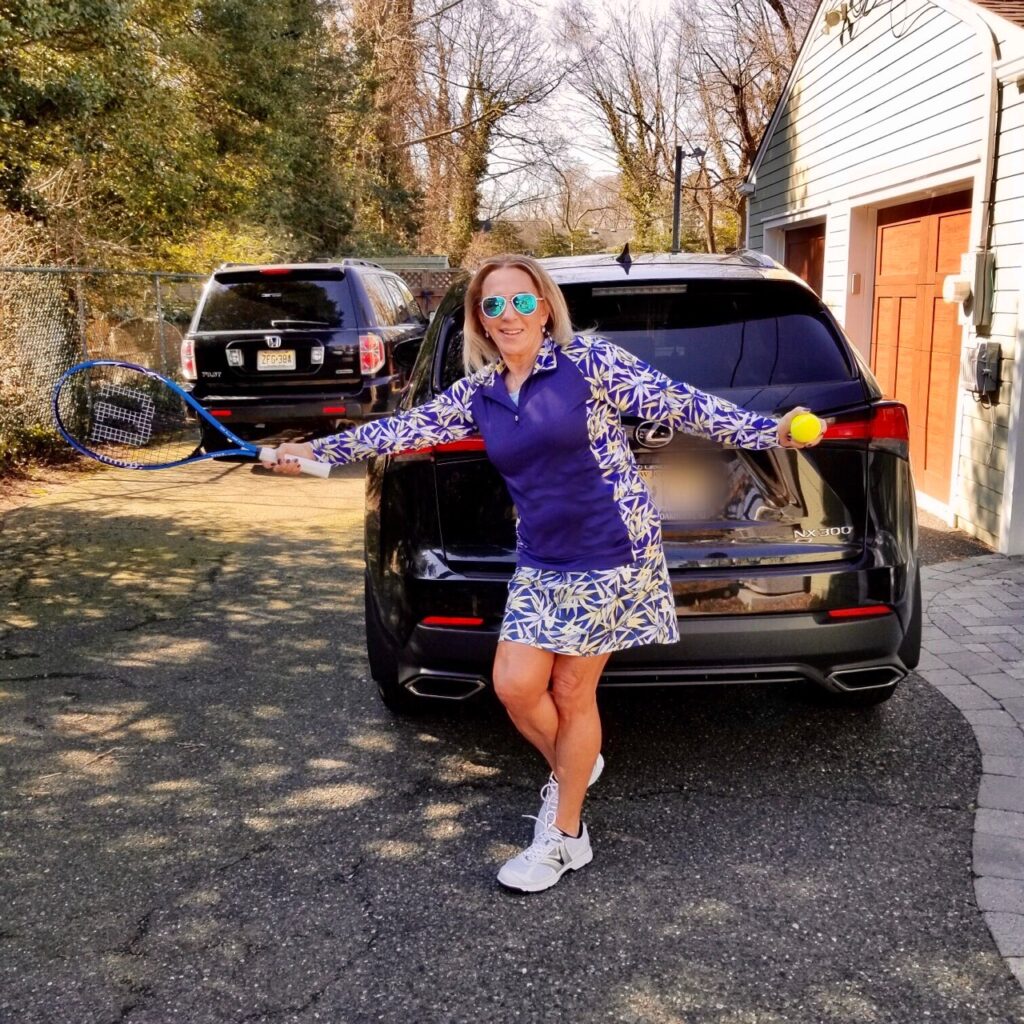 With the flower buds just starting to peek through the dirt, now is the time to spring into new beginnings with National®. I love clothing so I was thrilled when National®  reached out to me with their new line of moisture wicking and UV protection sports wear. And to help celebrate the launch of this new line they are offering my readers a discount with the code Natl2020Phyllis. It's 20% off with FREE SHIPPING for the month of March!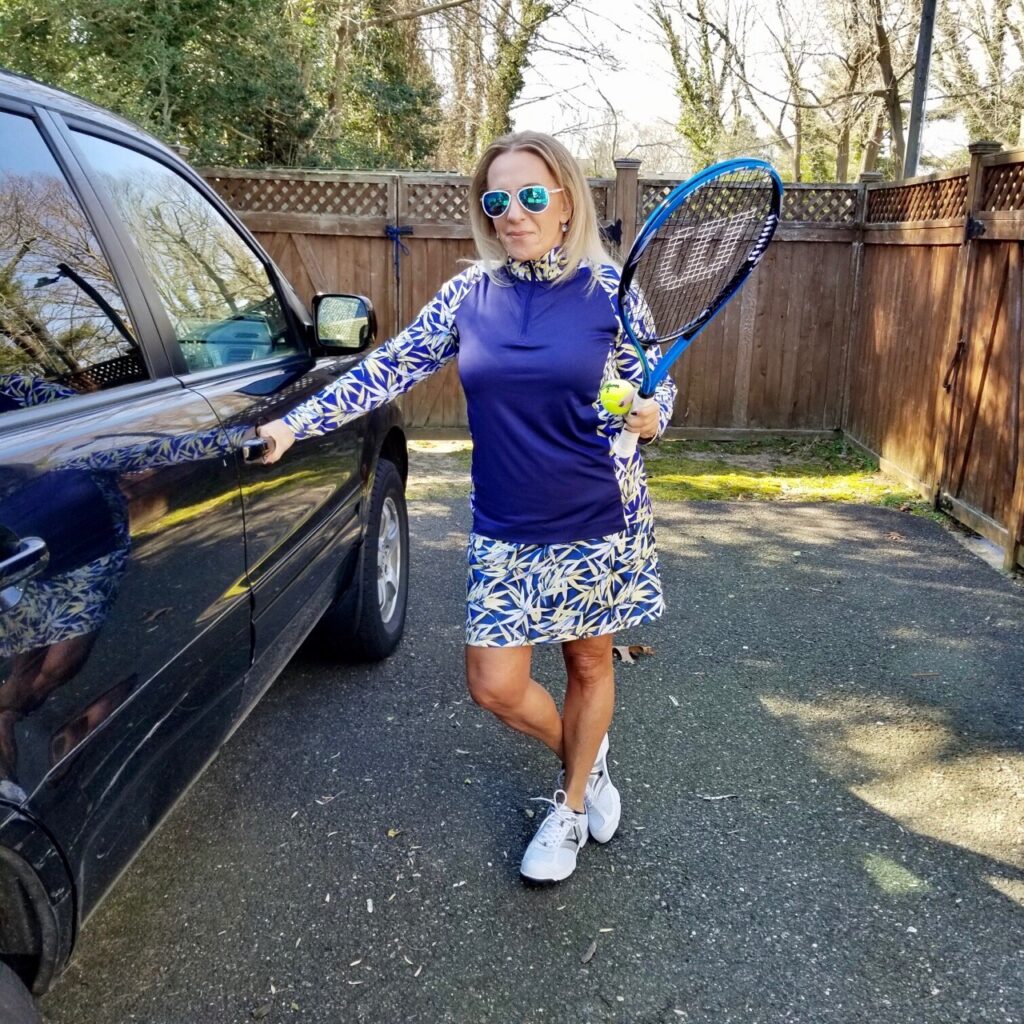 National®, a family and female-owned company,  strives to make beautiful, affordable and comfortable clothing that reflects the needs of today's midlife woman. In the catalog business for over 65 years, their online store also offers some of those hard-to-find health and wellness products along with their super comfy clothing.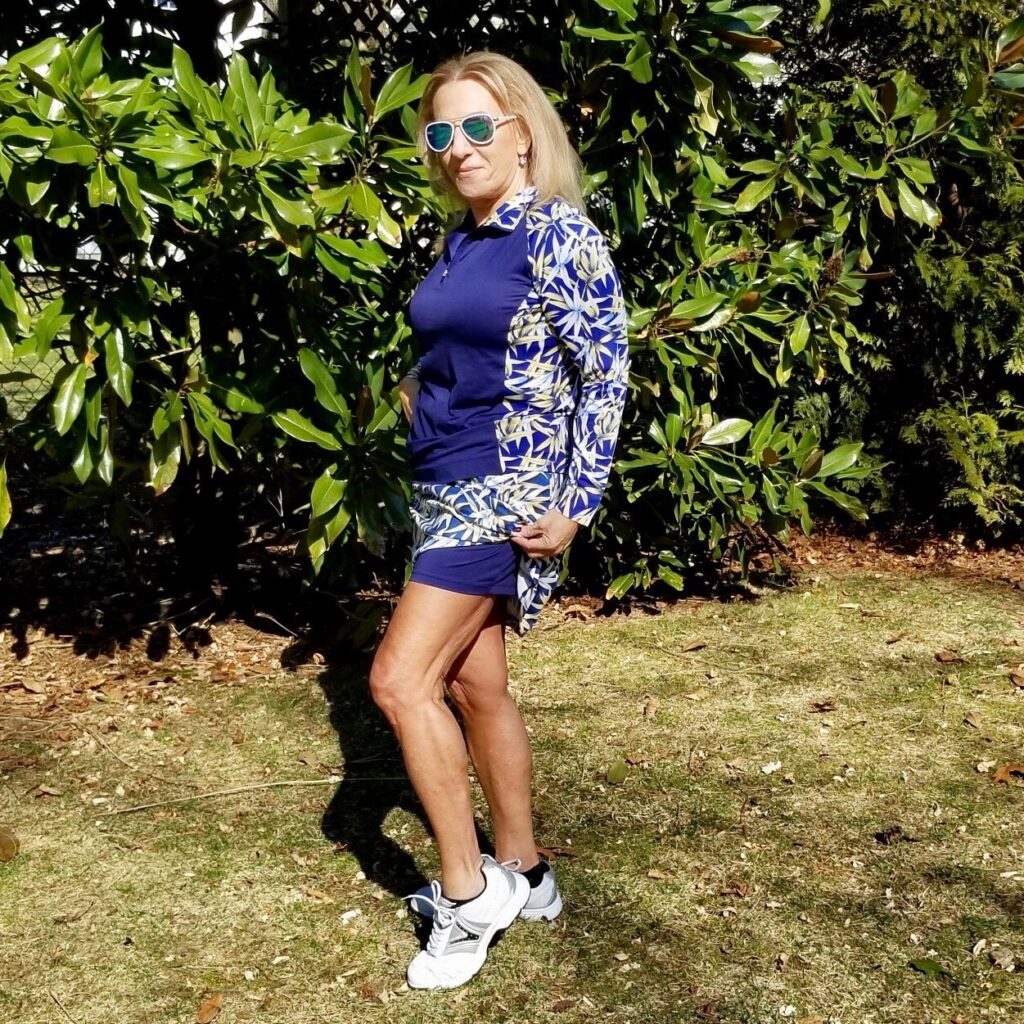 Okay, okay . . . something other than a weight in my hand? Yes! Now is the season to spring into new beginnings so I thought "why not try something new?" So I decided to give tennis a try! Just trying to hold the racket correctly is a challenge for me. But do you know what's easy? Choosing this adorable outfit! This fabulous 1/4 zip pullover and matching walking skort (yes! you heard me right — a skort!) are part of the NEW Wic-Tech™ collection from National® which means they are both moisture-wicking with the added bonus of UPF50+ protection.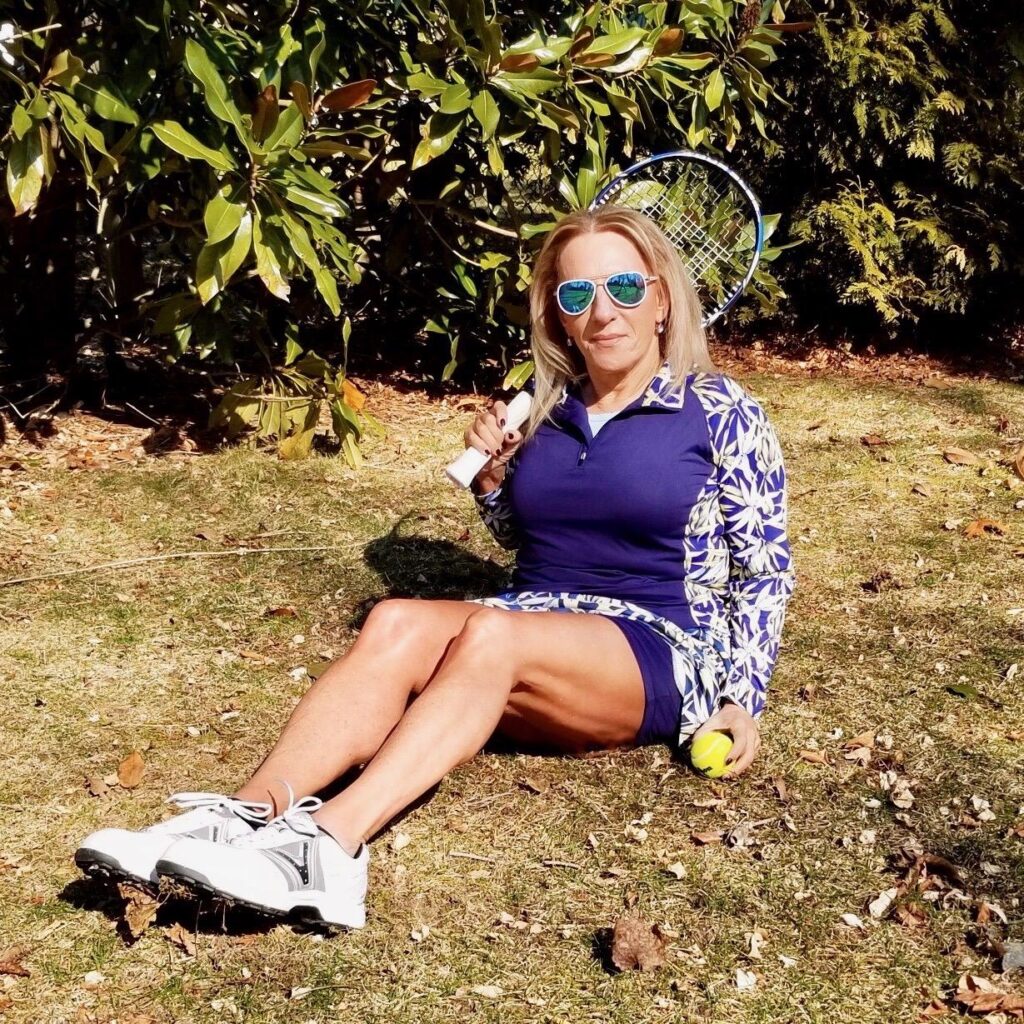 The Wic-Tech™ Walking Skort is designed to let you move while keeping you covered in style! This fabric allows ample stretch and movement and keeps you dry throughout the day with moisture wicking technology. The super soft undershorts give an extra level of modesty which I love! An added bonus (if there aren't enough already!) are the comfortable flat waistband and pockets! And let's not forget that it's UPF50+.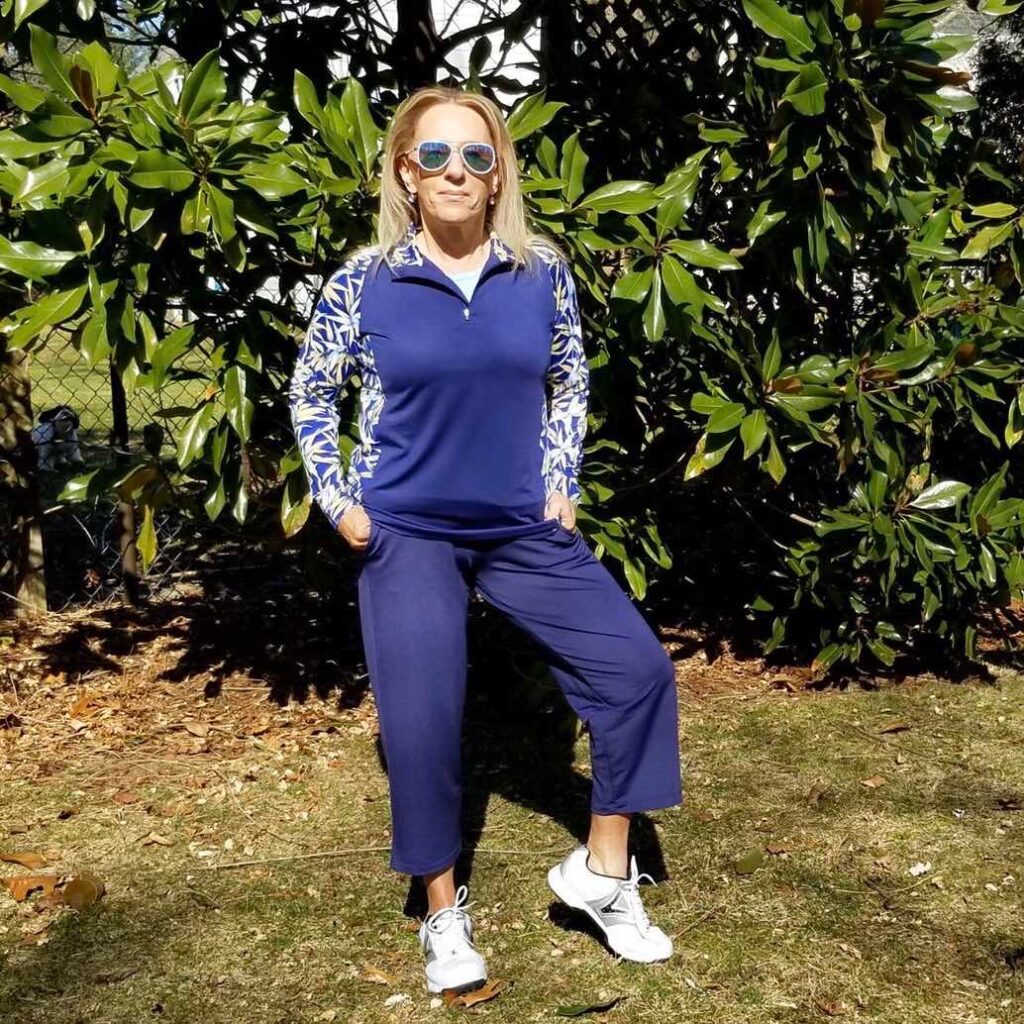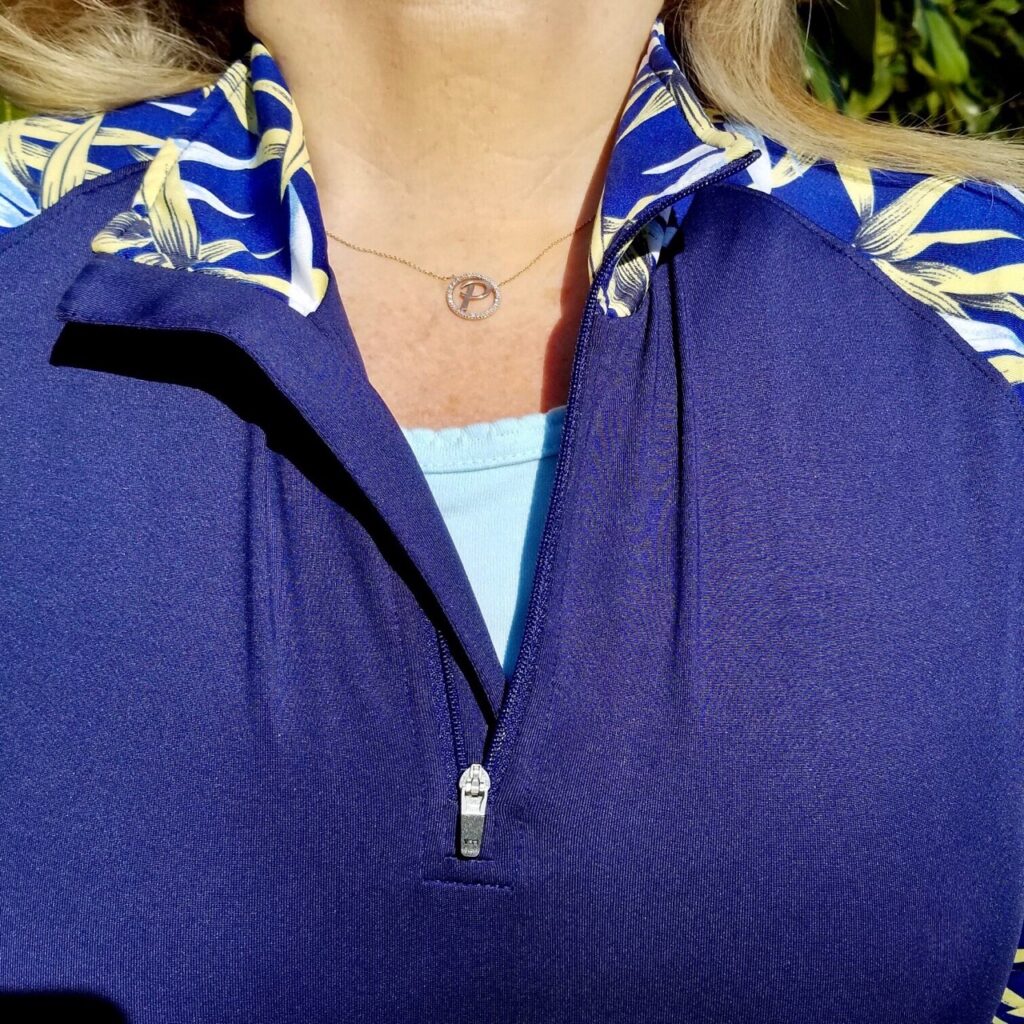 The new Wic-Tech™ ¼-Zip Pullover sports a long-sleeved raglan style top in bright, bold pattering that extends down the side panels for a flattering look. Made by National® in a bouncy polyester knit with a touch of spandex, this pullover moves effortlessly for ideal comfort. This allows you to enjoy your activity in style while staying dry from the soft, moisture-wicking, UV-protective fabric.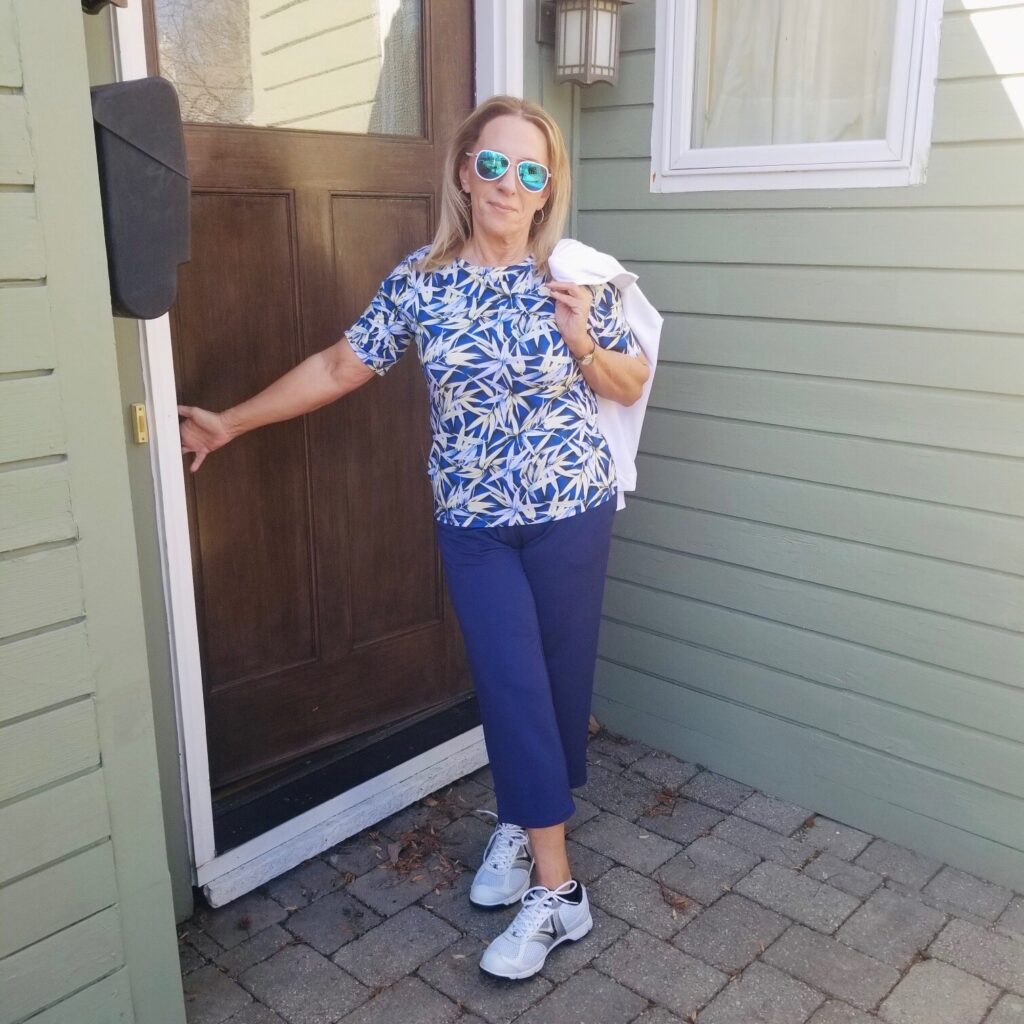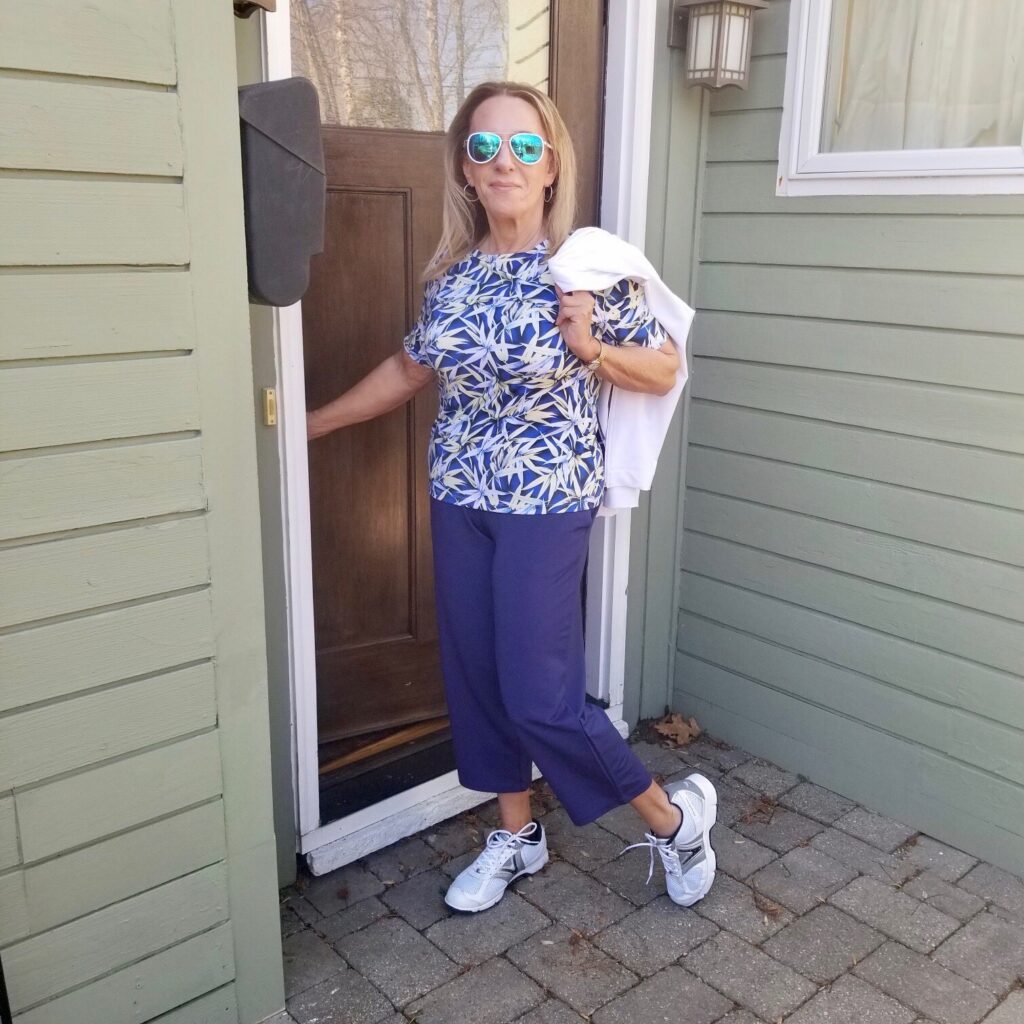 The light and airy Wic-Tech™ Fit-Knit Top is great for exercise, brisk activity, or just a warm summer day, as it's  moisture-wicking and provides all day UV protection. This top has a round neckline and short sleeves with a straight hem for a classy, comfortable fit. Here I've paired it with their comfy Knit Capri Pants, perfect for warmer weather. Made from a terry knit, the wide, flat waistband flatters the front waist. The easy pull-on style with side-seam pockets lets you wear throughout the day with ease. Great for being active or just lounging around the house. I love to put these on the minute I get home after a grueling workout or tiring day.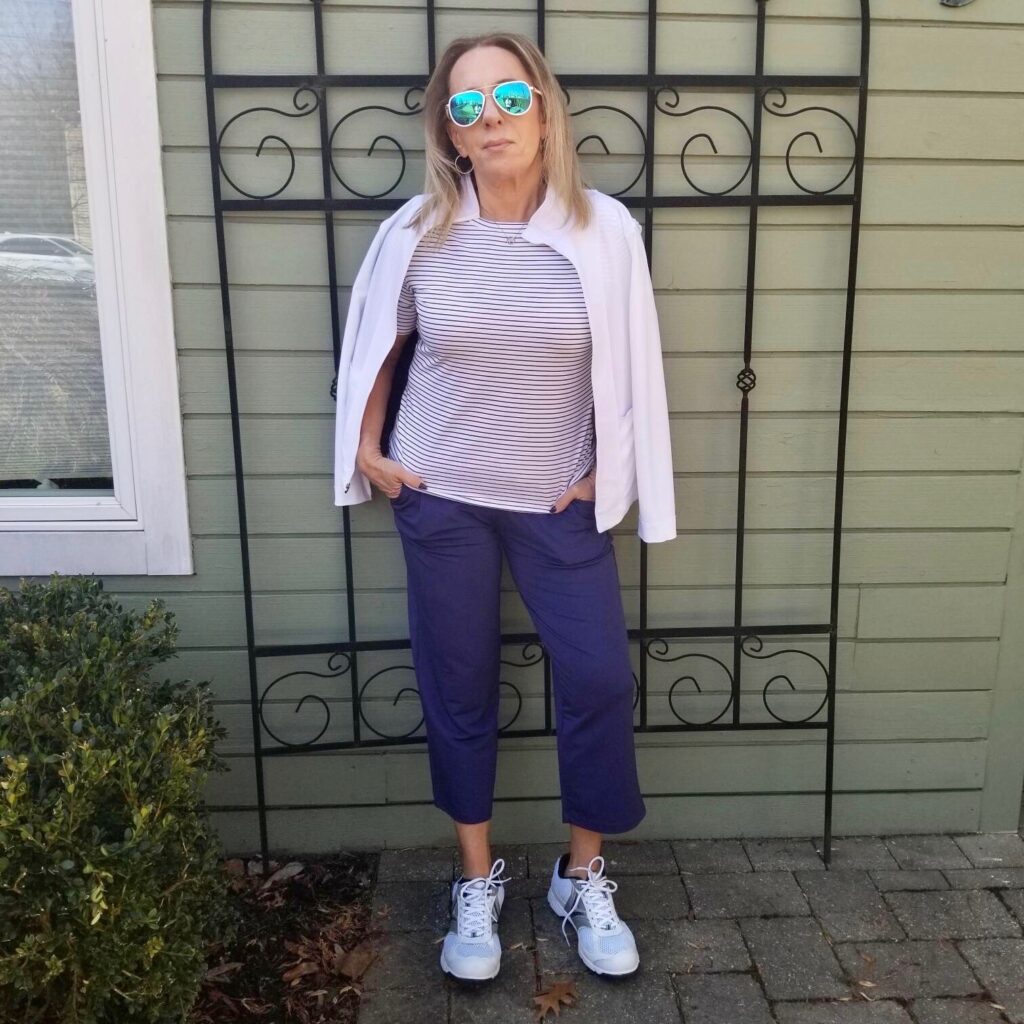 I love this jacket! A great lightweight garment that looks great zipped up or left open over a tee or tank, this Full-Zip Jacket by National® is figure-flattering with slimming side panels, long sleeves, and a stand-up Mandarin collar. Soft polyester French terry feels lightweight and fresh, while a touch of spandex adds extra comfort and mobility.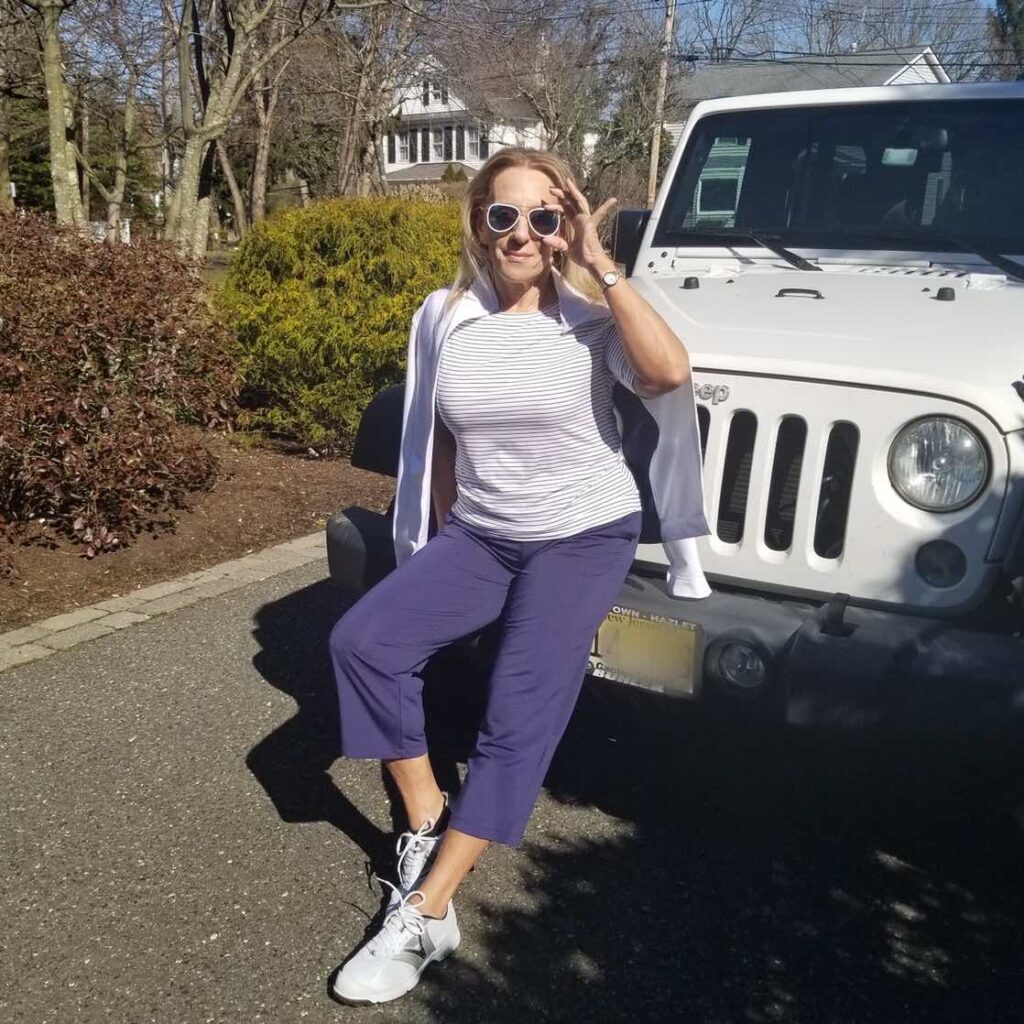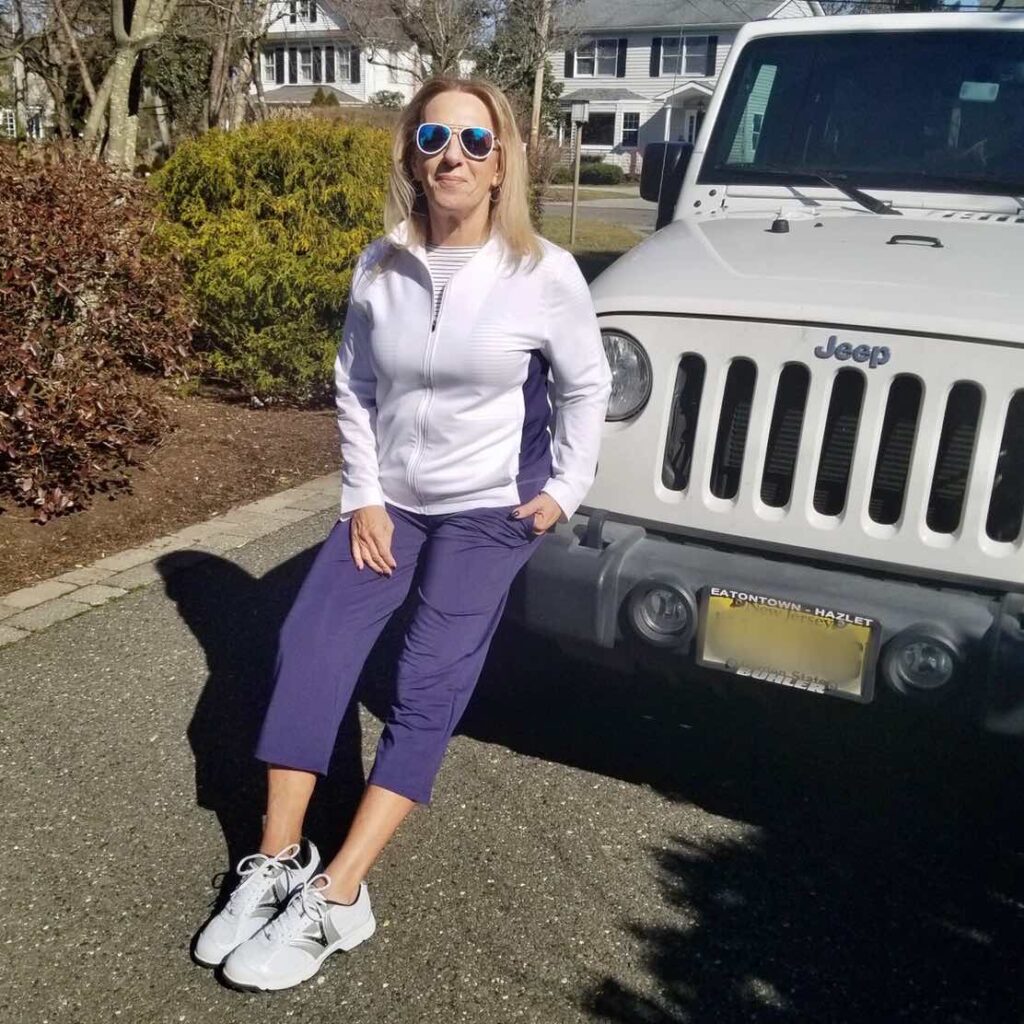 Activewear meets attractive-wear
Can you believe how versatile this look is? All I did was switch out the sneakers for high heeled slide sandals and add a splash of color with my clutch and statement necklace. And viola! I'm ready for an evening out!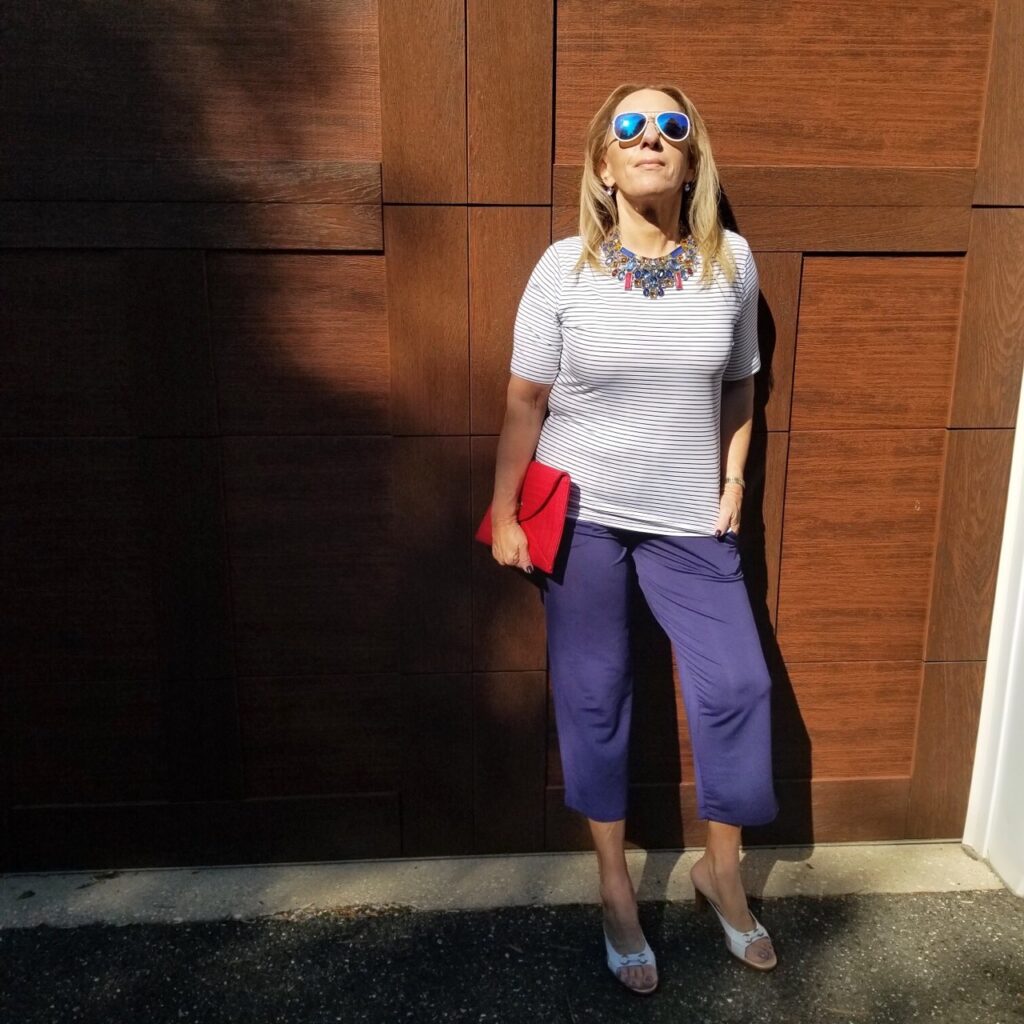 Here comes the sun 
All of the clothing featured in this post have UPF50+ protection according to ASTM6603, which mean that they are great at filtering out the sun's harmful rays. You can wear these garments all day without worrying about your skin's safety.
FINAL THOUGHTS
If you are ready to spring into new beginnings, this NEW Wic-Tech™ collection from National® is for you!
It's important to note that many companies reach out to me but I am very selective of who I choose to partner with. The quality, comfort, selection, and price point are the reasons I love working with National® . And I am so happy they are offering my readers a discount with the code Natl2020Phyllis. It's 20% off with FREE SHIPPING for the month of March!
Disclosure: This is a sponsored post with National®  but all words and opinions are mine. I appreciate the opportunity to work with companies that provide quality, stylish and affordable clothing designed with us in mind. Thank you for supporting these companies!
For more fabulous fashion from National®, make sure to read these posts:
STEP INTO SPRING WITH NATIONAL®