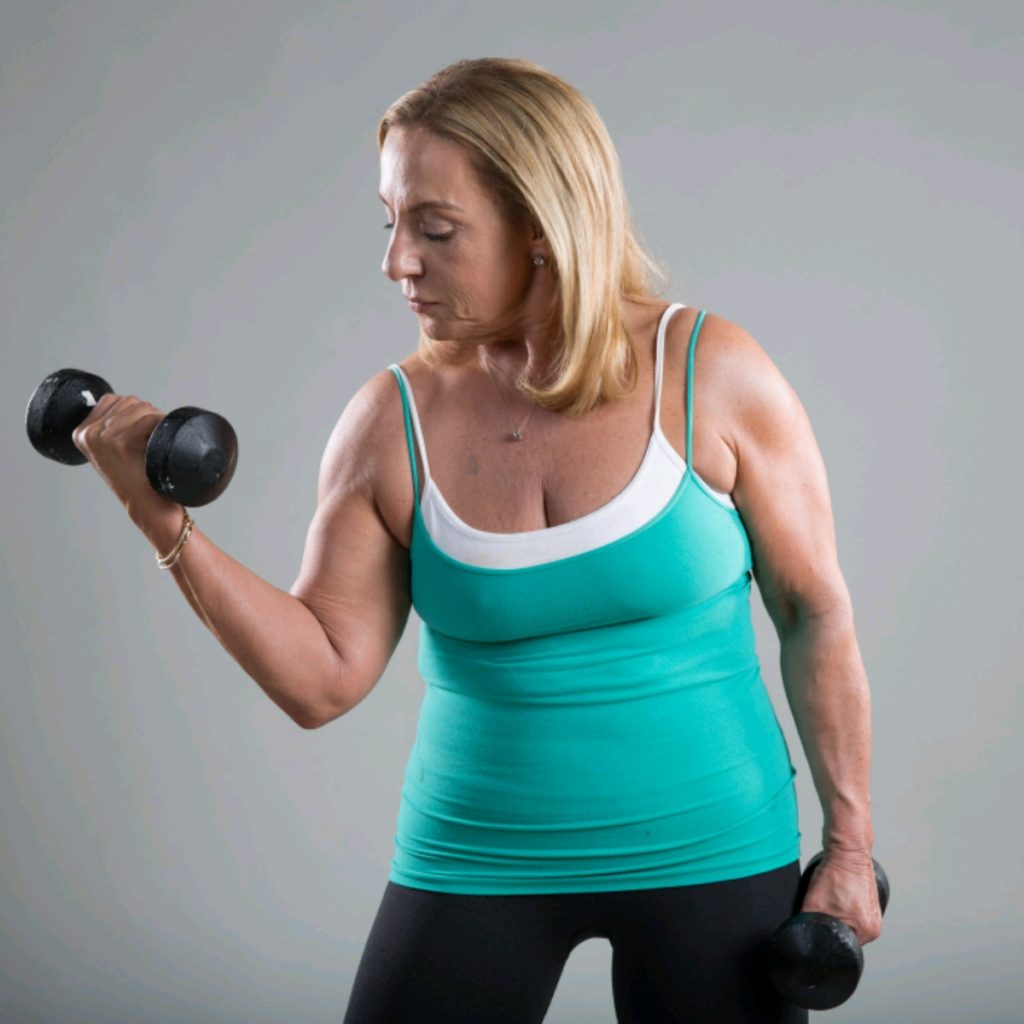 It's a tale as old as time – you look around the gym and see the cardio section jam-packed with women. Men of all ages and sizes monopolize the weights and machines.
Unfortunately, women often hesitate to venture over and participate in weight training. And while cardio is a fantastic workout, there are certain benefits that are specific to resistance training such as increased strength, muscle density, metabolism and sleep patterns.
Weight training is especially important for women 50 and beyond. As women age, they lose muscle fibers which can alter the way that they look and feel. Lifting weights can preserve bone density and assist in creating and maintaining lean muscle mass.
Weight training can also improve overall strength and balance – two things that inevitably decline through age.
follow along with me...
Follow these five tips to ease your way into weight training and develop a routine that's perfect for you:
Stretch It Out – Before diving into lifting, it's imperative to prep yourself. The last thing you want to do is to work out with tense and tight muscles. Take the time to stretch out and loosen your muscles, which will eliminate the opportunity for strain. Doing a few minutes of cardio before your weight training is another excellent way to warm up.
Go Easy – Once your body feels ready, reach for a pair of 2.5 lb. or 5 lb. weights. Go slow and focus intently on your movements and level of control. When it comes to weight training, it's more important to maintain proper form than lift a heavy amount of weight.
Listen to Your Body – There's a difference between pain and soreness. When partaking in weight training, it's impossible to avoid muscle soreness. In fact, if you're experiencing typical muscle soreness, it's usually a sign that the exercises performed have challenged you. However, there IS a difference between pain and soreness. And because strains and sprains can take weeks and weeks to heal, it's important to pay attention to the type of pain you're experiencing and adjust your routine accordingly.
Moderate – Once you begin to see results, it can be tempting to pick up the pace and lift weights every single day. But most experts recommend weight training no more than 3-4 times a week, enabling muscle tissue to fully heal and lessening the chance for injury.
Increase – Over time, you will grow stronger and stronger. You'll notice that in time, you will not experience the same level of soreness after using the same weights in your routine. In order to keep challenging your muscles, it's important to slowly increase the weight that you're exercising with – but only when you're ready!
So, take a chance and venture over to the other side of the gym. Prefer working out at home? That's fine! Either way, step outside of your comfort zone and make time for weight training. Your body and your confidence will thank you for it!
If you have a question about weight training or would like to share an experience, please share in the comments below
 If you're looking to learn about looking your best in your 50's, this post is for you:
10 BRILLIANT WAYS TO FEEL COMFORTABLE IN THE GYM WHEN YOU'RE OVER 50