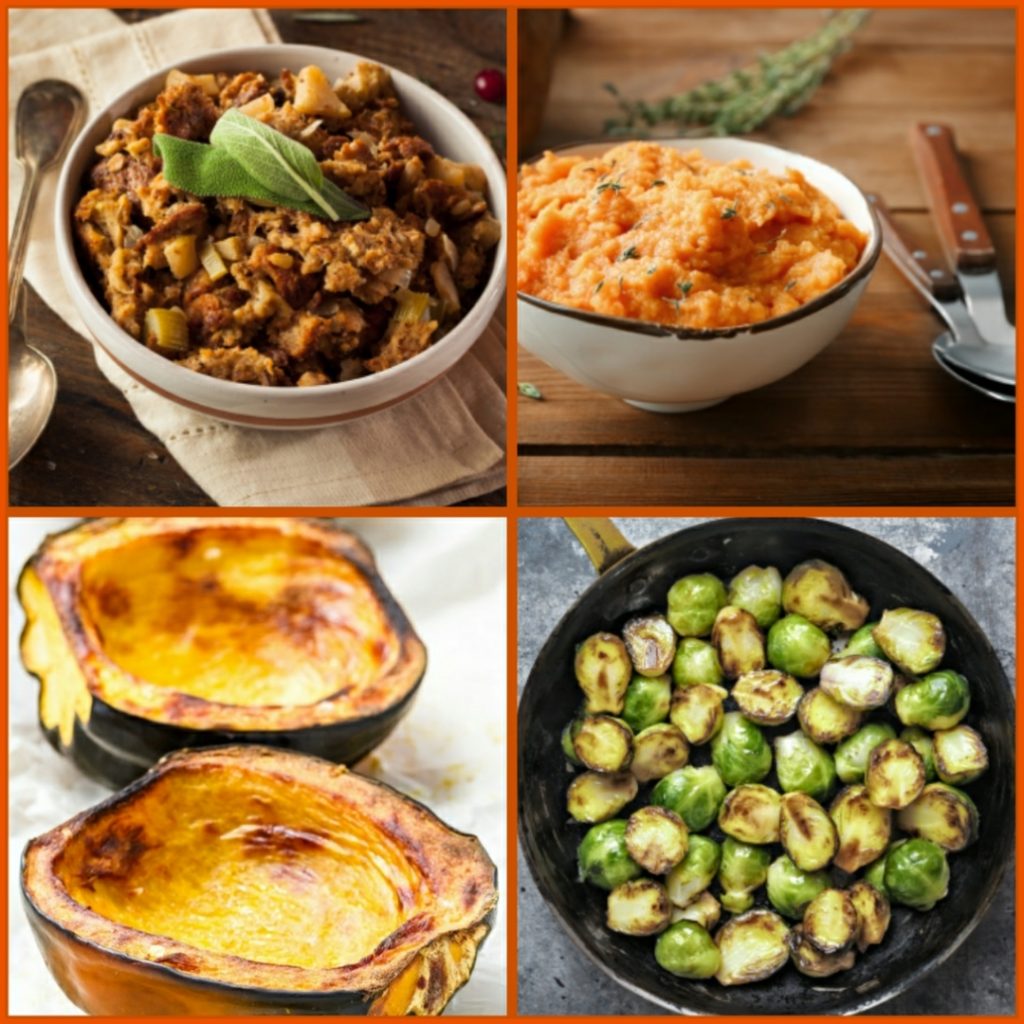 Thanksgiving is my favorite holiday. I love all the food but hate that bowling ball belly bloat so I try to lighten up the food. To me the bird is a secondary character and I make plenty of go alongs as the sides are my faves. There are so many to choose from and I usually make five or six (or seven or eight)! These four recipes are the ones I make every year  at Thanksgiving without fail. I'm sure if I ever eliminated one of them there would be a price to pay!
Gluten-free Mushroom & Chestnut Stuffing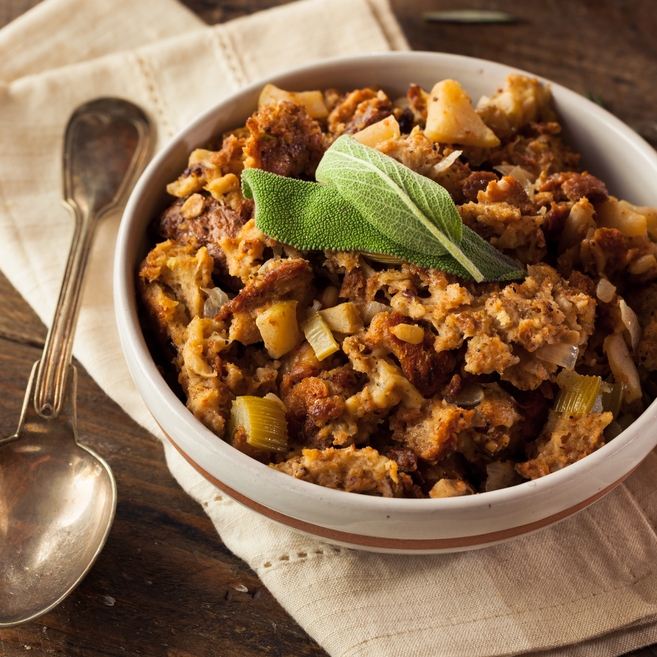 INGREDIENTS
6 ounces peeled whole chestnuts from a jar
2 tablespoons butter
1 tablespoon olive oil
2 pounds medium organic mushrooms, quartered
4 tablespoons dry Sherry
1/2 cup finely chopped onion
¾ cup canned low-salt chicken broth
1 1/2 teaspoons minced fresh thyme or ½ teaspoon dried
1 1/2 tablespoons minced fresh parsley
8 ounces  gluten free bread cubes
PREPARATION
Preheat oven to 375 degrees.
Melt 1 tablespoon butter with the oil in a large non-stick skillet over high heat. Add mushrooms and saute until golden, approximately 10 minutes. Add sherry and stir until evaporated. Remove from pan and set aside. Wipe pan with a paper towel.
In the same pan add the other 1 tablespoon butter and saute the onions for about 10 minutes until tender. Add the chestnuts, chicken broth and thyme, cover and simmer on low for about 15 minutes.
Place mushrooms and chestnut/onion mixture in a large bowl. Add bread cubes and gently mix. Put mixture in a greased baking pan, cover with aluminum foil, and bake for 30 minutes. Uncover and bake until top is crispy, about 15 minutes. Sprinkle with parsley and enjoy!
Serves 4
MAPLE GINGER MASHED SWEET POTATOES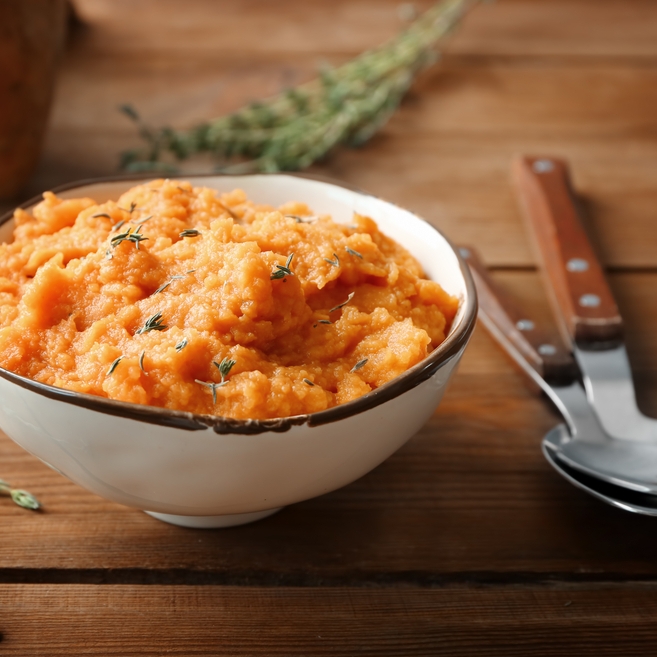 INGREDIENTS
4 medium organic sweet potatoes, peeled and cut into quarters
2 tablespoons heavy cream
2 tablespoons maple syrup
1/2 teaspoon nutmeg
juice from 1/2 orange
1/2 teaspoon ginger
1/2 teaspoon cinnamon
Salt and freshly ground pepper
PREPARATION
Bring water to a boil in a large pot. Toss in cut sweet potatoes. Cook for approximately 25-35 minutes or until slightly soft. Drain and place in a large mixing bowl.
Add cream, maple syrup, orange juice, nutmeg, ginger and cinnamon to the potatoes in the mixing bowl. Mash the ingredients until well blended but still with a little texture. Add freshly ground pepper to taste.
Serves 4
Caramelized Balsamic Roasted Brussel Sprouts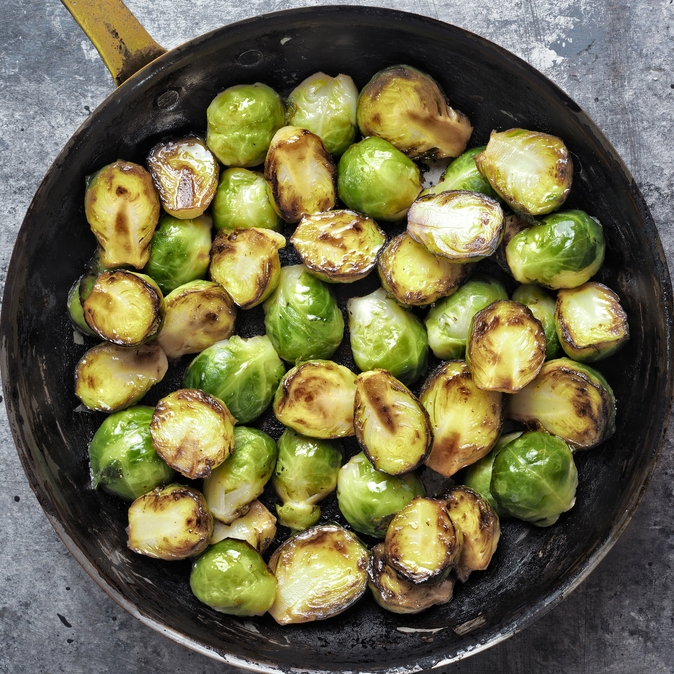 INGREDIENTS
1 pound fresh organic Brussel sprouts, cut into halves
2 tablespoons organic virgin olive oil
1 tablespoon balsamic vinegar
1 teaspoon freshly ground black pepper
1/2 teaspoon sea salt
PREPARATION
Preheat oven to 375 degrees.
Line baking sheet with tin foil. Mix together olive oil, sea salt and pepper in a gallon size zipper bag. Toss Brussel sprouts into the olive oil mix, zip up bag and shake until coated. Spread out in a single layer onto baking sheet. Bake for 40-50 minutes until they are nicely brown and crispy. Remove from oven and drizzle on balsamic vinegar. Place them back in the oven for about 2 minutes, just until the top is very slightly caramelized.
Serves 4
BAKED ACORN SQUASH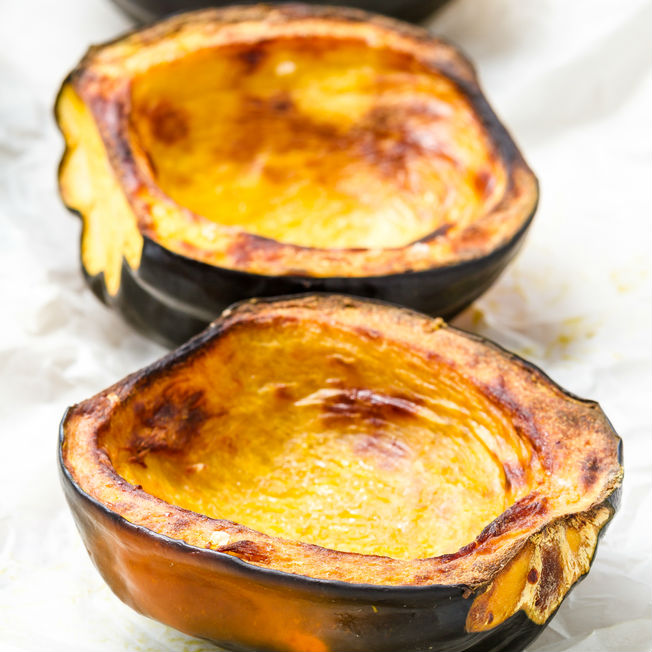 INGREDIENTS
1 acorn squash
1 teaspoon coconut oil
fresh cracked black pepper & cinnamon to taste
PREPARATION
Preheat oven to 350 degrees.
Cut squash in half & scoop out seeds
Rub inside & out with oil
Place face down on a baking sheet
Bake for about 45 minutes until golden brown
Top with pepper & cinnamon (& maybe a dash of salt)
DO YOU HAVE A THANKSGIVING RECIPE YOU'D LIKE TO SHARE?
After you eat why not go outside and have some fun!
FALL FITNESS FUN WITH PHYLLIS