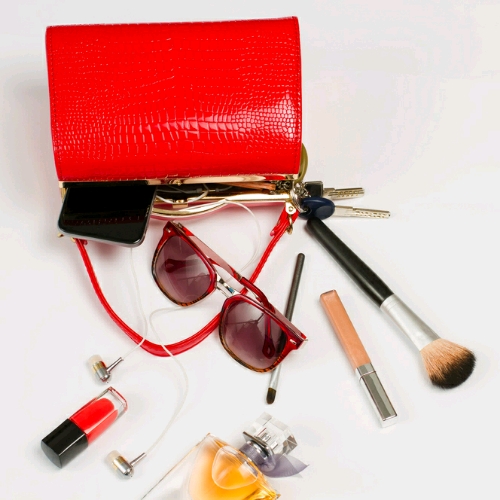 I'm a middle aged woman who always carries a good sized pocketbook – do you think you can guess what's in my bag? I like to be prepared at all times so I carry a variety of products "just in case." When I go out at night I usually carry a little clutch which sometimes creates angst because these little bags hold so little! The other night I was out with friend and wanted to touch up my makeup but realized all I had in my little purse was some lip gloss. No lip pencil or lipstick. No concealer. I was in panic mode. It could be I'm a little bit of a control freak but having a bag with all my essentials makes me happy!
THIS IS WHAT I SCHLEP IN MY BAG DAILY
HEALTH ITEMS:
Ibuprofen. I always have some with me to ease pain and inflammation, especially if I've overdone it at the gym. I'm known as the "Advil" lady as everyone comes to me when they are in need.
Hand Sanitizer. Germs are everywhere! If you want to avoid getting sick, make sure to choose one that kills 99.99% of bacteria. I always use sanitizer when I leave the gym.
Band Aids. We are all prone to getting cuts, scraps, and blisters. With basic first aid supplies, you can make repairs to all the little emergencies that life throws at you. Especially when you break a nail  🙁
Face/Wet Wipes. You can never be too clean and sometimes water is not available.
Tissues. These can be used for your nose, blotting makeup, and wiping up tears after a crappy day. It is a lot cleaner to sneeze into a tissue than into your hands. And let's not forget about the times when there's no toilet paper available!
Floss. There is nothing worse than having a piece of food stuck between your teeth and not being able to get it out. Trust me, I've tried the whole "use a strand of hair" trick to attempt getting something out of my teeth . . . but I ended up with the piece of food still stuck there along with the strand of my hair. My advice: stick with the floss so this doesn't happen to you.
Medicines. If you are taking meds keep your daily dose in a small container or bag specifically designed for them. I use little glassine envelopes folded over.
BEAUTY ITEMS:
Concealer. This is always a must. I don't know about you, but sometimes a full blown zit will appear out of nowhere making me want to put a paper bag over my face and hide. Don't let this happen to you! Unlike foundation, concealer is heavy enough to cover any inflamed blemish and works great for under eye dark circles. I use it strategically all over my face and feel naked without it!
Eyebrow pencil. Having a more structured eyebrow make your eyes pop as they work as a frame for them. Having groomed eyebrows will make you look more polished and awake. I always carry my eyebrow pencil with me because eyebrows need to be touched up throughout the day.
Mini Eye Shadow Compact.  Most of us are on the go from morning until late and we're usually in need of a touch up. When it comes to picking out the right compact, choose one with a neutral palette with fool-proof colors that work for both morning and night looks. There are many days that I use a light touch with my eye shadow but want a smoky eye for evening and having your palette with you allows you that freedom. There are many small eye shadow compacts available with 4 basic tones: highlighter, 2 mid tones and a dark, smoky color. You don't need anything larger than this.
Lip pencil/Lip gloss/Lipstick. A little color on the face can make a big impact. I keep a duplicate set in my bag of the 3 main lip products I use at home: my liner, lipstick and gloss.
Perfume. Call me old school but I like to add a little spray now and then. I love smelling good! Many scents come in small sizes designed for handbags.
Emergency Hair Kit. This is essential for every busy, hair-obsessed woman to keep hair looking great regardless of the weather, time of day, or occasion. This kit should include hair clips and ties, bobby pins, and travel-sized hair products like hair spray (my personal favorite). A small comb or brush is essential. I also have at least one scrunchie, sometimes two.
Mini-Nail Kit. I just keep an emrey board in my bag but a small bottle of your nail color is a good idea if you're prone to chips.
Small Mirror. Mine is 10X magnification. The horror of finding a 2″ black hair coming out of my chin!
Tweezers. When I find that hair I want it out immediately if not sooner.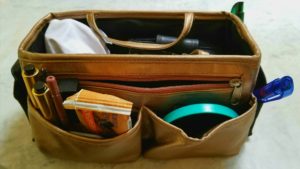 ESSENTIAL LIFE ITEMS:
Wallet. I have a very old French style wallet with lots of slots for credit cards.
Check Book. Call me old fashioned!
Gum/Mints. Let's be honest . . . No one likes to talk to someone with smelly breath. Don't make them suffer!
Portable Charger. This is very useful if you don't have access to an outlet to charge your cell phone or any electronics you're taking on-the-go. Make sure to keep yours charged! I always have one in my bag especially since I'm on the phone all day.
Pocket Notebook/ Post-Its. There are countless uses for carrying a notebook. They can help you stay organized, remember ideas or thoughts, and are super convenient.
Pens. Yes, that's plural. I always have at least 3 pens just in case. I don't know what "just in case" is but I always have more than one.
Master Lock. If you're a gym regular this is a must. You never know when the urge or opportunity for a workout arises. I always have mine with me and use it often for spur of the moment workouts.
Sunglasses. You always need that sun protection.
Reading Glasses. Let's be real! I always have two or three pairs with me because even in my bag I can't find them  🙂
Snack. I always have a high-quality protein bar and nuts in my bag in case I get hungry. This keeps me away from impulse buying and eating junk food. If I'm going to be out of my house for more than an hour I also take a small bottle of water.
Mini Umbrella: I have a super tiny umbrella that I stick into the corner of my bag.
Keys. I shouldn't even list these but I wanted to make the list complete!
Most of us tend to carry a lot of stuff in our bags. Someone is always yelling at me that I'm going to hurt my back or shoulder but I really don't care. I need my stuff when I need it  🙂
WHAT'S IN YOUR BAG? SHARE WITH US WHAT YOU ALWAYS CARRY AROUND WITH YOU!
This post has beautiful bags & bracelets:
COOL CLUTCHES FOR HOT SUMMER DAYS