Fall is a great time of the year to play around with your clothing. The weather can go from summer to winter within a few hours so I've come up with a simple fashion formula that works for me and I think will work well for all women over 50:
jeans + tee shirt + jacket = my go to look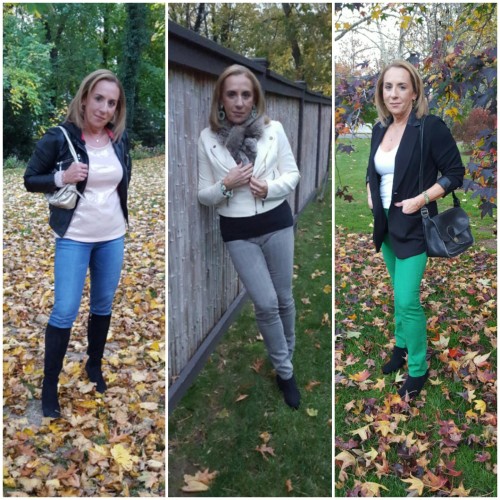 What makes this work is that you can swap accessories to tailor your outfit for temperature and occasion. If I'm going out at night I may put on a sparkly tee or some bold statement jewelry. When it's nippy outside I'll add a warm scarf and some boots. The trick here is to make sure you have a few pairs of well fitting jeans or leggings, a couple of light weight jackets (a blazer is always good to have on hand) and then just grab whatever shirt you feel like wearing (sometimes I wear a gym tee – be creative). Add some fabulous boots or heels and then play around with your accessories to achieve the look you like. This formula is simple and you will always have something to wear. For this to work you need to spend about 30 minutes putting together the different elements allowing you to look great in a moment's notice.
follow along with me...
Go through your clothing and find (you know you have them!):
2 or 3 pairs of jeans or leggings
2 or 3 blazers or short jackets (sweaters are OK too)
2 pairs of boots
1 pair of heels
3 or 4 tee shirts or tops (simple tees are great)
Try everything on and make sure all pieces fit well and are in good shape. You may find that a pair of jeans or a shirt that looked well on you a few years ago no longer works on your over 50 body. And no, you can't just hold them up to you — you must try them on. Mix and match the pieces and find some combinations that work well together. Look through your accessories and play dress up until you've found 3 complete looks that you like. Take a pic of each outfit and put those pieces of clothing and accessories together so you can access them easily.
You should always dress to impress and with just a tiny bit of effort you can!