Happy Friday ladies!  I'm so excited for our next post of the Ageless Style Series. We are continuing with our fantastic and diverse group of bloggers all styling a similar seasonal trend in a variety of ways. Our summer theme is Tie Dye!
Growing up in the sixties and seventies, tie dye was a fashion staple. I remember wearing a tie dye tee shirt on my long drive to Woodstock. (Yes, that Woodstock!) Recently, tie dye has seen a big resurgence! Many believe that the renewed interest stems from the DIY projects so popular during the current lock down. Regardless of why it's so popular, I'm excited! Come visit with the girls representing each decade and check out all of these fantastic looks! Groovy baby!
I'm starting with me, the oldest of the bunch 🙂
60's Blogger: Phyllis of FOLLOWPHYLLIS
IG: followphyllis
Bio: Hi Ladies! I'm Phyllis, the woman behind followPhyllis.com, a website dedicated to empowering women over 60 to be their best selves. I blog primarily about fitness, nutrition, and motivation but I also love to bring my passion for fashion and beauty to my followers as well. Most women in my age group feel forgotten and I like to remind them of their vibrancy and vitality.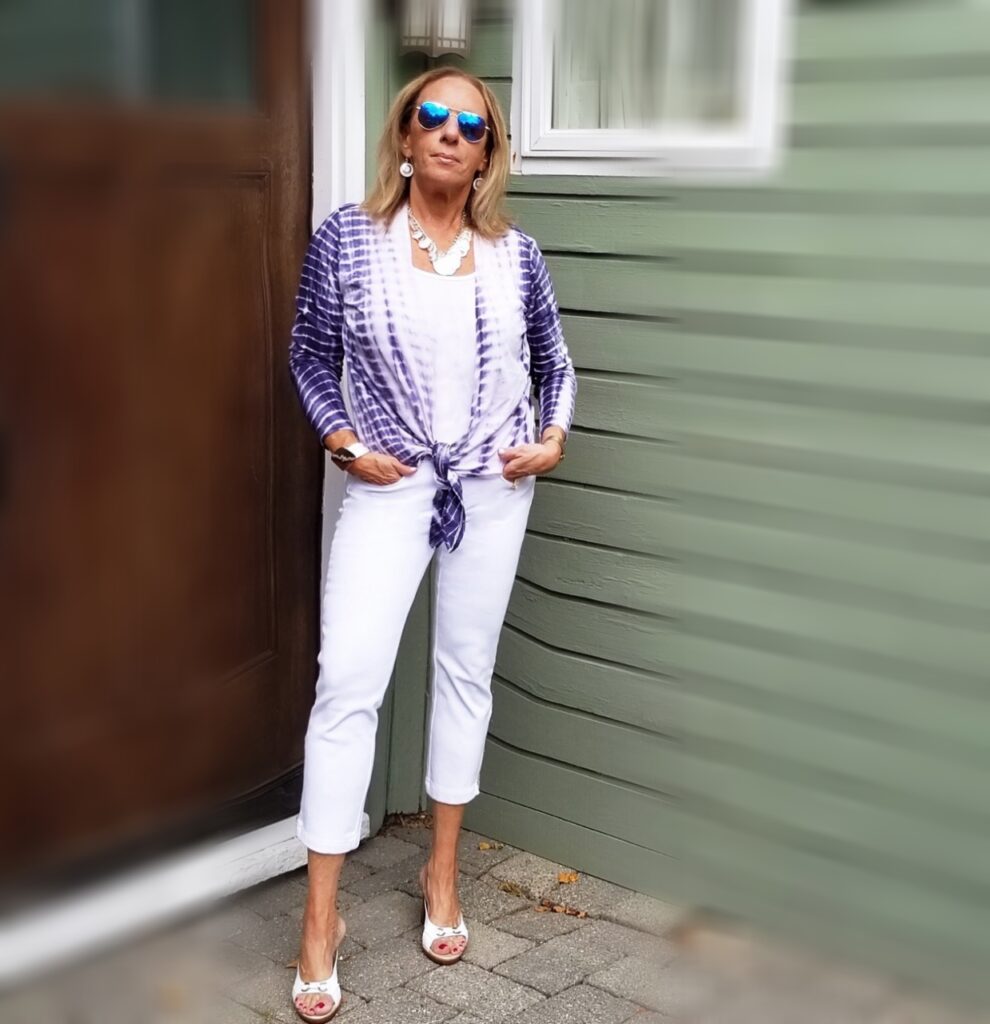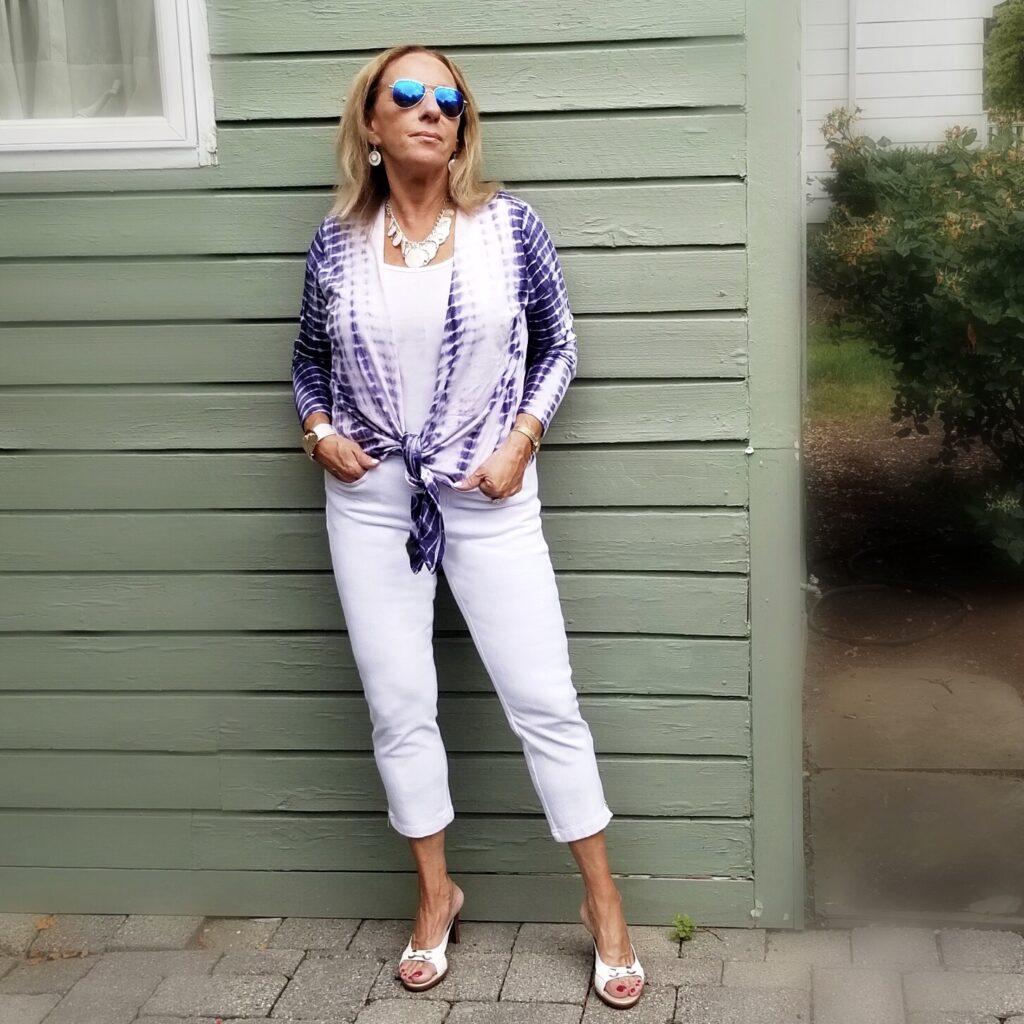 Styling Notes: I love the bright multi-colored tie dye from days past. The exciting swirls of color bring back the best memories! But in selecting a new tie dye piece of clothing I decided to try the current toned down version of this classic so popular right now. This slub knit tie dye shrug from Belle by Kim Gravel purchased from QVC.com is perfect! I love the subtle design and different tones of blue. And I like that I can wear the shrug either open or tied in a knot. I decided to pair it with white capri jeans also from Kim Gravel. I have always wanted a pair of white jeans but shied away because I always feared they would be see thru and make me look fat. I originally bought these jeans in chambray and loved them so much I decided to buy them in white. I am so happy I did because I love them!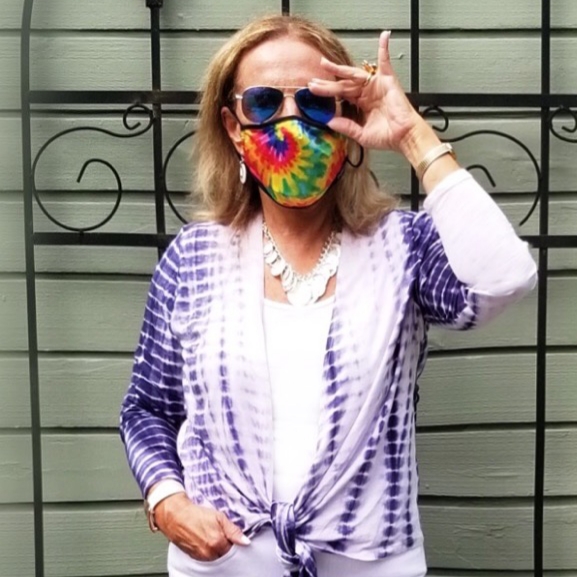 Styling Tip: Tie dye clothing are like works of art. It's important to showcase them by keeping the rest of your outfit neutral. I decided to wear only white with my shrug. I chose white jeans, and old white tee shirt, white stiletto sandals and white and silver jewelry. I love the way this styling makes my shrug the focus of my look.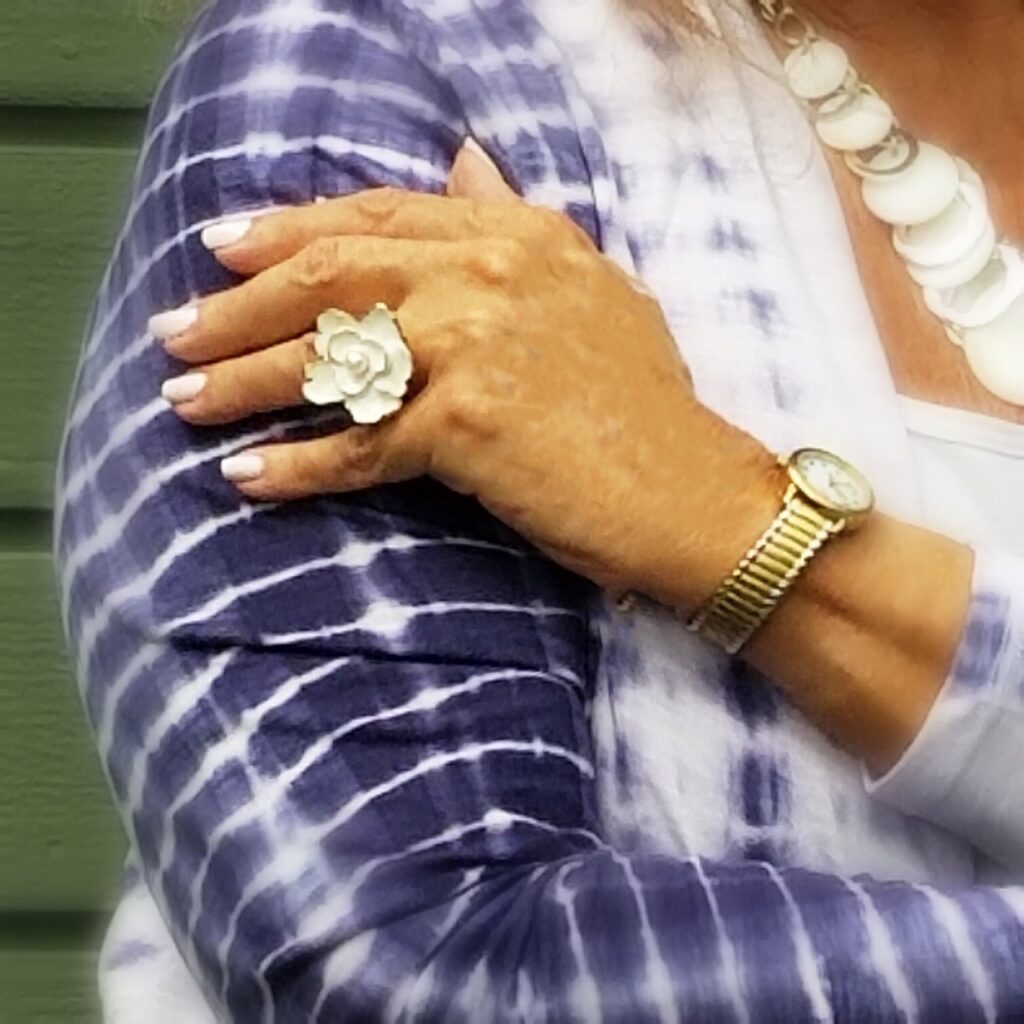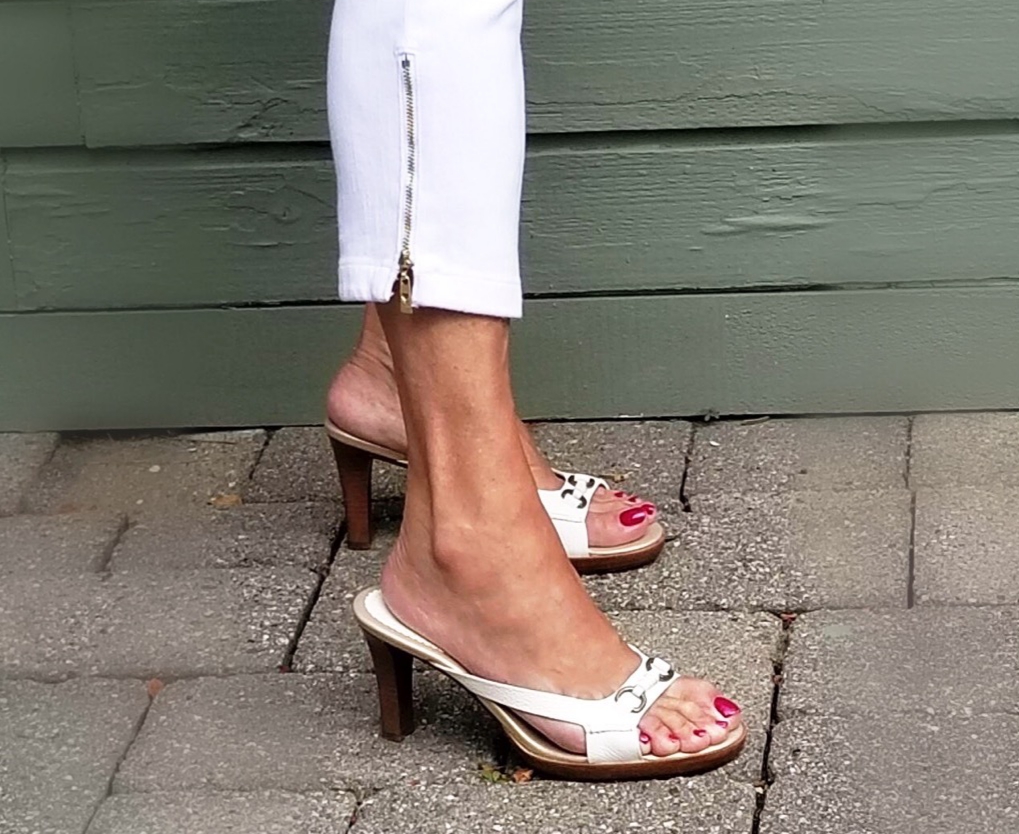 50's Blogger: Betsy of Natty Gal
IG: nattygaldotcom
Bio:  Hello, friend!  I'm Betsy, the Cleveland blogger behind Natty Gal, wife to Gavin and fur-mom to Dolce.  My passion is to encourage women like you to dismiss the clutter in your life and to focus on what matters most.  Natty Gal shares inspiration for cultivating a simple, stylish and satisfying life via lifestyle, fashion and travel topics. Come join the journey and create your best life with me!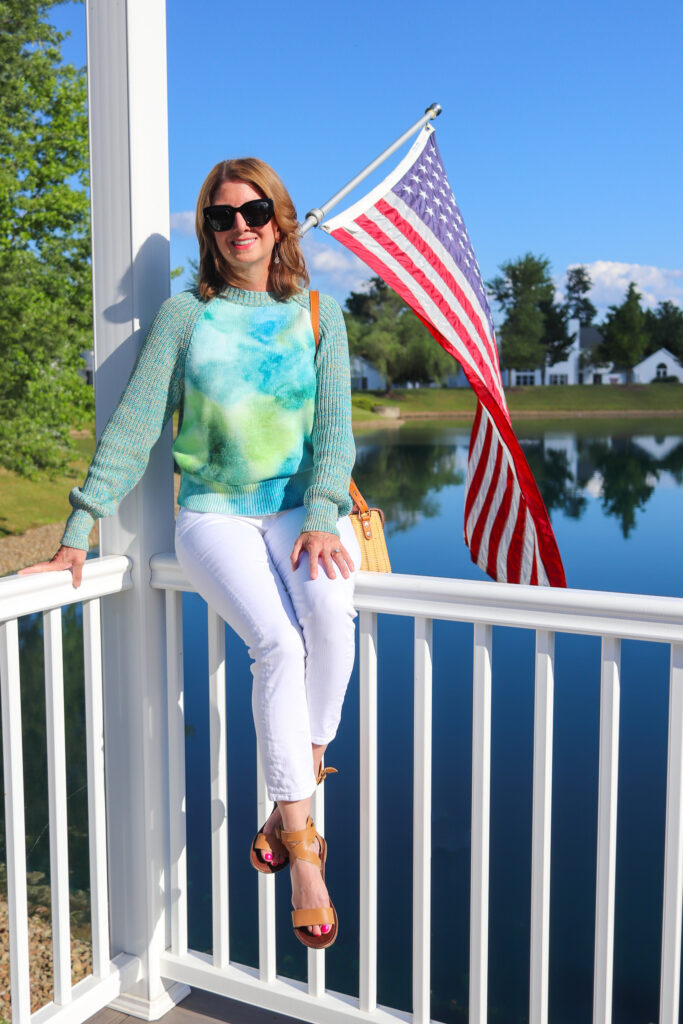 Styling Notes: Anyone else wear sweaters in summer or is that just me?  Living in Northeast Ohio, temperatures can vary greatly from the inland suburbs to locales right on the lake.  I almost always take a light sweater along with me in the evening in case the breeze gets a bit too cool while we're out.  When I saw this water-color toned sweater at Anthropologie, I knew it had to be mine!  The colors remind me of beach glass and I love how the tie-dye is broken up with marled knit on the sleeves and back.  It looks fantastic with white jeans (shown here) as well as with lighter washes of denim.  A neutral pair of sandals, a summery wicker and leather cross-body, and chic, cat-eye sunnies provided my "finishing touches"!  
Styling Tip: For a sophisticated spin on the tie-dye trend, look for single-color or ombre-effect tie-dye combos as opposed to the more traditional multi-color varieties!
IG: prissymissydoll
Bio: I'm Lesa, better known as Prissy Missy, and I am the creative force behind Prissy Missy Loves. I cover plus size style, often with a bit of pin up flair, and I promote authenticity and body positivity. My goal is femme empowerment, body love, and and encouragement to embrace new trends.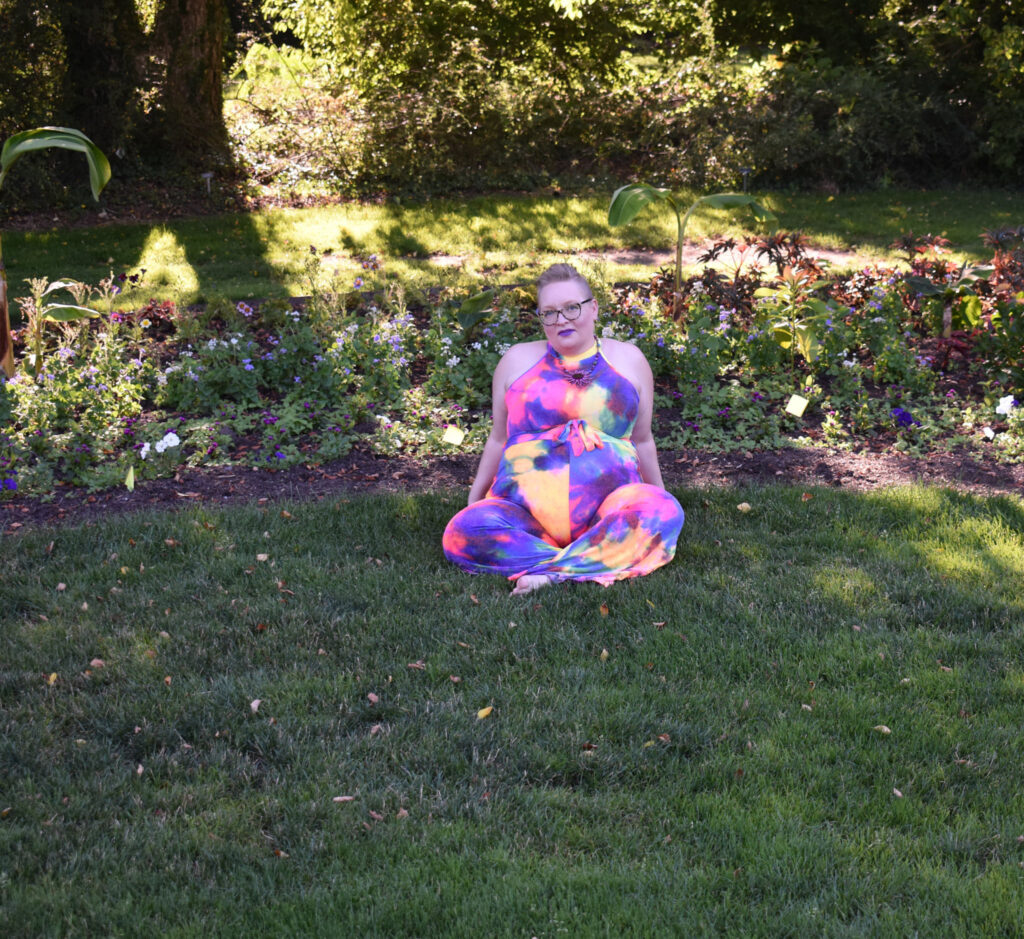 Styling Notes: I was so excited that the theme this time around was tie dye! I found the cutest jumpsuit this spring from Voluptuous Lady Boutique and found it to be stretchy enough to use for maternity too! I love the bright colors and the lightweight material. They make for the perfect summer outfit!
I know the idea of wearing a complete tie dye outfit may be a bit much for some of you. However, if you want to try wearing something like a jumpsuit or a dress, the key to pulling it off is to accessorize! The right accents make the outfit, so be sure to add some flair!
Styling Tip: Tie Dye is making a huge comeback. If you want to test this trend but don't want to go overboard, try something small first. Retailers, like Torrid, make everything from undergarments to swimsuits to dresses and more! Also, being bold occasionally and springing for a cute outfit, like the one I am wearing, can actually be quite liberating!
IG: Styled_by_Stacy
Bio: Hi Friends! My name is Anastasia (Stacy) and I'm the fashion guru behind Styled by Stacy.  I'm a lover of everything about the fashion industry from it's unique designs and art to its ever changing atmosphere. I started my blog because I wanted to share my love of fashion, creativity, and my style with people everywhere. Styled by Stacy offers trend styling, my fashion favorites, and a love for my city, The CLE!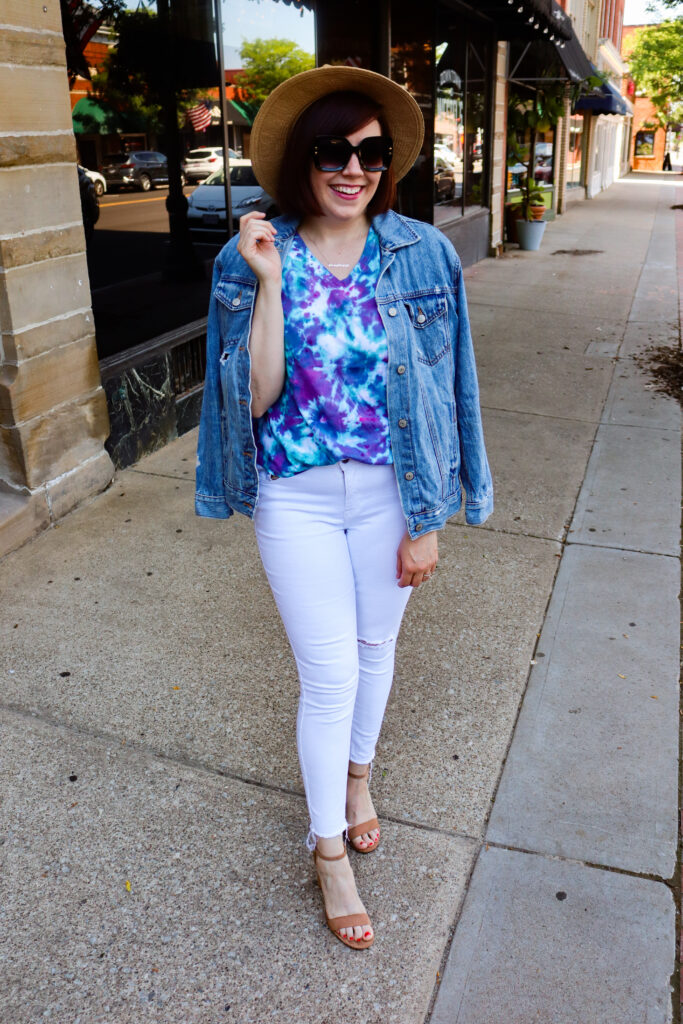 Styling Notes: Summer has a new print that is so good you can even make it yourself! I'm talking tie dye! We have seen the tie dye trend come and go in fashion throughout the years, but it has made a big comeback this summer. You can find this psychedelic print everywhere and it comes in so many different designs and colors. You can't help but find the perfect one for you. If you find yourself not loving what you're seeing you can always grab your favorite white tee and a tie dye kit and make a creation of your own. That's what I did for this quarters Ageless Style post.This quarter I got to choose the theme and instead of buying a tie dye piece I wanted to share the creation I made with JR, my son. The activity was such a fun summertime activity and it was great to be creative with my little guy. I hope you enjoy my creation and get inspired to express your creativity when it comes to this cool summer trend!
Styling Tip: I knew I wanted a purple and teal tie dye and I played around with styling it with both dark denim and white denim. I think for a great night time look, dark denim with a fun heel would be perfect, but I opted for an easy daytime look and paired my TD with white denim and a cool denim jacket. Perfect for a brunch date with the girls!
IG: cincitychic
Bio: Hello! My name is Taylor and I am the Content Creator for the lifestyle blog CinCityChic. CinCityChic encompasses fashion, beauty, and lifestyle topics. I am passionate about cultivating creative inspiration to help others boost their confidence. Cincinnati is home and I incorporate upcoming events, local stores, and my personal recommendations within my blog about the amazing 513. As an explorative and fun-loving millennial I am still finding my own path in this world. CinCityChic is my escape and journey that I enjoy sharing with others!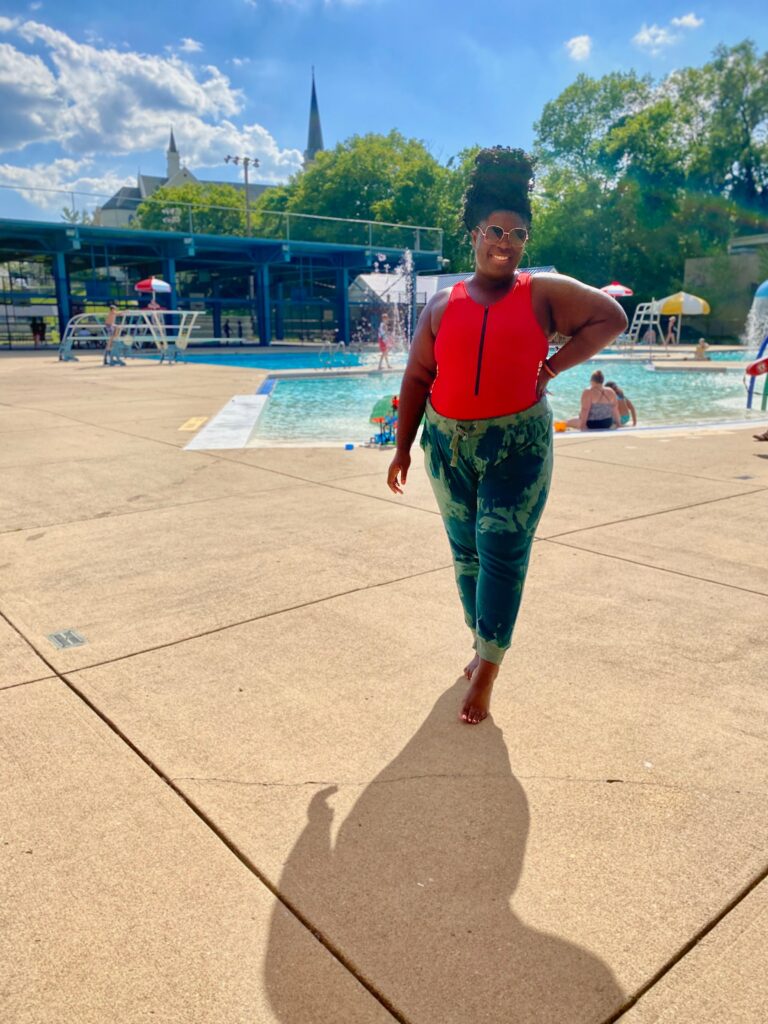 Styling Notes: Is this look to TIE DYE for? There's been lots of trends circulating due to COVID. I think my favorite has been DIY Tie Dye. It makes for a great summer time activity by yourself or with others. Here I repurposed a pair of joggers with tie dye. I did the reverse tie dye method by just using bleach and water. I did a full tutorial on my Youtube channel! Click here to see my method! 
FINAL THOUGHTS
Trends come and go but one thing always remains constant: women of all ages want to look current and they want to look good! Any style can be tailored to a woman's age and body shape so it's important to think outside of the box! Remember to have fun!
If you missed the previous posts of the Ageless Style series, read them here:
Ageless Style: Florals for All Ages
Ageless Style: Sizzling Summer Accessories
Ageless Style: Take a Walk on the Wild Side
Ageless Style: How to Wear White in Winter