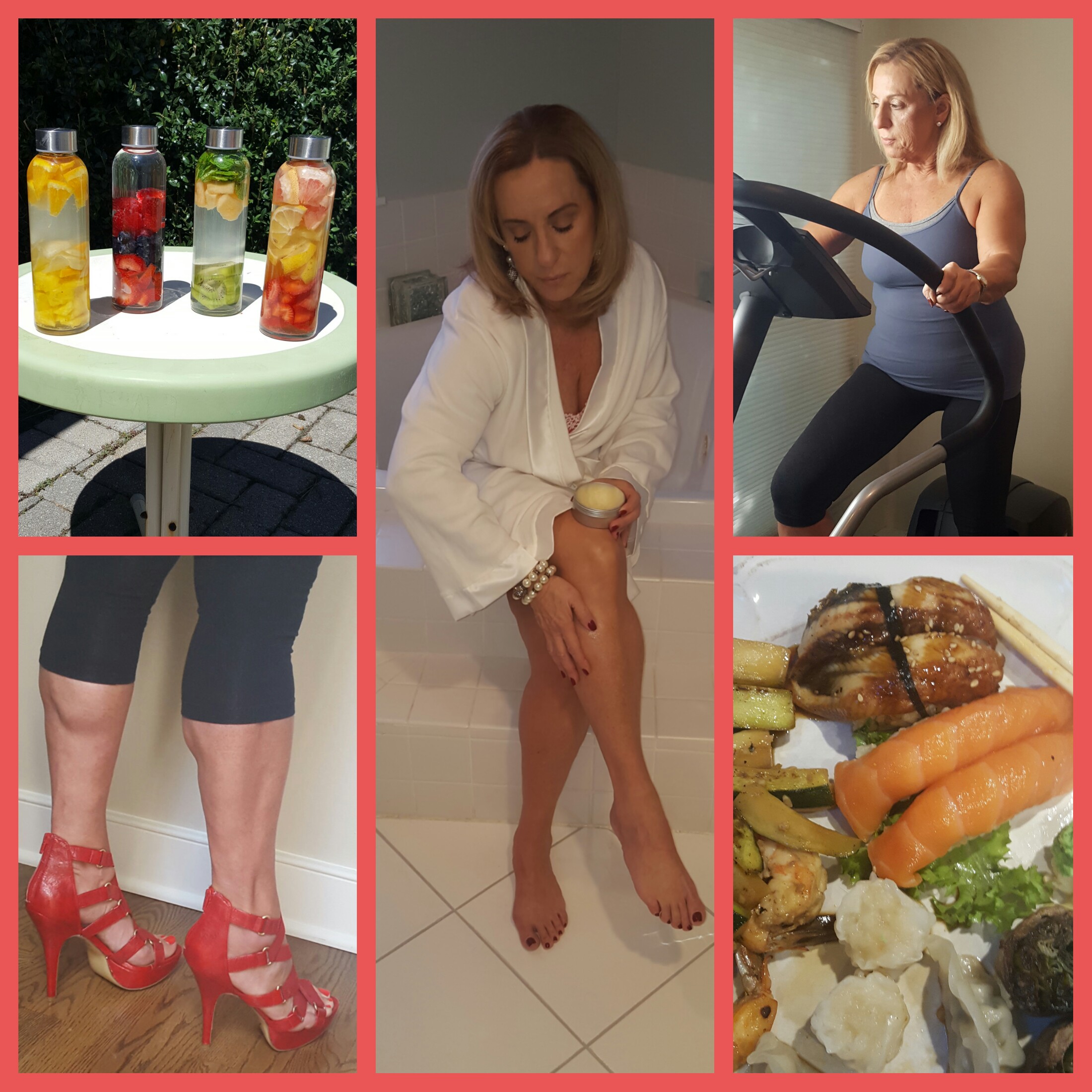 For all you over fifty women who want it now, here are the 8 most effective ways to look better immediately. You know that I strongly believe in a continuing commitment to wellness but the truth is, sometimes we just need some quick fixes to give us instant results. These 8 life hacks will definitely make a noticeable difference if you do them all and are diligent about doing them!
follow along with me...
To look better we need to address both the inside and outside; fitness and beauty. This list impacts different aspects of your life so they are each an important component. It will take a couple of weeks to thinking "maybe" but after a month I'm sure you will agree that these are the 8 most effective ways to look better immediately.
KEEP IT MOVING: You must move your body for 20 – 30 minutes 4 – 5 times a week. No negotiating. You can break the time up throughout the day but you must do at least this amount.
KEEP IT WET: It is critical to stay hydrated for many reasons but the most important reason is your body is always thirsty, inside and out. One quart of water is minimum, twice that is ideal. Flavored waters are a great way to get your water in. Try some of my recipes: "HYDRATE IN STYLE WITH MY FLAVORED WATERS."
KEEP IT REAL: Make the switch from processed foods to real foods. Eat all the potatoes you want but make them real; no fast food or processed fries. If you want fries make them from scratch. No real food is off limit.
KEEP IT MOIST: Read my blog post "MUST DO'S FOR MIDDLE-AGED SKIN" and follow it.
KEEP IT CLEAN: I don't care how tired you are always go to sleep with a clean face. I make it a rule to clean my face and follow with products around eight at night, usually when I'm done with dinner.
KEEP IT COVERED: Nothing screams "old lady" like and inch of root. Keep those roots covered! There are tons of products on the market and my favorite is Joan Rivers Beauty Great Hair Day which I purchase from QVC.com.
KEEP IT CURRENT: Make sure you have good brows!  Brows go in and out of fashion just like shoes so it's important to keep yours current.  Most women over fifty don't groom their brows and that's a huge mistake. Make sure yours are not too thin or short and cover those greys! Again, there are tons of great eyebrow products out there. My favorite product right now is ybf Automatic Eyebrow Pencil which I buy from HSN.com. Familiarize yourself with how to have well groomed brows and do it!
KEEP IT STRONG: In addition to moving your body it is essential that you also exercise your arms and calves. Your extremities give away your age rather quickly. Having toned arms goes a long way to giving your over fifty body a younger, fitter look. "ARM CANDY: HOW TO SCULPT AND TONE YOUR OVER 50 ARMS" is a must read post to get your arms in shape fast! "BEST TIP EVER: WORK THOSE CALVES!" is a great post for getting your lower leg toned and sculpted.
Looking good makes us all feel great. While it does require commitment, these 8 most effective ways to look better immediately will definitely jump start your image.
Disclosure: I was not financially compensated in any way for writing this blog post.