In theory I love to make all my food from scratch but that's just not realistic. However, with a little thought it is possible to eat healthy at home and always being prepared is the answer. I keep many different meal ingredients in my home so I can always make something quick, easy and nutritious. One of my favorite things to keep in my refrigerator is a rotisserie chicken. These are readily available at most supermarkets and delis. While true that they are usually prepared with a seasoning high in sugar and salt, there are ways to improve the nutrition numbers of a store bought bird.
MAKING IT READY
The first thing you need to do with the rotisserie chicken is break it down. By that I mean taking the chicken apart and making it meal ready. Doing this when you first get home and the chicken is hot makes the job a lot easier. I start by removing two large pieces to have as a "main" meal. I usually remover one thigh/drumstick and one wing/breast and have them at a later time with a small serving of carbohydrate and a large salad or vegetable. After removing those two pieces I take off all the skin and bits of extra fat from the chicken. (I leave the skin on the two big pieces but remove after rewarming prior to eating.) To take the meat off the bones I use my hands and a knife. I then slice, cube, and shred all the meat to use in different ways for different recipes. Here are some of my favorites:
COMPOSED CHICKEN SALAD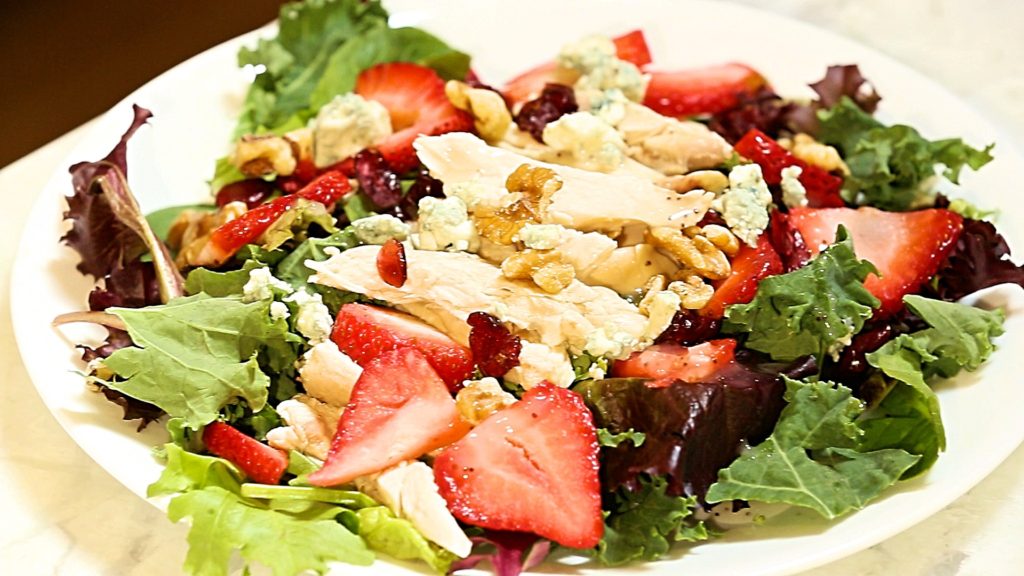 INGREDIENTS
2 cups spring mix
1 cup baby kale
3 – 4 sliced strawberries
4 – 5 ounces sliced chicken
2 teaspoons reduced sugar Craisins
1 tablespoon chopped walnuts
1 tablespoon crumbled blue cheese
light poppyseed dressing
PREPARATION
Arrange lettuce on plate; top with all ingredients and drizzle with dressing
CHICKEN SOUP

INGREDIENTS
2 cups sodium free chicken stock
1/2 cup sliced mushrooms
1/4 cup sliced cooked carrots (canned is fine)
3/4 cup cubed chicken, slightly warmed
1/2 cup brown rice, slightly warmed
garnish
1-2 chopped scallions
low sodium soy sauce
optional
1/2 – 1 cup lettuce leaves (any type)
PREPARATION
Optional: place cold lettuce at the bottom of your soup bowl. When you pour the hot liquid over it, the lettuce wilts and is delicious. Also, it bulks up the soup without adding any calories!
Simmer chicken stock, mushrooms, and carrots on the stove. Warm cubed chicken and brown rice in the microwave. Place in bowl and spoon hot chicken stock with mushrooms and carrots over. Add a light touch of the soy and garnish with scallions.
CHICKEN TORTILLAS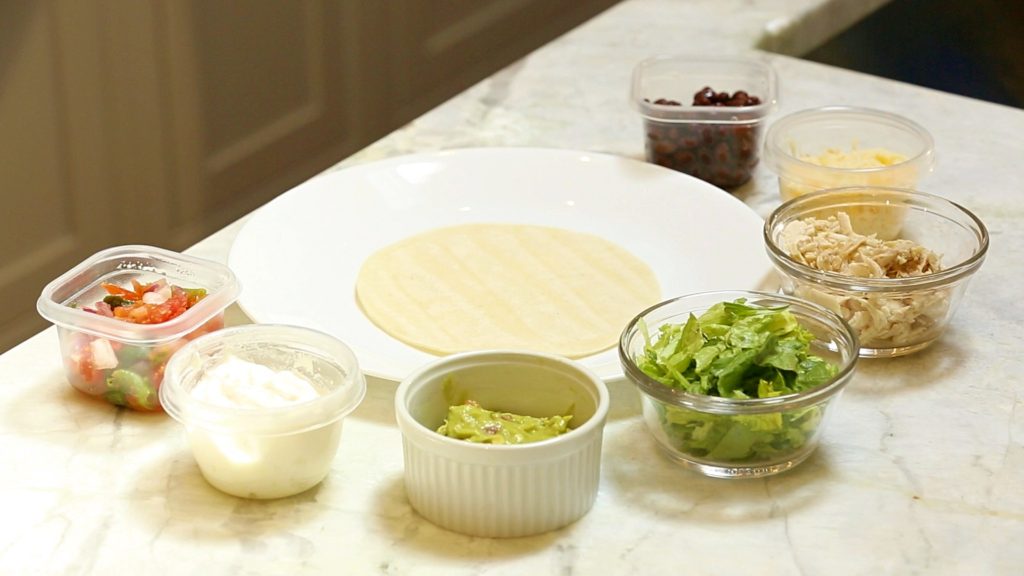 INGREDIENTS
6″ corn tortilla
1/2 cup shredded chicken, slightly warmed
1/4 cup low sodium black beans, rinsed, slightly warmed
1 tablespoon guacamole
2 tablespoons low fat shredded cheese
1 tablespoon low fat sour cream
shredded lettuce
salsa
PREPARATION
Spread guacamole on warm tortilla. Top with chicken, beans, cheese and lettuce. Add salsa and a dollop of sour cream.
CHICKEN LETTUCE WRAPS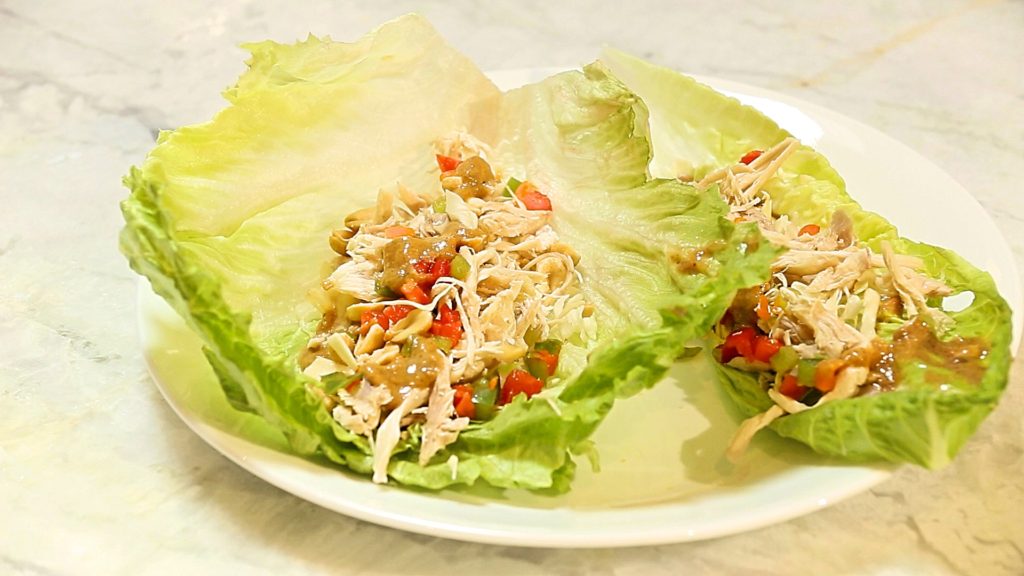 INGREDIENTS
Lettuce for wrap (iceberg, butter and romaine are all good choices)
1/2 cup shredded chicken, slightly warmed
2 tablespoons peanut sauce, slightly thinned with water
1/4 cup shredded cabbage
2 teaspoons crushed peanuts
1 tablespoon diced peppers
PREPARATION
Spread lettuce leaf with 1 tablespoon peanut sauce. Top with chicken, cabbage, pepper and peanuts. Drizzle with remaining peanut sauce.
Eating healthy is the most important thing you can do for yourself and your family. We all have crazy, busy lives but with a little pre-planning delicious, nutritious meals at home can be a reality!
HAVE YOU EVER PURCHASED A ROTISSERIE CHICKEN?
This post has great recipes for eggs!
HEALTHY, EASY EGG RECIPES