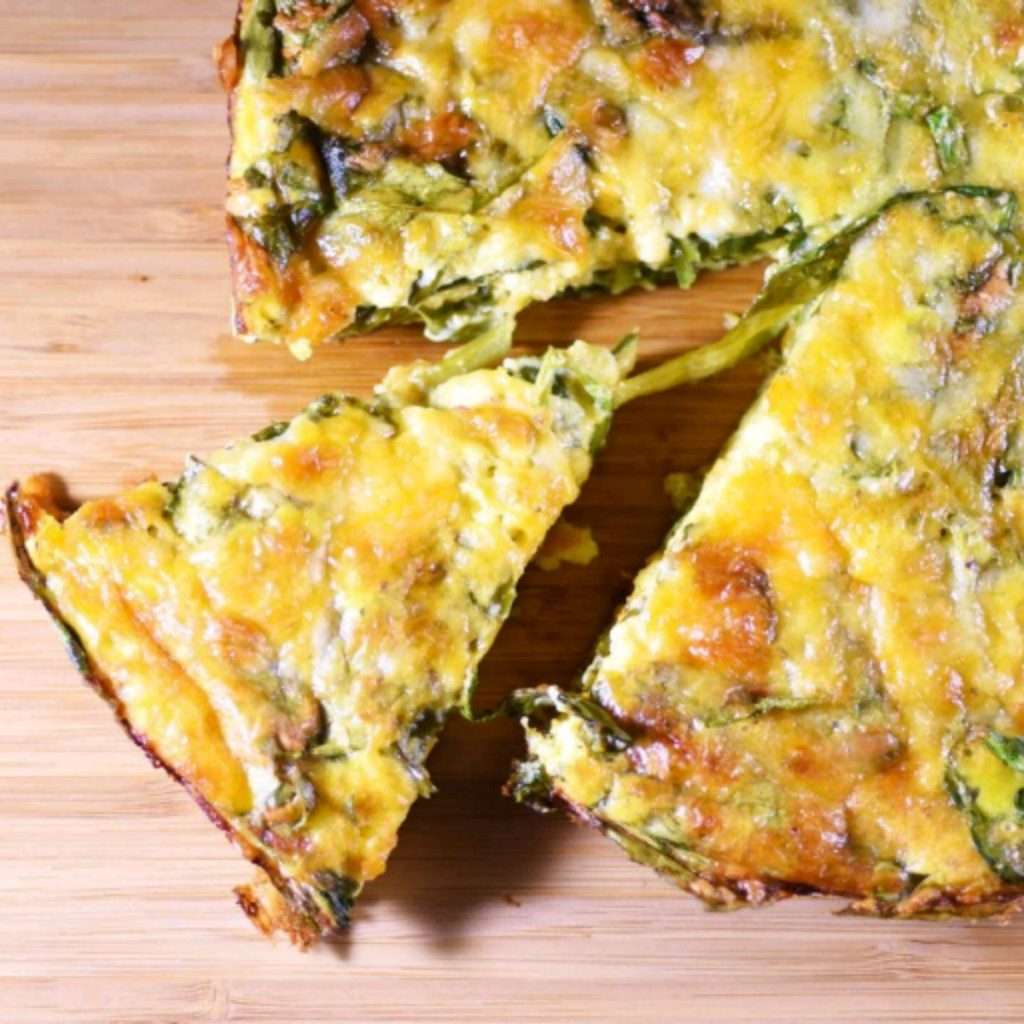 I love versatile foods that can be cooked and served in various ways. One of my favorites is quiche. It's an old standard and many people still chuckle about it but I love it. A traditional quiche starts with a buttery crust and a filling loaded with cream, lots of cheese, and typically ham. The beauty of a quiche is that you can vary the filling to make it much healthier. You can use lots of veggies which greatly increases the nutritional value and also helps to fill you up. And let's not forget how delicious a veggie quiche can be. You can use any vegetable — asparagus, broccoli, and zucchini are popular but I prefer spinach. But the biggest calorie and carb saver is eliminating the crust which is typically made from white flour and lots of butter.
Of all my "healthy" quiche recipes I make this one the most because I think it's the best crustless spinach quiche and it's incredibly easy to make!
INGREDIENTS
2 teaspoons canola oil
1 medium onion, finely chopped
1-10 ounce package of frozen, chopped spinach, thawed and thoroughly drained
4 large egg whites
2 large whole eggs
1 1/2 cups shredded reduced fat swiss cheese (use any reduced fat cheese you prefer)
1/3 cup reduced fat cottage cheese
1/4 teaspoon freshly ground black pepper (I love pepper so I add closer to 1/2 teaspoon)
1/4 teaspoon freshly ground nutmeg (nutmeg pairs great with spinach)
salt to taste (I don't use any)
PROCEDURE
Preheat oven to 375 degrees. Spray a 9″ pie plate (I prefer glass) with cooking spray.
Heat the oil in a nonstick pan over medium heat, add the onions and cook until translucent about four minutes. Add spinach to the onions in the pan and cook for about five more minutes until the mixture losses all it's moisture and is completely dry. Put pan aside to cool slightly and then mix in the shredded cheese. Place spinach/onion/cheese mixture in prepared pie pan and distribute evenly.
In a mixing bowl whisk together the whole eggs, egg whites, cottage cheese, black pepper, nutmeg and salt (if using). Carefully pour egg mixture over the spinach and cheese in the pie plate. Bake for about 30 – 40 minutes until just set. The center should be slightly jiggly but not raw. Let cool for about ten minutes and enjoy!
I love to serve this with a spring green side salad topped with a mustardy vinaigrette. It's also good served with fresh fruit salad. And it's great any time of day! I love to make this for a light lunch or the main course of a spring brunch. Perfect for both Easter and Passover!
ARE YOU FAMILIAR WITH QUICHE? IS THERE A COMBINATION YOU LIKE THE MOST?