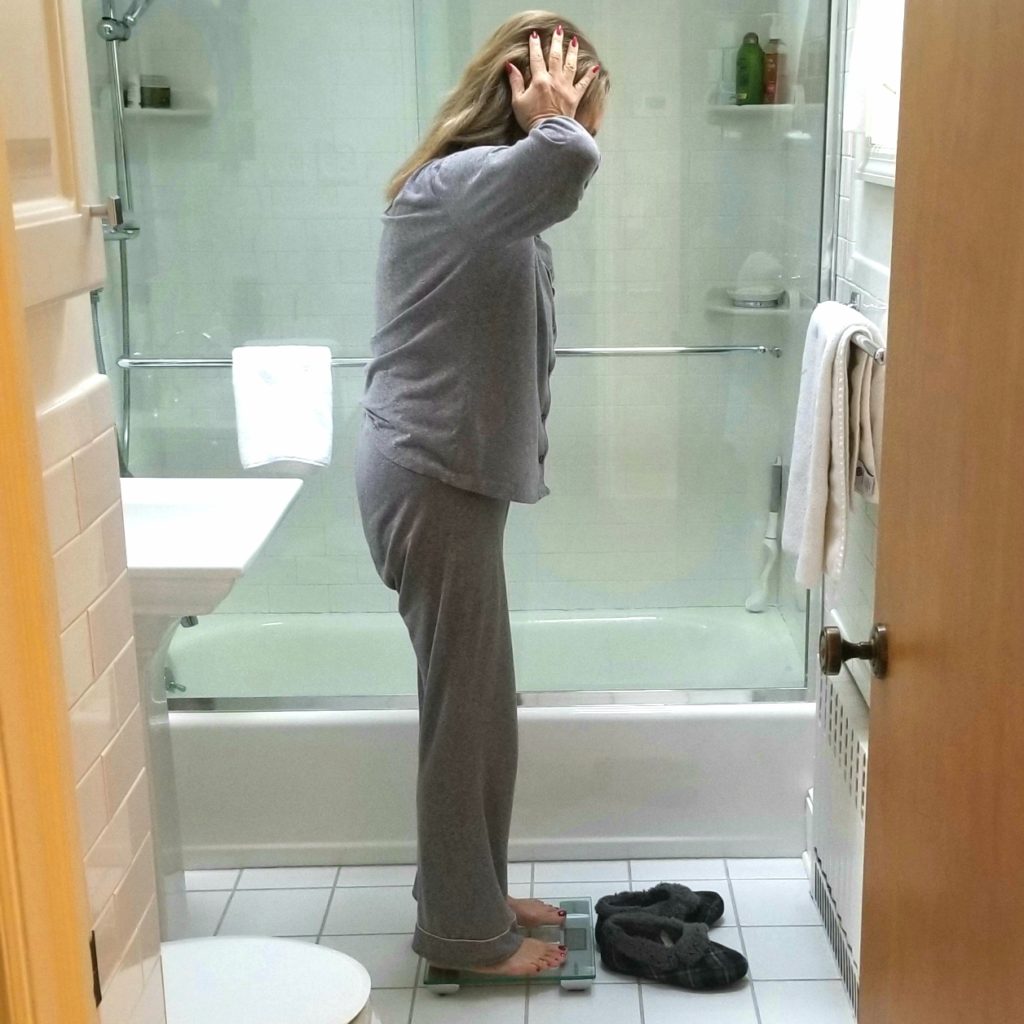 Weight is a whole lot easier to put on than it is to lose – that's just one of the frustrating, annoying truths that women are plagued with. Of course, it isn't fair– we put in serious time at our gyms and spend months counting calories and measuring portions. Unfortunately, with just one vacation or week of indulging in our favorite foods, all the weight that we've worked so hard to lose comes back on – and then some!
Ladies, I know all about a woman's juggling act! I've spent decades struggling to lose and then maintain weight loss. Throughout my journey, I've developed tactics that have afforded me control and have made me accountable – the two biggest tools in my fitness tool belt. I encourage you to join me in keeping things on track:
WEEKLY WEIGH-INS
I've seen plenty of bloggers and fitness gurus advise against keeping a scale in the house. And while I couldn't agree more that the number on the scale has little to do with health or happiness, I believe that if used properly, a scale can help women sustain their hard-earned success. My weekly weigh-ins serve as a touch point throughout my efforts and the numbers I see keep me honest.
Here's how it works – once you hit your goal weight, which is not defined by the numbers on the scale, but rather, is defined by the way that you feel – it's time to break out the scale. Once a week, step on your scale and record your numbers. Be sure to keep a few things in mind: a woman's weight naturally fluctuates, so being up or down a few pounds is nothing to worry about. Give yourself the advantage of weighing yourself first thing in the morning without any clothes on – this will be a true reading on your current weight.
If you're up five pounds, consider that weigh-in to be your "warning." The following week, you'll be sure to eat clean, drink plenty of water, and remain consistent in your workouts.
By weighing yourself on a weekly basis, you will not be blind sighted or discouraged by any extreme weight-gain. Instead, you're keeping close tabs on your progress, positioning yourself for success.
PUMP UP THE ESSENTIALS
Aside from my scale, I have two secret weapons that help me combat persistent weight-gain: fiber and water!
It sounds simple, but if you're counting calories, you may not be getting the right amount of fiber. While fiber-dense foods may be higher in calories or fat, they're essential in keeping your digestive system moving, freeing you of some serious bloating! My favorite fiber-rich foods include lentil beans, chickpeas, artichokes and raspberries when I'm craving something sweet.
In addition to monitoring my fiber intake, I am sure to drink 64 ounces of water a day. Water keeps the body well oiled, fights inflammation, suppresses cravings and helps burn more calories. To make things easy, I drink from a steel, 20-ounce water bottle. With such a clear way of measuring intake, there's no excuse!
The most important tool needed to maintain weight loss is something we're all equipped with: your mindset. It's up to you to keep your mindset positive. Don't allow setbacks to discourage you. Instead, remember that we are all human – bad days/weeks are expected. We all have the ability to monitor and maintain our progress!
Do you have a go-to method to keep weight off? Please share your advice and experiences in the comments section below.
If you're looking to curb bad habits, then this post is for you:
THE SIX MOST EFFECTIVE WAYS TO STOP EATING AT NIGHT