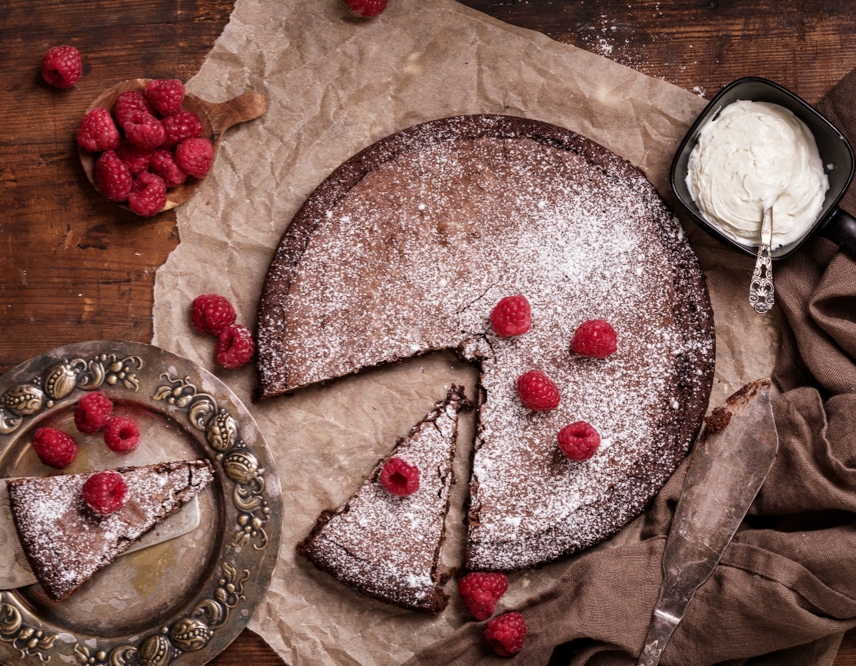 My Flourless Chocolate Cake is the perfect Mother's Day treat. Fudgy and moist, just a small slice will satisfy even the biggest sweet tooth! Since this cake is flourless, it's also gluten free. An added bonus is this recipe calls for easy to find ingredients — a big plus right now! But this cake also comes with a warning: you will want to make it all the time!
A little history
I bet most of you would be surprised to find out that I actually baked for a living. Shortly after I started bodybuilding, I decided to leave my job as an art director. I always wanted to be in the food biz so I started by baking pies and cakes in my apartment. I supplied many of the best NYC restaurants. A little while after I started, a nearby space opened up and my cafe, Eat Your Heart Out, was born. Although beyond difficult, this time of my life was one of the happiest. Watching others enjoy my baked goods was soul satisfying.
Even with my commitment to health and fitness, my love for baking always had a place in my life. I was known as the baking mom in my town. Whenever kids knew that Mrs. K was supplying treats, they went crazy! Even children with allergies knew they could eat my treats as I always tailored recipes to suit them. And now that I'm a wellness coach, I know the best way to edit a recipe.
Chocolate
Few words conjure up so many sublime images as does chocolate. Just the word puts a smile on my people's faces (except, of course, for those rare, strange birds who don't like it.) When choosing a dessert for a special occasion, I always think chocolate.
This flourless chocolate cake is the perfect dessert for Mother's Day. It's super decadent and a real crowd pleaser. Eat it plain or my preferred way — with whipped cream and berries. Yum!
follow along with me...
INGREDIENTS
6 tablespoons unsalted butter, plus 1 tablespoon to grease the pan
8 ounces bittersweet chocolate, finely chopped or morsels
6 large eggs, separated
1/2 cup granulated sugar
+ confectioners sugar for dusting top
DIRECTIONS
one Preheat oven to 275 degrees and place rack in center of oven. Butter the bottom and sides of a 9″ springfoam pan and set aside.
two Place butter and chocolate in a large microwave-safe bowl and heat in 30 second increments until completely melted. Let cool slightly and then whisk in eggs.
three Beat the egg whites in a large bowl until soft peaks form. Add the sugar gradually, beating until glossy stiff peaks form. Whisk 1/4 of the egg whites into the chocolate mixture. Gently fold in remaining egg whites.
four Pour batter into pan, and smooth top with a spatula. Bake until the cake pulls away from the sides of the pan and gently set in the middle, approximately 45 minutes. Don't over bake! Cool completely on a wire rack. Remove sides of pan. Serve at room temperature. Dust top with confectioners sugar before serving.
SERVING SUGGESTIONS
one lightly dust top with confectioners sugar
two top with washed and dried berries
three serve with sweetened whipped cream*
four great frozen
*whipped cream 
1 pint heavy cream
1/4 – 1/2 cup confectioners sugar (I only use a pinch)
1 teaspoon pure vanilla extract
put all ingredients in an ice cold bowl and whipped just until peaks form
SERVES 8 (I could eat the whole thing)

This recipe is from the fabulous Martha Stewart
WHAT DO YOU ENJOY DOING ON MOTHER'S DAY? PLEASE LEAVE A COMMENT BELOW