Most of us associate holidays with weight gain as food plays such a major role in celebration, whether it's a July 4th barbeque, a box of Valentine's candy, or a Thanksgiving feast. I look at holidays a little differently. Of course I love the food but what I like best about holidays is that their dates are written in stone: Halloween is always October 31, April Fool's is always April 1 and July 4th — well you get the idea. Even holidays like Labor Day or Thanksgiving land on an exact date for that year.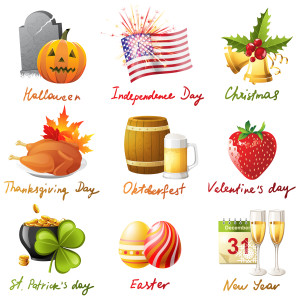 When deciding to lose some weight pick the holiday closest in time (at least 2 weeks away) and decide to lose 3 pounds by that date. That's it. Only 3 pounds because even with the smallest effort anyone can lose 3 pounds. Always set yourself up for winning. With each small victory comes a feeling of self satisfaction and worth. And if you lose more, even better. You might surprise yourself!
follow along with me...
Given this time of year I would choose Groundhog Day which is Tuesday, February 2. Forget about Christmas and New Years. That's a failure waiting to happen. So even if you wait until after January 1st to make some changes you have more than 4 weeks to accomplish your weight loss goal of 3 pounds.
Take about 2 pounds of anything (candy, flour, coffee) and tie it to your waist with a scarf. Wear it for an hour or two around your house. When you take the weight off I bet you'll feel relieved to get that stuff off of you. It seems like a little but every pound puts pressure on your body.
Keep It Simple: Eliminate 200 calories a day (that's 4 cookies, 2 slices of bread, 1 cocktail), make 1 meal during the day either salad or soup, and add 100 calories of exercising — march in place with knees high, take a brisk walk, go up and down some stairs. If you're motivated cut out most of the carbs and step up your physical activity. No prepping, no planning. Just a little thought.
Stay hydrated. I'm not into drinking tons of water but you should have a few glasses each day.
During this challenge think about the next holiday you're going to use. Here are some suggestions: February 15th: President's Day (for those of you who are having an easy time) ~ March 8th: International Women's Day ~ March 17th: St. Patrick's Day.