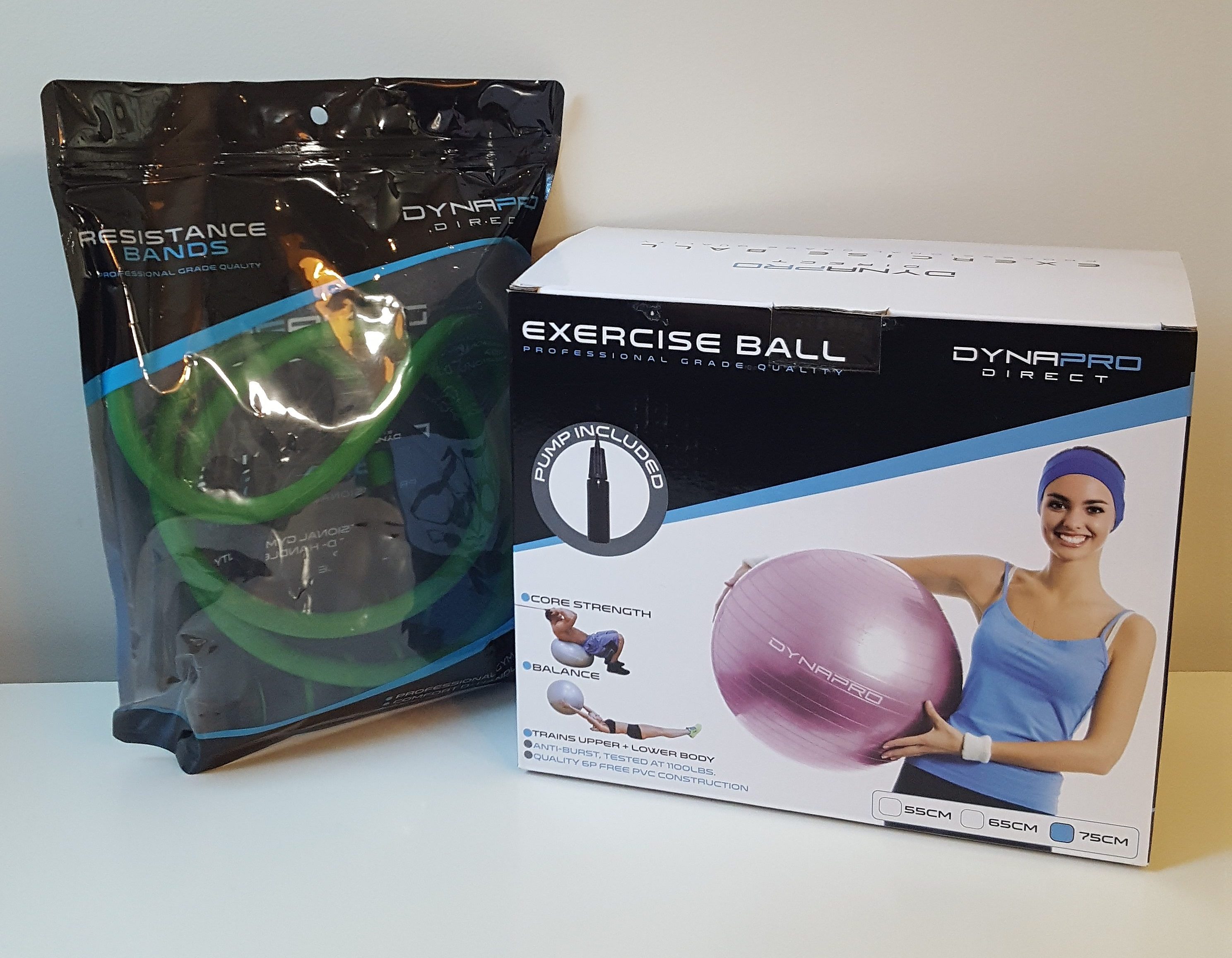 When I was asked to do a product review of the DynaPro exercise ball and resistance band I thought to myself, "okay, this will be easy" as I was already familiar with this equipment from my time spent in physical therapy.  After first working with exercise balls fifteen years ago I have always incorporated them into my warm up before exercising. The ball is excellent for both stretching and stabilizing my back. I used resistance bands in physical therapy for a shoulder injury but never really considered them an alternative to weight lifting because I didn't think they could provide me with a tough, challenging workout.
Going to the gym five days a week and doing a two hour workout is what I am accustomed to but as I've aged I find that often times while my head says yes my body says no. It's not just the workout but also the logistics of getting to the gym that have made me recently realize that an alternate method of strength training was needed. The problem, however, was that I had become dismissive of any other form of exercise. After trying the DynaPro exercise ball and resistance band I have definitely changed my thinking!
The DynaPro exercise ball can be used in many ways. The most traditional way is to lie supine (on your back) on the ball for various types of abdominal exercises including classic crunches.  The other most popular way is to lie prone (on your stomach) which allows you to work your legs and glutes.
For this review I decided to first try my usual back routine using the DynaPro exercise ball to see how it compared to others I have used. The pump which was included did a great job inflating the ball quickly and firmly. The first thing I noticed was that the surface of the ball was not slick or slippery as many exercise balls are. When I sat on or gripped this ball in my arms it felt very stable because of the ball's texture.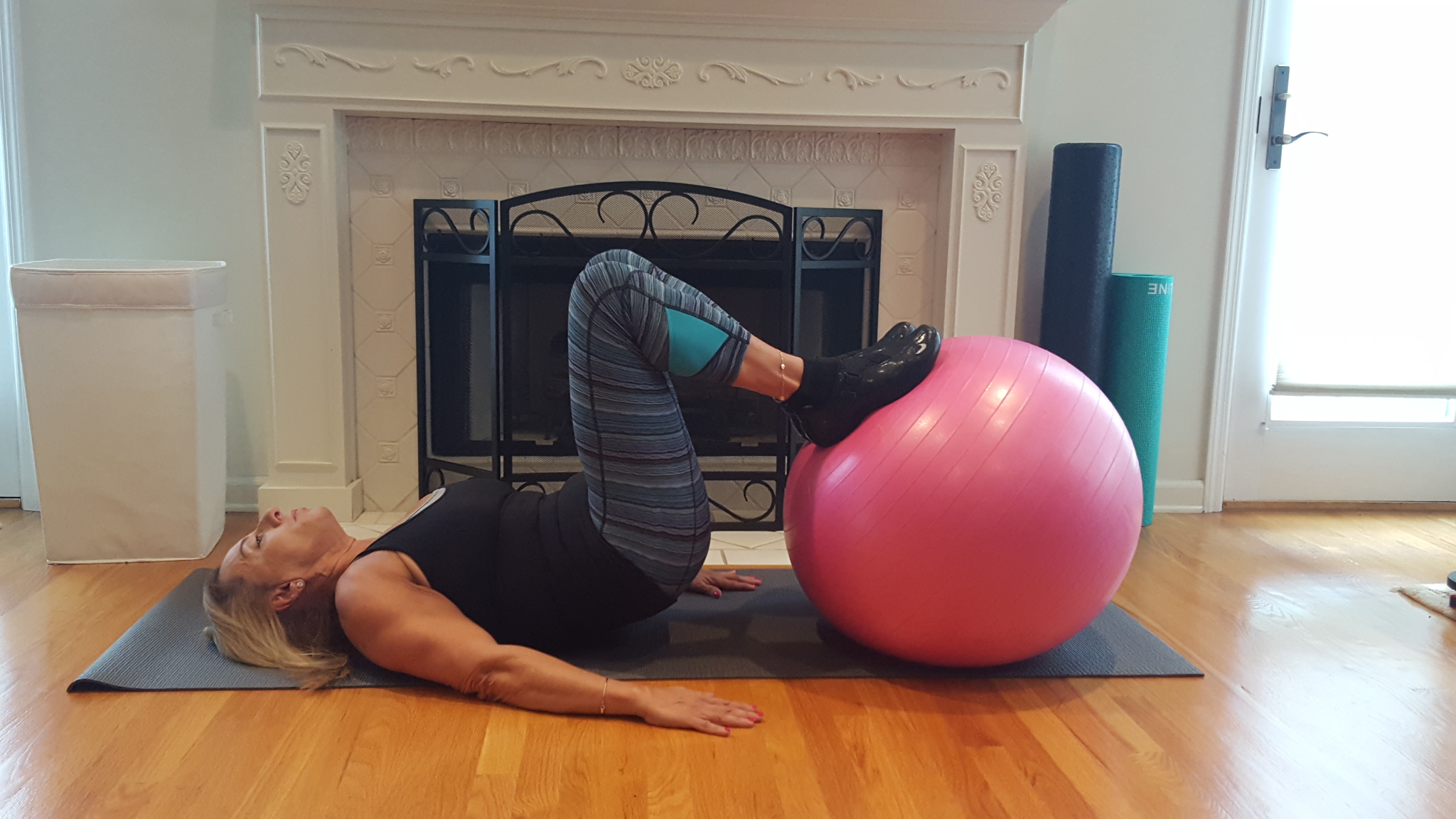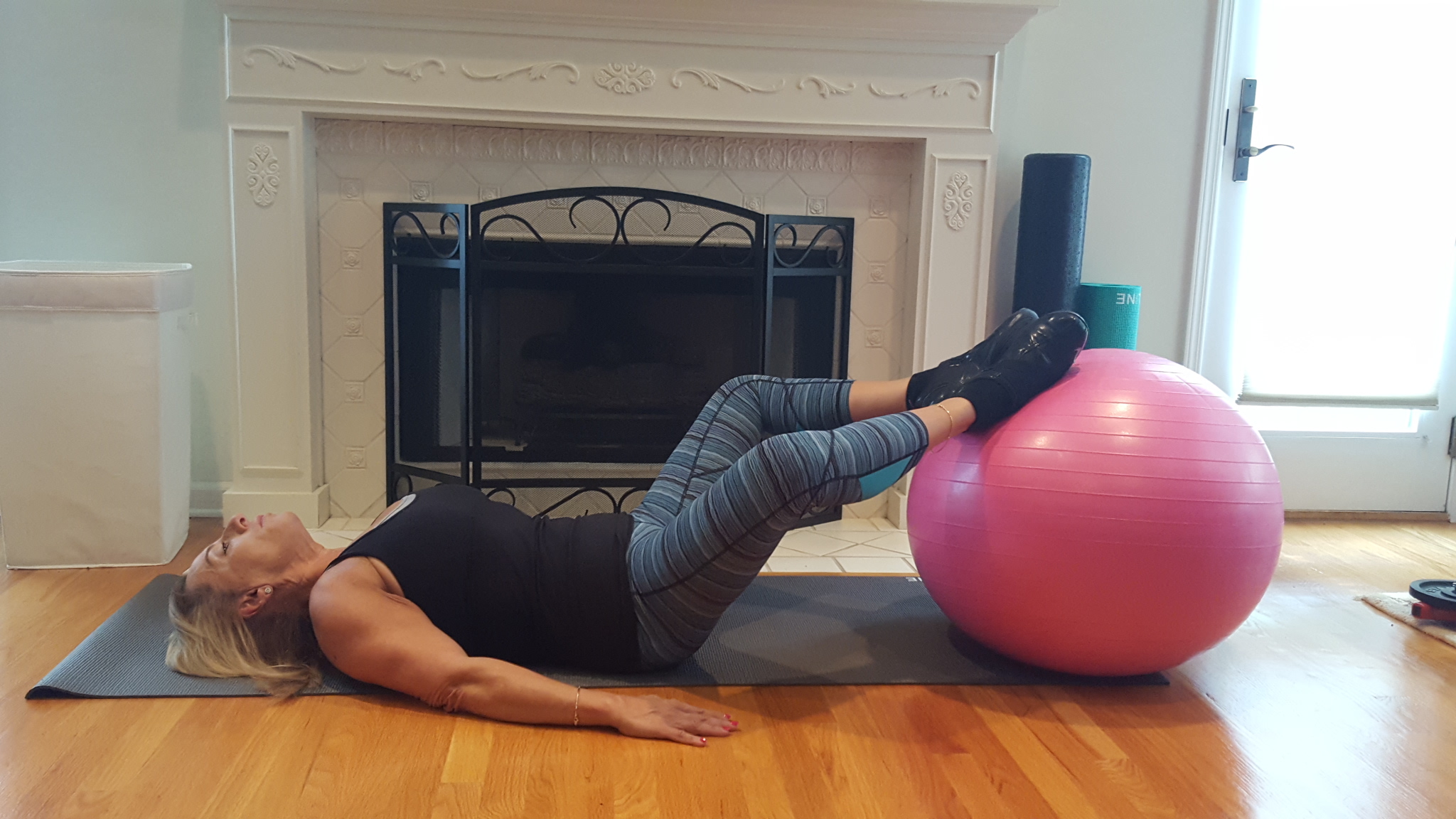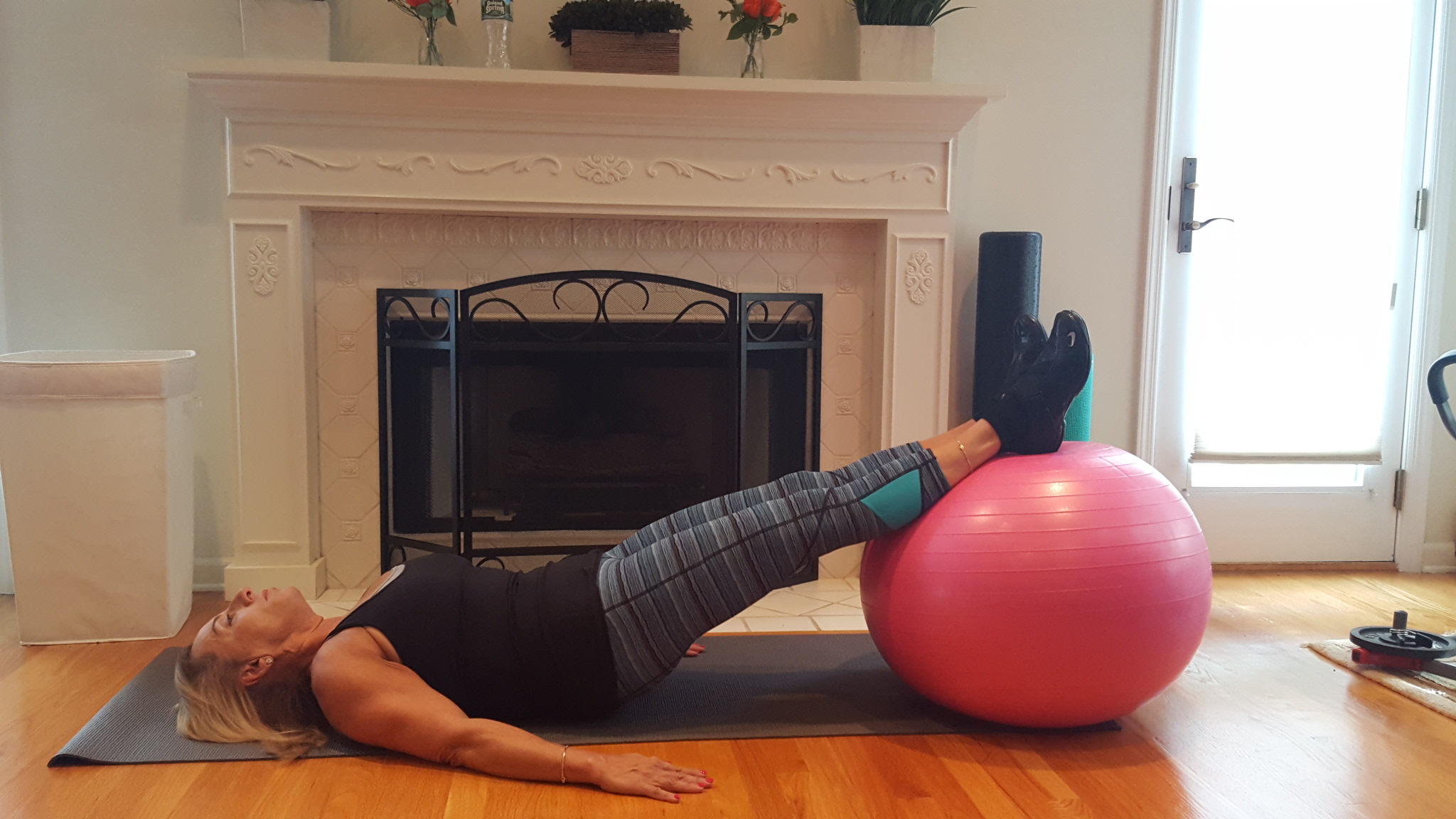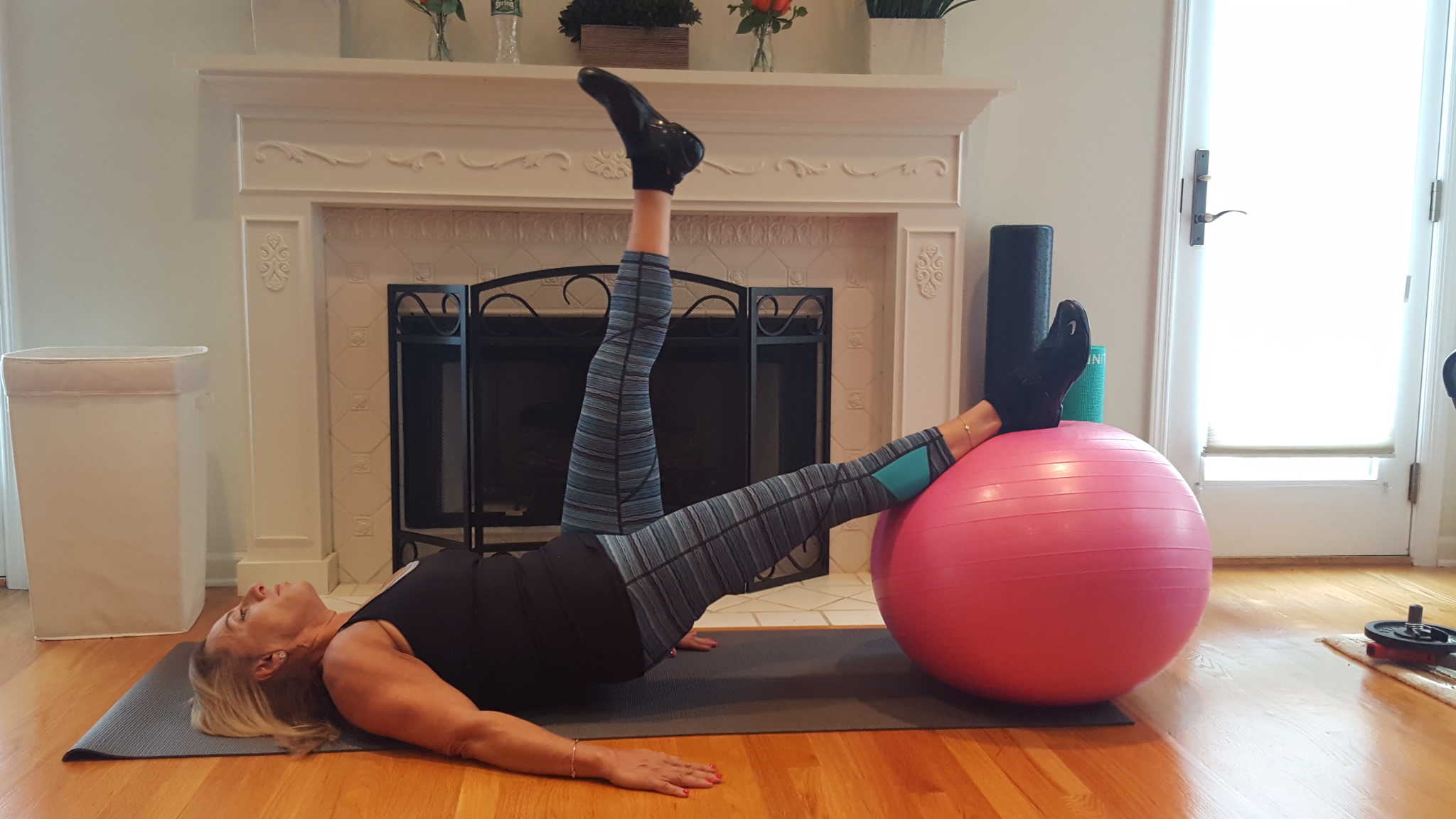 The back stretching routine of bridges, leg lifts and ball tucks was done with a 75cm ball, the perfect size for my 5ft5 frame. The ball rolled smoothly and my legs never slipped off. I usually like to elevate my hips, butt and upper legs when I do this series and with the DynaPro I felt extremely stable.
The resistance bands have large, non slip grip handles that are far better than other bands which usually have plastic tubing for handles. I was able to tightly grip the handles which helped me perform my exercises smoothly and with proper form. The band's tubing is strong and the locking mechanism is great. The length of most resistance bands cannot be adjusted and those that can don't really hold the tubing where you want it. DynaPro has a unique, easy to use system that allows you to easily and securely change the length of the band to suit your needs.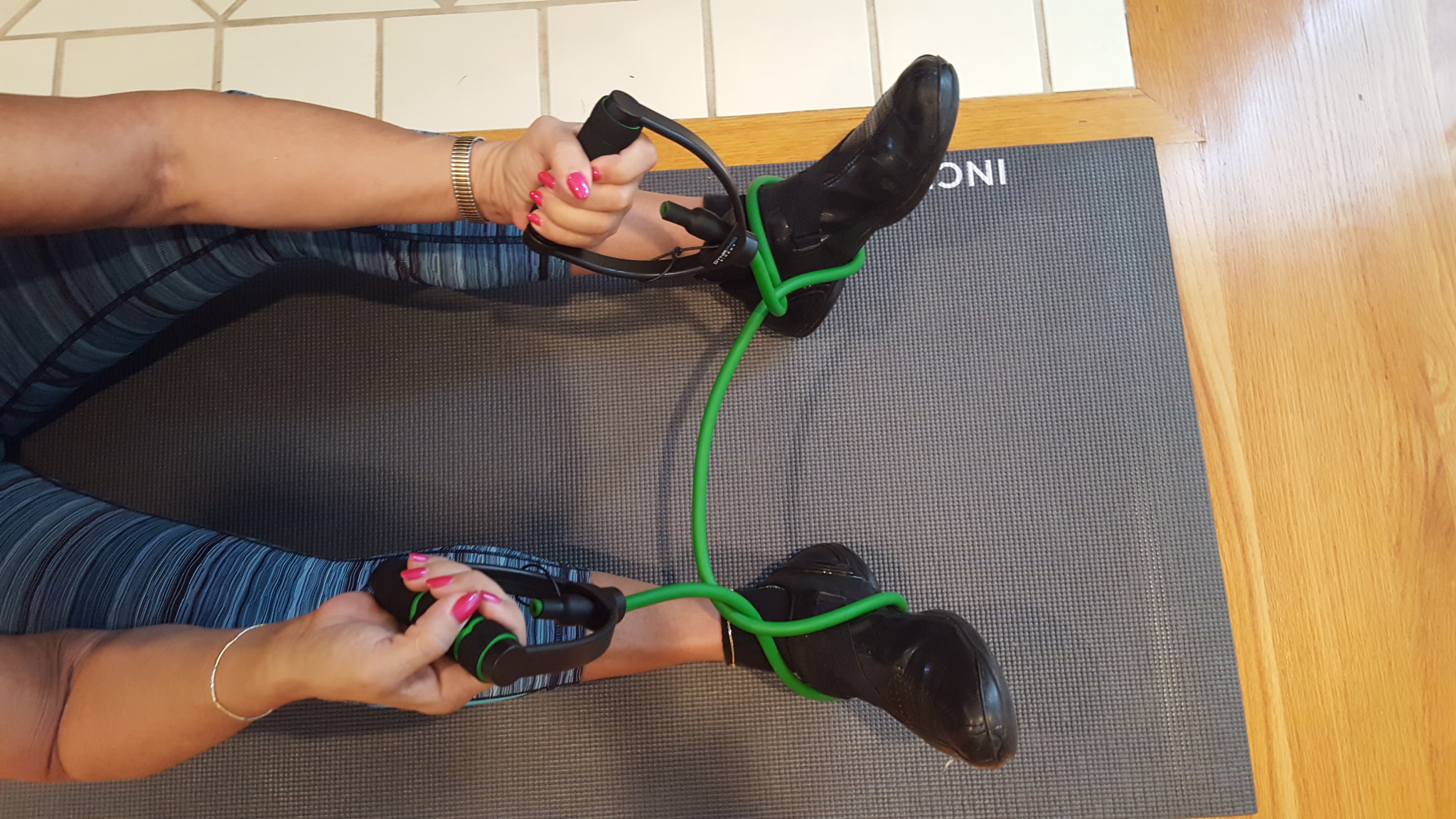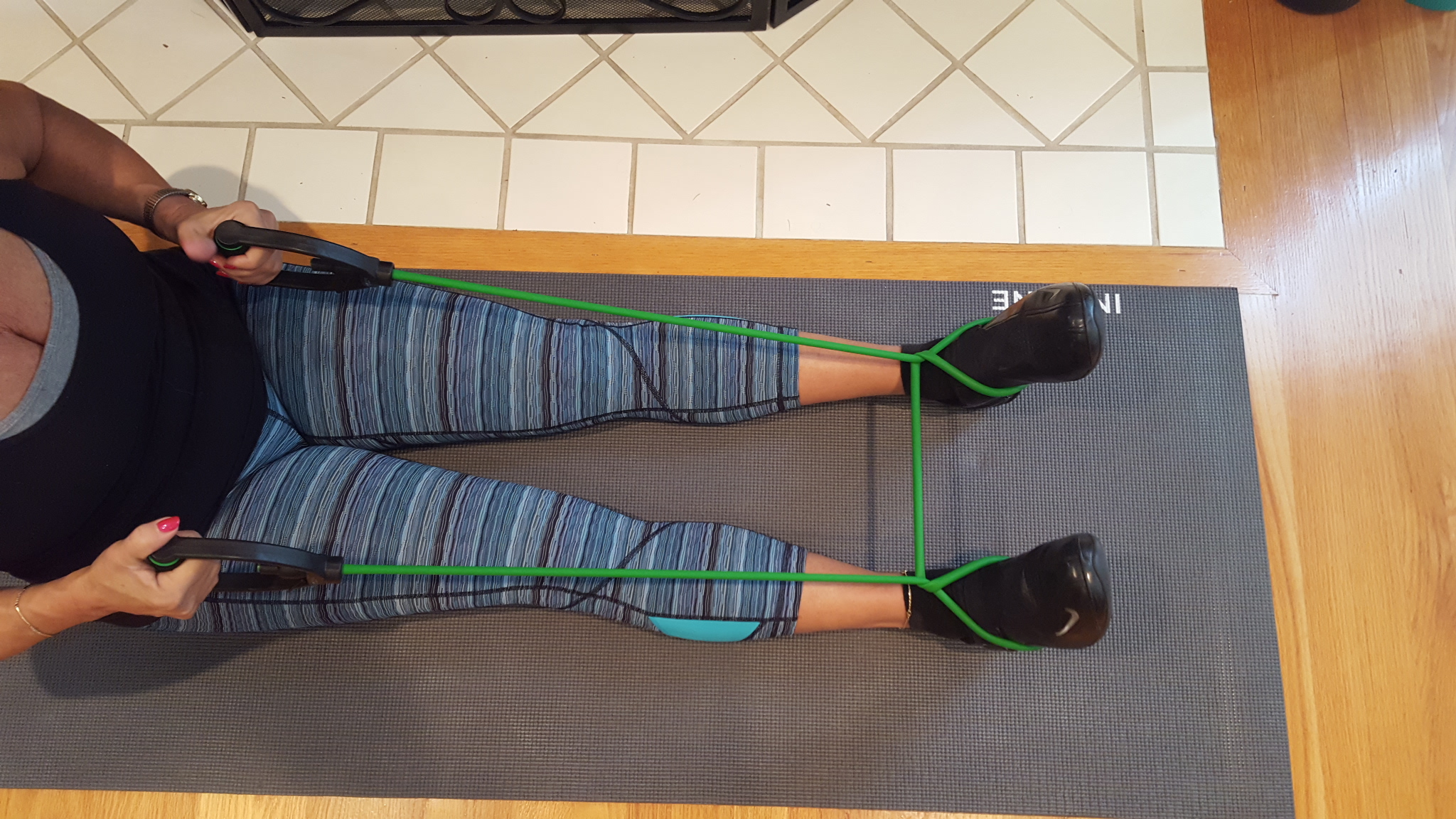 Next I tried a series of floor exercises just using the DynaPro resistance band. I wanted to see how well I could work different parts of my body just using one band. After wrapping the band securely around my feet I did a series of back rows, Pilates 100s for my abs, one leg elevated kick outs and side raises for my legs. I loved doing this workout with the resistance band! The sturdiness of the tubing and handles coupled with the ability and ease of adjusting the length of the band resulted in a great sweat producing workout.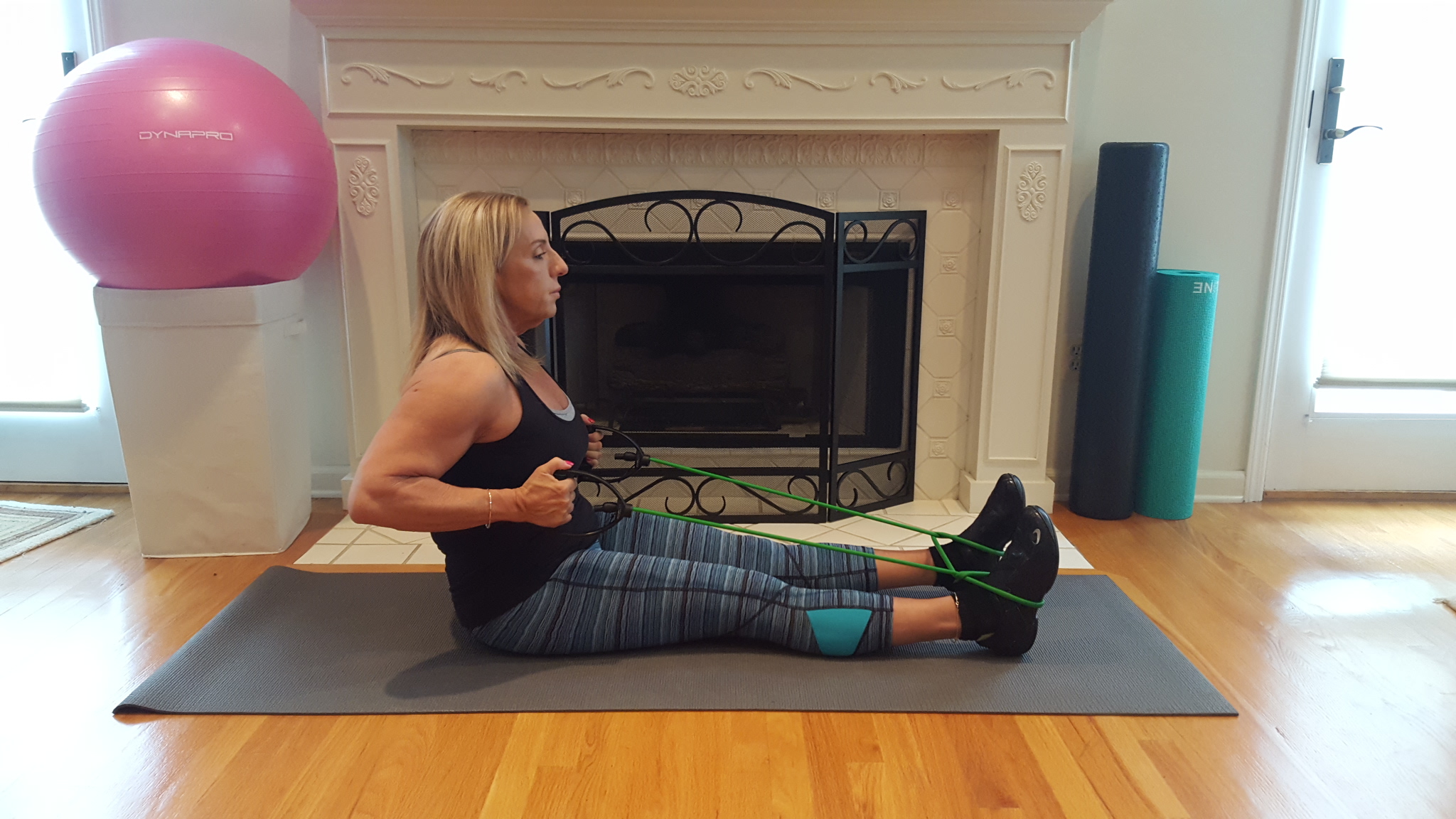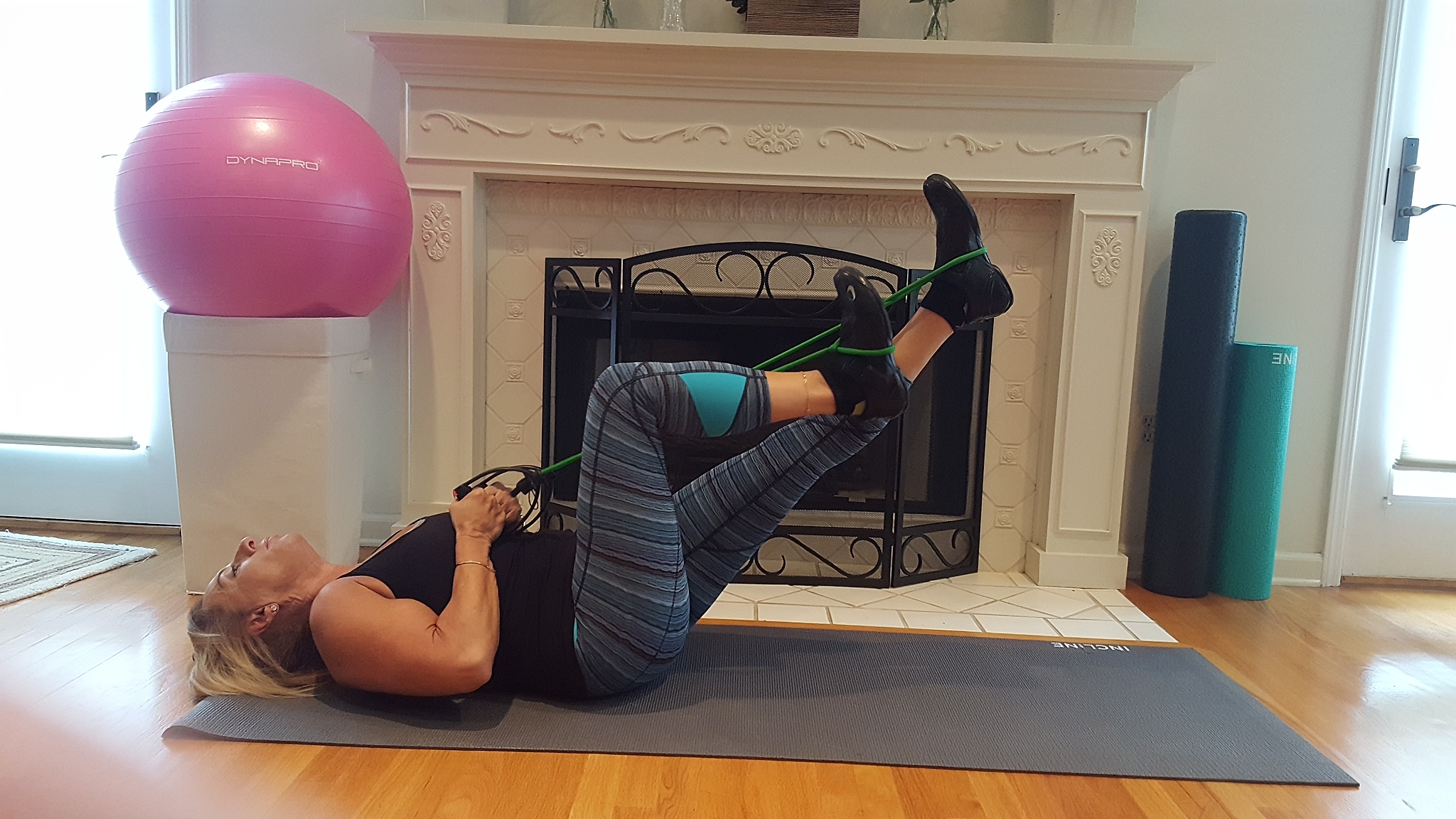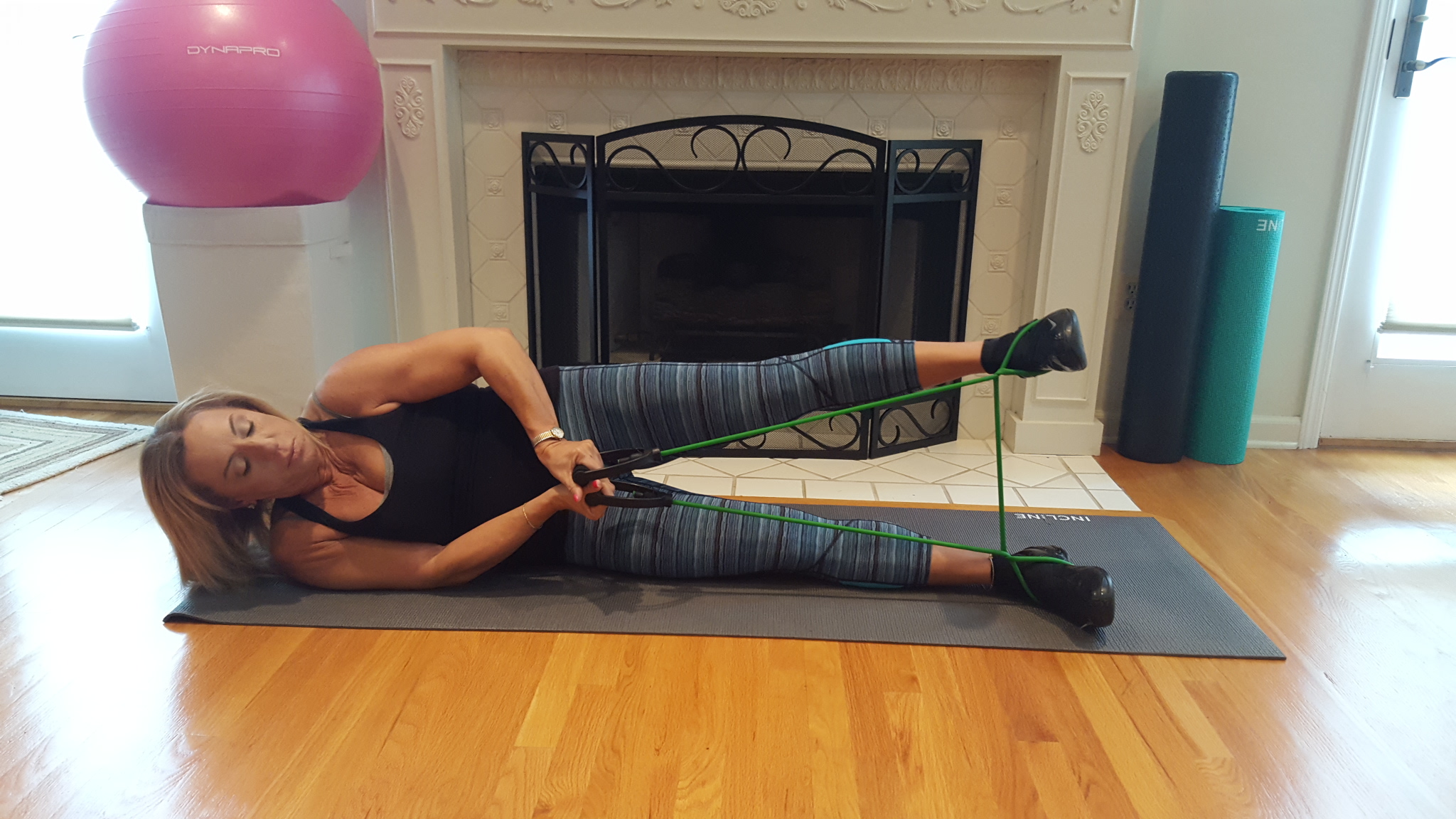 The last exercises I performed combined both the ball and the resistance band. As I was doing wall squats I used the resistance band to work my upper body with bicep curls, single arm front shoulder raises and side shoulder raises. Again, the ball stayed secure between my back and the wall and there was no slipping. The ball rolled smoothly through the entire routine and I felt safe, a noted difference from other exercise balls I have used.
To sum up, I loved working out with the DynaPro exercise ball and resistance band. To my surprise I got a great workout at home without having to haul myself to the gym. The equipment is professional quality and easy to work with. I am definitely planning on switching out some of my gym sessions with at home workouts using DynaPro products.
Disclosure: These products were samples provided to me to try. Opinions and the choice to review are 100% my own! I was not financially compensated for writing this blog post.